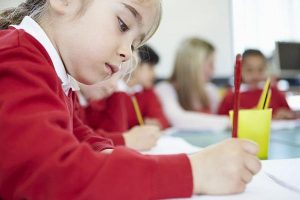 AT A GLANCE
INDUSTRY
Manufacturing and distribution
BUSINESS OBJECTIVE
Establish efficient ecommerce site
Create distinct B2C and B2B processes
Integrate into existing Fabrix ERP solution
Integrate with courier company systems
SOLUTION
Solutionists ecommerce platform development and integration
BUSINESS BENEFITS
Rapid, efficient online order processing
Visibility of order status and improved customer service
Accurate picking, packing and dispatch
Scalable to match fluctuating demand
FOR MORE INFORMATION
SOLUTIONISTS
W: www.solutionists.co.nz/
P: +64 9 630 3074
More kids are heading off to school in the right uniform as a result of a sophisticated ecommerce gateway…
When manufacturer Argyle Schoolwear Limited sought to expand its operations from a primarily business-to-business operation to provide sales directly to consumers on behalf of schools, it engaged retail ecommerce specialist Solutionists to engineer an appropriate solution. As a result, parents can today order their children's uniforms directly from ArgyleOnLine with ease.
With a history of operations in the schoolwear market which stretches back over three decades, Argyle today supplies direct to primary, intermediate and secondary schools throughout New Zealand, to retail shops, and now through its ecommerce website, direct to parents. The company's garments are made both locally in its Penrose factory and produced by offshore manufacturing partners.
Situation
As an organisation with a strong B2B sales channel, moving into the business to consumer (B2C) space presented new challenges for Argyle, explains managing director David Flynn. "Our company has a relationship with the school and also with the community in which any given school is located," he relates. "As we moved into direct online sales, around four years ago, that represented something of a shift for the company as we now also had parents as direct customers."
This shift was necessary, he explains, owing to competitive pressure, demand from customers who increasingly expect to enjoy the convenience of buying direct online, and also to future-proof the business which has always led the market with investment in technology.
What this meant for the company was a move from dealing with a lower number of large orders to schools, to a much higher number of small orders delivered directly to families. "That had an impact on customer service that we needed to address. It also meant we had to sort out how we process a significant increase in orders, so, logistically, it required a different approach," Flynn explains.
Solution
While Argyle wasn't exactly a newcomer to online commerce, Flynn says growing demand for the ecommerce aspect of its business meant it had to scale its presence up and redesign the back end business processes to ensure logistics, fulfilment and the handling of returns was appropriately catered for. "That's what we looked to Solutionists to provide. We wanted to make our processes more efficient and, because the handling of orders, deliveries and returns is quite different in the B2C space, we wanted to separate that out from the B2B channel."
He says a collaborative approach to the initiative was taken, with a high degree of focus on designing the processes that Argyle wanted built into its site. "We did a large overhaul and rebuild, with particular attention paid to our customer service management processes and logistical processes."
It is ongoing work, Flynn adds, with continuing efforts to refine and improve processes as the company continues to grow.
He also notes that variances in demand require a system which is capable of scaling up rapidly: "Our business is very seasonal, with orders ramping up rapidly at 'back to school' times. At the height of the peak season daily order volumes can be greater than ten times that of volumes experience in mid-term."
Results
Structuring the B2C component of its business to meet the specifics of direct to customer sales has delivered immediate results in that Argyle is able to handle the seasonally high volumes of small orders that flood in. These are processed directly on the website, then transaction records are sent into Argyle's ERP system for stock control, forecasting and financial reconciliation.
There is a further level of integration, adds Flynn, as the ecommerce system also communicates directly with the courier company's systems to track and trace parcels as they are dispatched.
With the business processes designed for the web and tailored to match Argyle's operational activities, Flynn says the company is equipped to accurately process and fulfil the online orders. "Thanks to Solutionists, our picking and dispatching is accurate and efficient; but probably the biggest advantage is that we have visibility to see the status of any given order and can provide customer service information with immediacy."
"Thanks to Solutionists, our picking and dispatching is accurate and efficient; we have visibility to see the status of any given order and can provide customer service information with immediacy."
This is important, Flynn notes, as the ability to communicate accurate information rapidly to customers is the difference between satisfaction and annoyance. "With this system in place, we're able to keep everyone happy; if a customer contacts us and wants to know the status of their order, or to make a change to their order, we're able to respond immediately."
Summing up the value of its engagement with Solutionists, he says a collaborative and professional approach to ecommerce has enabled a successful transition into direct online sales, while easily reconciling with the existing business systems of the wholesale operation. "This was a large investment as we have designed and built a lot of integration into the website, and our business processes, but it has delivered excellent value as we have achieved what we set out to do. The system works just as we wanted it to."
FURTHER READING
About This Vendor

More Case Studies

When you talk to people about online retailing, ecommerce  is still considered a relatively 'new' industry and technically speaking it is…