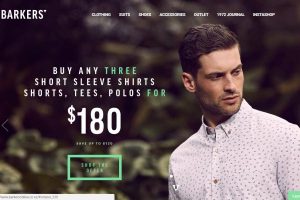 AT A GLANCE
INDUSTRY
BUSINESS OBJECTIVE
Establish, grow and maintain ecommerce presence
Create engaging customer experience
Adapt to changing ecommerce trends and customer behaviours
SOLUTION
Solutionists' MaxCommerce platform
BUSINESS BENEFITS
A decade of ecommerce success
Web presence which has matched evolving customer requirements
Responsive design
Enhanced user experience
FOR MORE INFORMATION
SOLUTIONISTS
W: www.solutionists.co.nz/
E: info@solutionists.co.nz
NZ: +64 9 630 3074
AU: +61 2 8355 7014
When you talk to people about online retailing, ecommerce  is still considered a relatively 'new' industry and technically speaking it is…
This year however, as Solutionists worked with clothing retailer Barkers to give its website a new lease of life for 2017, the provider of ecommerce solutions reflected on how far the client (and ecommerce) have come in the 9 years since they first started working together.
Back in 2007, the iPhone was introduced, Obama decided to run for President and Nintendo Wii was all the rage…but already, ecommerce was experiencing massive growth.
Barkers' first website with Solutionists launched in 2007 and leveraged an early version of the company's MaxCommerce platform to start selling online. Designed and built for desktop users, the shopping experience was the focus and guiding users through the journey was key.  Stock availability by store was visible on the site in real-time and customer contact updates and sales transactions flowed automatically into Barkers' in-store Point of Sale software.
At the time, trends and articles about ecommerce discussed clear calls to action, hierarchy of navigation, and ease of shopping. Back then, sites were almost educating their customers on how to shop online.
Building trust was critical as customers started to adopt online buying habits and a raft of new logistical issues appeared for online retailers everywhere.
Some things change, others stay the same
These challenges and foundations for ecommerce are still things Solutionists talk about daily with its clients; only now, expectations are higher for consumers and online retailers alike.
Three years after that initial start, Barkers' brand and website had come on by leaps and bounds. By 2011, ongoing developments saw new features being continually added to the site with the goal of increasing conversion. Now, it was time for a new look.
A mega menu was introduced and full large screen home page images dominated users screens.
iPads now existed and, albeit less than 10 percent of traffic, everyone knew that optimising for these devices was going to be key to ongoing success.
Before 'AB testing' was a buzzword in ecommerce, refining, tuning and adapting websites has always been key to optimising results. Between 2011 and 2012, refinements were made to focus on promoting offers (replicating in-store promotions), driving email signup and tuning the Product Detail pages to ensure customers got through the checkout efficiently.
Again, this is still the focus today, as traditional offerings are balanced with more omni-channel experiences. Introducing Click and Collect and incorporating this into the user journey is an example of the rapid pace of which basic expectations change in ecommerce.
Tablet traffic on the rise
It was evident that tablet traffic was making a significant contribution to sales, so 2012 saw the addition of a stand-alone mobile site to capitalise on the climbing mobile traffic.
With the ability to tailor the online experience for mobile users, conversion increased from these devices and, as traffic from electronic direct marketing became more of the norm, mobile became a vital part of Barkers' online repertoire.
The cycle of constant tuning and refinement applied to the mobile site as well. Never accepting the status quo, Barkers appreciated the need to allocate budget for developments that result in more online sales.
For a new age of ecommerce
The newest iteration of Barkers' online launched in October 2016 on the latest version of the MaxCommerce platform. With a fresh new responsive design, mobile users now have all the same touch points as their desktop counterparts. Bold and clean, Barkers' branding sets the tone for the site and, holding true to ecommerce foundations, helps guide the user through the shopping journey.
Advanced search and multi-level caching make the user experience better while tools such as scheduled panels and automated abandoned cart emails take care of  the mechanics of site administration.
Looking back on how far ecommerce has come, selling online efficiently is still at the forefront of Barkers' goals, but execution is now focused on superior user experience throughout the journey and aligning with the in-store service that Barkers' customers know and love.
Heading into its tenth year of Barkers online, planning has already begun to further optimise, streamline and update the site. In true Barkers and Solutionists fashion, embracing the newest trends and technologies will keep both organisations ahead of the pack.
FURTHER READING
About This Vendor

More Case Studies
More kids are heading off to school in the right uniform as a result of a sophisticated ecommerce gateway…