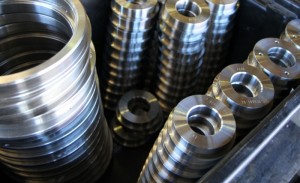 AT A GLANCE
INDUSTRY
Engineering / Manufacturing / Primary Resources
BUSINESS OBJECTIVE
EL ES DE Engineering required an integrated system that would provide increased visibility over inventory, time spent on jobs and clarity on purchase order status
To achieve the above at an affordable entry-level cost
SOLUTION
Epicor ERP Express Edition (Epicor Express), the cloud-based version of the award winning next-generation Epicor ERP solution. Delivered in a SaaS model.
THE BENEFITS
Increased clarity on process delivered by an integrated system
Advanced system at an affordable cost
Six weeks from start of implementation to initial go-live
FOR MORE INFORMATION
EPICOR
W: www.epicor.com
E: info.anz@epicor.com
P: +61 2 9927 6200

The engineering firm can now extract more information out of its business and pump it for profits thanks to its new ERP system delivered in the cloud...

EL ES DE Engineering provides specialist mechanical engineering, fabrication and inspection services to the oil and gas, mining and resources sectors in Perth, Western Australia. It offers everything from one-off manufacture to qualified engineering design and even complete turn-key projects from concept to completion, and has design and manufacturing facilities are situated in Welshpool, Perth's central industrial hub.

Challenges
Before engaging Epicor, EL ES DE Engineering did not have an integrated system with just one source of information because there was nothing serving the mid-market for an appropriate cost.

"We had been using MYOB, spreadsheets and various other methods to support the business," explains Rob McMahon, general manager. "We had been looking to find an advanced system that could meet the needs of our production, accounting and project management teams. Prior to Epicor ERP becoming available in Australia in the SaaS deployment model, there had been nothing in the mid-market that could do what we wanted it to do at an affordable cost."

EL ES DE Engineering needed increased visibility over its inventory, greater clarity on its purchase order statuses and to understand the amount of time that was being spent on jobs. Everything pointed to the need for an advanced ERP system and when Epicor became available on a SaaS deployment model, it was a perfect fit for the engineering firm.

" We chose the SaaS deployment model because we wanted to get an advanced system like Epicor at a reasonable entry fee. I looked at the SaaS offering from Epicor a couple of years ago, but it wasn't available in Australia at the time. When the SaaS delivery model became available [in 2012] we thought 'this is going to be a good thing for the company," continued McMahon.

Solution
EL ES DE Engineering selected Epicor ERP Express Edition (Epicor Express), the cloud-based version of the award-winning next generation Epicor ERP solution. Delivered in a SaaS model, Epicor Express provides broad functionality to small and mid-size businesses.

Benefits
EL ES DE Engineering has enjoyed numerous benefits since implementing Epicor, including increased productivity and visibility of their client's jobs; the ability to provide their clients with better service through accurate estimations of schedules; better management of materials and subcontractors; and improved flexibility on client billing options.

"The main benefit is that Epicor is giving us more clarity on process. We can see if we have shipped items to the customer and now we can invoice for the shipment, which is something we really couldn't do properly previously. We are just starting to implement the inventory management module, doing cycle counts and min-max order levels," said McMahon.

"It took about six weeks from the start of implementation to the point where we turned the system on," said McMahon. "For us it was good just to dive straight in. We are the busiest we have ever been at the moment but I'm glad we just got into it. With SaaS we didn't need to go through a long implementation plan before turning it on. We could just get into it and do it and I think that was the way to go."

Following the Epicor system's initial go-live, EL ES DE Engineering is looking to rollout additional modules in separate phases. The Epicor system will also help EL ES DE Engineering to manage its materials and sub-contractors.

McMahon explains, "We started the Epicor rollout by implementing core functionality for managing our financials and manufacturing. Production management was also important because we needed to be able to get all our jobs into the system. We are using the CRM to track our customer's information, order management to generate quotes, and project management for project billing. It is largely a project-based industry over here in Perth and Epicor Project Management is key because it gives us flexible options on billing, whether we bill up front, at the end or during a project."

Epicor Dashboards and Crystal Reports have also provided EL ES DE Engineering with better visibility into its materials and inventory.

"We are producing Crystal Reports at the moment, which enables us to customise our reporting and get better information out of the system and match what we need to see," says McMahon. "We have also been using the purchase order status dashboard. We are getting a lot of clarity on purchase order statuses, which is something we didn't have before. We can see if materials are physically here or if they are still with the supplier. Now we have a better handle on our inventory and where we spend our time on jobs because we have the full method of manufacture planned out so we can see where everything is and what the next step is."
FURTHER READING
About This Vendor
More Case Studies
Medication errors can happen anywhere, but knowledge is your best defense. So it's no wonder that online pharmacies is becoming more pop over the last years. Viagra is one of the best treatment options of all day. Nowadays a lot of articles were published about natural viagra substitutes. Usually, when men talk about ED, they think "otc viagra substitute". A medicinal review about "http://corpmoreinfo.com/where-to-buy-viagra-online.html" found that men's most common sexual dysfunction is erectile dysfunction. Furthermore, this may include hardening of the arteries, anxiety, or a stress. Any medicament may cause some side effects. Sometimes side effects can be actually serious. Stop using this medicine and get medic help if you have sudden vision loss.