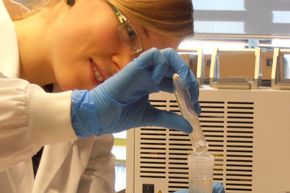 AT A GLANCE
INDUSTRY

BUSINESS OBJECTIVE
Business processes were not integrated, especially across the key sales and manufacturing processes, so data could not be shared easily across departments or office branches
Existing software could not integrate the key business processes within Grifols
The existing software could not handle Grifols's expansion plans or global business requirements
A need to improve the company's competitiveness and assist management in decision-making
SOLUTION
Implement OxygenExpress for SAP Business One solution to integrate business processes and data across the enterprise
Enable management to access data in a timely way to enable effective decision-making
Provide robust business processes to support international expansion plans and new industry regulations
Reduce administrative burden by automating and making business processes more transparent
BUSINESS BENEFITS
Critical business information is centrally managed and available throughout the application
Information is immediately available for making informed decisions
The key business processes are integrated, from accounting through to manufacturing
Business processes are now compliant with international standards and medical regulatory requirements
The time spent on essential business processes has been reduced dramatically
The NBA invoicing process now takes just seven minutes per month
FOR MORE INFORMATION
UXC OXYGEN
W: www.uxcoxygen.com
Australia
E: info@uxcoxygen.com
T: 1800 002 354
New Zealand
E: info@uxcoxygen.com
T: 0800 008 606

Rapidly expanding pharmaceutical company Grifols Australia has implemented an OxygenExpress for SAP Business One solution...

In March 2006 the company, which specialises in research and development, production and worldwide services for laboratory diagnostic products, realised it would have to upgrade its business solution in order to operate competitively in a global environment, and keep up with changes in medical regulations.

Grifols's existing application, Sage Line100, could neither handle the company's increased business volumes, nor support the type of tracking and reporting required by relatively new medical regulations. Accounting delays with the existing system were common as some data still had to be entered manually from other departments. Invoicing with Australia's National Blood Authority (NBA), for example, would take Grifols 26 hours per month.
"Our many sites around the country can now all access the centralized data at any time, making decisions based on real data much easier."
Geoff Nicol, Director, Grifols Australia
"We needed a one-stop solution that could help us manage the business better," says Geoff Nicol, Director, Grifols Australia. "We also wanted software that could also assist us in obtaining Therapeutic Goods Accreditation (TGA) and conform to other medical regulatory requirements."

The flexibility of SAP Business One's development environment was the critical reason it opted for the solution. "We plan to expand into other countries and SAP Business One has the flexibility to meet our global business requirements," Nicol says. SAP Business One began delivering significant returns for Grifols within the first month after going live in July 2006. The solution has integrated manufacturing processes with other business functions, and streamlined workflow so that key business data is automatically consolidated and made available in real-time for decision-making across all departments.
"SAP Business One has the flexibility to meet our unique industry requirements and our international expansion plans."
Geoff Nicol, Director, Grifols Australia
FURTHER READING
About This Vendor
More Case Studies

Looking for a platform for growth and better decision-making, Australian investment house Evans & Partners turned to SAP's Business One…

Tribal assets in good hands after implementation of SAP in the cloud…

How WEL Networks applies analysis to get answers to key business questions…


Growth meant disparate systems were holding back stainless steel fabricator NDA Group; SAP Business All-in-One provided a single, scalable solution…

Oxygen rationalises SAP implementation and delivers cost savings for auto technology specialist Dana…
Medication errors can happen anywhere, but knowledge is your best defense. So it's no wonder that online pharmacies is becoming more pop over the last years. Viagra is one of the best treatment options of all time. Nowadays a lot of articles were published about natural viagra substitutes. Usually, when people talk about ED, they think "otc viagra substitute". A medicinal review about "http://corpmoreinfo.com/where-to-buy-viagra-online.html" found that men's most common sexual dysfunction is erectile dysfunction. Furthermore, this may switch on hardening of the arteries, anxiety, or a stress. Any preparation may cause some side effects. Sometimes side effects can be actually serious. Stop using this medicine and get medical help if you have sudden vision loss.