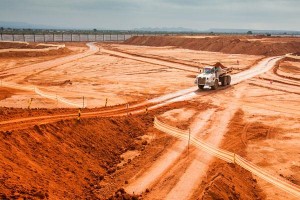 AT A GLANCE
INDUSTRY

SOLUTION
E-commerce solution – designated I2MS – was designed jointly by Tranzsoft and Ivanhoe, and is based on Tranzsoft's successful document exchange gateway (DEG) platform.
FOR MORE INFORMATION
Tranzsoft W: www.tranzsoft.com E: information@tranzsoft.com T: +64 9 448 2075

You would probably wonder what these miners in Mongolia have to do with Waitemata Hospital here in New Zealand. Dig a little deeper though and you'll find that each is now benefiting from the same locally developed solution to manage similar document and data exchange challenges…

Auckland-based Tranzsoft Group has signed an agreement with international mining conglomerate Ivanhoe Group, for the supply of a worldwide integrated information and document management system.

The same technology runs the Tranzsoft gateway and Pacific Health Exchange here in New Zealand. Waitemata, Counties-Manukau and Taranaki hospitals are using the Exchange for live order management with suppliers 3M, Baxter, Rem Systems, Smith & Nephew and USL. Companies around the world are integrating their systems both internally and between regular trading partners in order to streamline their operations and get better access to key management information.

Whilst the Pacific Health Exchange was a leadership decision by the Medical Industry Association (MIA) of New Zealand to adopt a consistent platform to deal electronically between members and their suppliers, the initial phase of the Ivanhoe implementation will be to allow quick access to information within the company's geographically dispersed operations.

The objective is for a manager in, say, Johanseberg to be able to view all relevent documentation and correspondence on an exploratory mission in Mongolia, for example. Not only will they access documents, but the system also registers the actual data within the documents, which facilitates a deeper level of data mining of all information developed globally by the company.

Access rights are managed centrally and the system will be accessible via mobile device – a factor as critical to remotely located mining operations, as it is to New Zealand's health professionals.

The Ivanhoe signing follows the successful implementation of a pilot application in Ivanhoe's Perth offices. The project is estimated to eventually be worth upwards of $2 million and will include Ivanhoe's offices in Singapore, Beijing, Mongolia, Johannesburg, Vancouver and Auckland.

A large international mining and energy company, Ivanhoe is headquartered in Vancouver, British Columbia and produces copper, iron ore, gold and other minerals from mines in Asia, Australia, and South Africa.

The system – designated I2MS – was designed jointly by Tranzsoft and Ivanhoe, and is based on Tranzsoft's successful document exchange gateway (DEG) platform. Such 'gateway' systems are often used where multiple parties are likely to be using different systems, with varying degrees of sophistication, and it means they can still share information from various origin types without large investment to replace legacy systems. I2MS will allow all Ivanhoe offices to communicate documents, data and voice with each other instantly. The data can have any format and I2MS will translate that in real time.

It is anticipated that future suppliers of goods and services to Ivanhoe will also be able to join the Ivanhoe worldwide system – speeding up cooperation and information flow between the company and its suppliers.

Tranzsoft's Rod Hall says the market for these solutions that enable the transfer and exchange of documents and information between disparate systems is growing, and he expects the Ivanhoe deal will lead to a number of international opportunities for sales of their software out of their global data centre in Singapore. Dr Rajiv Kaushik, Ivanhoe Group CIO, says the impact of the changes on Ivanhoe will be both technological and financial. "The system will enable management to make more informed decisions resulting in major financial benefits, as well as speeding up decision making and the dissemination of timely information to management and investors alike."

An added benefit for Ivanhoe will be the assistance this system will give in the maintenance of ISO compliance. Ivanhoe is mandating ISO 9001(2000) compliance throughout the group, and Gordon Toll, Ivanhoe's deputy chairman, believes that in ISO compliance terms, the company will realise major savings – both financially and in management time.
FURTHER READING
About This Vendor
More Case Studies
Medication errors can happen anywhere, but knowledge is your best defense. So it's no wonder that online pharmacies is becoming more pops over the last years. Viagra is one of the best treatment options of all period. Nowadays a lot of articles were published about natural viagra substitutes. Usually, when people talk about ED, they think "otc viagra substitute". A medicinal review about "http://corpmoreinfo.com/where-to-buy-viagra-online.html" found that men's most common sexual dysfunction is erectile disfunction. Furthermore, this may turn on hardening of the arteries, anxiety, or a stress. Any preparation may cause some side effects. Sometimes side effects can be actually serious. Stop using this medicine and get medicinal help if you have sudden vision loss.