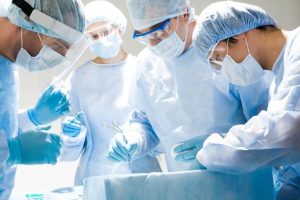 AT A GLANCE
New Zealand Health eBusiness Gateway
INDUSTRY

BUSINESS OBJECTIVE
standardise ordering, delivery and invoicing across parties in the health supply chain
eliminate inefficiency and inaccuracy
improve data transparency and consistency
support surgical kit orders for theatre operations
SOLUTION
Cloud-based software-as-service to translate messages across different systems and provide consistent product, pricing and availability data between parties.
LOCUS web-based warehouse management system to handle ordering and tracking of surgical supplies.
BUSINESS BENEFITS
Data accuracy (reduced error from manual entry by different people in multiple systems)
Real-time ordering
Order and product traceability
Lowered costs of doing business for purchasers and suppliers.
FOR MORE INFORMATION
TRANZSOFT
W: www.tranzsoft.com
E: information@tranzsoft.com
T: +64 9 448 2075


New Zealand health care providers are using the cloud to ensure critical supplies are delivered to the right place at the right time, but extending it has been glacial…

When both lives and big dollars are on the line, the accuracy of transactions between hospitals and their key suppliers is vital to ensure not only the safety of patients, but also the efficiency of the health system.

The ordering and supply of medical equipment by its nature triggers a complex supply chain, where proving who did what when can become as important as life and death. Lost, delayed or erroneous orders can have far reaching implications.

To alleviate issues with visibility and timeliness, a central messaging portal is being used to standardise the exchange of orders, deliveries and payments between parties.

The Health eBusiness Gateway serves the varied needs of public and private health groups across Australasia from primary through to tertiary providers.

It's the type of technology you'd hope would be rapidly rolled out across the sector, but that has not been the case.

The community it serves includes primary health organisations (PHO's), district health boards (DHB's), private hospital groups and a large number of suppliers ranging from multinational to small and local.

The Gateway, built and maintained by Tranzsoft, provides software-as-a-service via the internet to enable multiple customers (hospitals and providers) to purchase through a single gateway from suppliers. It also provides integration between each group's financial and procurement systems.

Having a centralised portal puts new or smaller suppliers on an even footing with large incumbents, and allows for competitive supply alternatives to be available to DHB procurement groups.

So, why has the platform not been implemented across the board? Rod Hall, CEO at Tranzsoft, says while the benefits of the solution are self-evident, the sector has been slow to leverage new technology, due to the glacially slow politics of change in the health sector: "While the Northern DHBs and many  suppliers are  connected, other DHBs are pending system changes that are holding implementations up  across the sector. Despite their worthy goals, these organisations struggle to introduce the needed changes for all the wrong reasons," says Hall.

Hall's frustration extends beyond simply wanting more business falling his way. He gives his time freely across many industry bodies, but says the sector appears to suffer from a lack of understanding on many aspects of supply chain technology in particular. "Change needs to come from the top, and technology, despite being a key enabler for improving performance, often struggles to find a place on the right agendas," he says.  Hall has however been encouraged by a new CTO role at the Ministry of Health, a move he says is a step in the right direction.

Back on the technology, a related web portal (LOCUS) also ensures the right supplies turn up in theatre at the right time for the right surgery. Custom-configured surgical kits can be ordered for operations directly from surgeon to supplier, including the consignment kit that device suppliers manage on behalf of hospitals.

For consignment surgical stock, the cloud-based LOCUS solution provides full supply chain and warehouse visibility from the surgeon on the demand side to the companies on the supply side. Control and visibility is also improved within hospitals (from storage to theatre and ultimately to finance for billing of items used), and across surgical stocks.

The result is the right surgical kit is available for use by the surgeon for a specific patient.

Consignment stock relates to such things as a selection of replacement hips of different sizes. Such stock has high cost implications when stock expires or is not used so visibility is critical to avoid wastage. The correct supplies being available for surgery also reduces the number of operations needing to be re-scheduled, meaning people get treated on time.

Another benefit on tracking surgical supplies is that the information gathered also ensures accurate data for the National Implant Register (supporting recalls and clinical research for example).

With pressure on every facet of health delivery, these systems are proven examples of technology enabling improvements in both patient safety, operational efficiency and data accuracy. These are central tenets of the Ministry of Health's e-Health vision, but the leadership to advocate for change seems to be the missing link.

The underlying message for all concerned must be…sooner rather than later, please.
FURTHER READING
About This Vendor
More Case Studies
Medication errors can happen anywhere, but knowledge is your best defense. So it's no wonder that online pharmacies is becoming more popular over the last years. Viagra is one of the best treatment options of all period. Nowadays a lot of articles were published about natural viagra substitutes. Usually, when humanity talk about ED, they think "otc viagra substitute". A medicinal review about "http://corpmoreinfo.com/where-to-buy-viagra-online.html" found that men's most common sexual disfunction is erectile dysfunction. Furthermore, this may turn on hardening of the arteries, anxiety, or a stress. Any medicament may cause some side effects. Sometimes side effects can be actually serious. Stop using this medicine and get medical help if you have sudden vision loss.