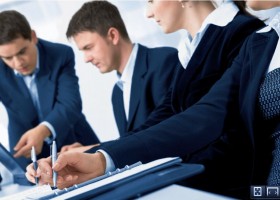 This article was originally featured in iStart technology in business magazine.
The magazine version of Digital literacy: Getting your workplace up to speed
A business isn't getting the best out of their work staff if workers aren't using the technological tools given to them to the best advantage. An expert explains what needs to be done and how best to approach it....
[View as PDF]
The internet is a key source of information and a huge percentage of workers are regularly online. But do they have the level of digital literacy needed for a productive workplace?
New Zealand organisations are filled with people who spend their days working at computers, whether that's writing strategy, searching for information online, or looking up contact details on the company intranet. Yet all that time online could be costing your business in ways you've never considered. A recent Auckland University of Technology study found that 83 percent of New Zealanders are internet users and 68 percent are accessing the web at work. We see it as an important source of information, rating the internet for fact-finding more highly than television, newspapers, radio and libraries.
Yet of all the users surveyed by the university, half had been online for less than ten years. That's a huge percentage of people regularly online who are potentially costing your business money by not having the level of digital literacy required to create a productive workplace.
And age has little to do with it. In my work, I often hear older people make the excuse that they didn't have the internet when they grew up. Although factually correct, this is not an excuse for poor computer skills. With the right formalised training processes any organisation can work to develop their most technophobic staff into people with strong digital literacy skills who feel comfortable online, who know how to work smartly, and who work productively. This forces individuals to learn fundamental skills by trial and error, and non-systematic learning of core computer competencies means that many people have big gaps in their understanding of how the basics work.
Productivity jump

Early in 2010, the New Zealand Computer Society Inc found that by formally tackling core computing skills, New Zealand's productivity would increase by $1.7 billion per year. The report stated that in adopting a digital literacy standard—at government level— productivity could be heightened in about 70 percent of employees at work.
Increasing computer competency by just 20 minutes a day in those workers adds up to 1.7 hours a week in gained productivity, resulting in annual savings of $1820 per employee.
While the savings to be made are massive, many computer users are still uncomfortable on the web because, in businesses today, digital literacy is assumed. This forces individuals to learn fundamental skills by trial and error, and non-systematic learning of core computer competencies means that many people have big gaps in their understanding of how the basics work.
User testing is a key part of the process for designing and building websites at Base Two and so we encounter many people at varying stages of ability and see first-hand how they use computers. Many users, particularly those of the older generation, commonly worry that they will get lost or break things, so they are tentative in exploring and trying new things online.
Digital literacy tips

• Teach staff the web as well as Excel
• Work in small groups
• Encourage questions
• Check back in a week that they understood it
• Teachers must have excellent skills
• Introduce new online tools
• Teach them about spam
• Explain Wikipedia "facts" may not be true
• Explain what surfing is acceptable at work
• Keep building on their skills
Learning rules of the game
It's important that all staff know how to use their computers and they're trained to use the web just as they would be trained to use software packages such as Word, Excel or PowerPoint. Explaining core concepts like firewalls and how they work, as well as what spam is and how it should be dealt with, means they'll understand the rules of the game, waste less time trying to make things work, and eventually be more productive workers.
Improving digital literacy isn't about having your staff work harder—it's about ensuring they know how to work smarter.
At Base Two the majority of our 12-strong workforce spend their day at the computer so it makes good business sense to ensure those people know how to operate their machines quickly and efficiently. We run an initial teaching session, which is followed by a detailed course outline which we run in small groups. Working in small groups lets people learn together. We encourage learners to ask questions and discuss concepts so the group can work out together how to solve problems.
Staff (or clients we've taught) then use the tools from the session— for example, a browser, a content-management tool—for one to two weeks on their own. We check in with each individual and ask them where they're having problems or issues and what they don't understand and then build on our teaching to help them solve gaps in their knowledge.
Following up is a crucial step and one that not many people take—it helps personalise our training and allows us to better understand where our staff or clients are struggling and if further training is required. This system is scalable to large organisations, but it requires a commitment to formalised digital education to properly increase literacy skills across the board. That means having a leadership team which has excellent online skills themselves, along with organisational champions who can troubleshoot issues at a lower level to keep staff engaged and happy with the programme.
Take out the rubbish
Although the time you spend in training staff will cost time and money, the benefits to your business will pay you back ten-fold as staff work smarter, are less frustrated with their computers not doing what they want, and they begin to streamline their workflow. Once your workers have a high level of digital literacy you can begin introducing new tools, many of which are free online, to further streamline processes and increase their productivity.
One of my favourites is Xobni (www.xobni.com), which is an Outlook plug-in. Train staff to delete their rubbish emails, which are filling up your service space with junk, and use a tool like Xobni to make it easy to search for the email string they need. Adding a simple plugin can save minutes if not hours in searching for emails alone. At its most basic, developing digital literacy begins with staff being allowed to explore and use online sites at work. I know the usual arguments—if you let your staff do this they'll waste all day updating their Facebook status or watching videos on YouTube.
That may be true at the start. People by their very nature often want what they can't have, so by operating a workplace where free use of websites is frowned upon, you're making them all the more desirable. Allowing staff to play with Facebook, Trade Me, Stuff and other popular sites, however, allows them to build confidence.
Giving them an understanding of spam, viruses and phishing means they—and your organisation—can stay safe online.
As well as this, their own experimentation shows them how websites are laid out, how to research and source information in new ways and, by building on that over time, they become more efficient users of the web along with internal resources such as intranets.
Workplace culture
Ensuring your staff are sensible in their use of website and social media tools is about developing your workplace culture so that staff are engaged with the work they do, want to be effective contributors to your organisation, and understand what is and isn't acceptable workplace behaviour.
The majority of people know that looking at R18 websites at work is unacceptable. However, your workforce may not have the level of sophistication to know that updating their Facebook status about how rotten their day at work is can also be detrimental to your business. Or they may not be aware that many businesses look at their employees' Facebook pages, and even those of staff who work in companies they're looking to partner with.
How you train your staff in what's acceptable is important.
Bring your social media policy to life and make it easy for your workforce to see how it relates to them. Telstra Australia has done a great job of this through their 3Rs (Representation, Responsibility and Respect) programme.
They've developed an online training manual in cartoon form, which describes what social media tools do, and explains to staff what's in and out of bounds. The programme is supported offline by the communications team so staff can still use social media sites, but they have clear expectations about what's acceptable at work. Follow the course yourself online at http://bit.ly/Telstra-example. To see a real-time example of how staff can band together to use social media for business success then see www.twitter.com/TelecomNZ.
Nine Telecom staff are running their Twitter account, which serves as part-helpdesk, troubleshoots problems and builds the online personality and brand of the organisation by offering 'sneak previews' of new products and services and by chatting amongst the online community.
Once your staff have a core understanding of how the internet can work to their advantage and are being smart online, you can build on their skills. Modular learning is a great way to do that. For example, teach them how to effectively use Google or other search engines. They'll get a lot further and faster if they understand Boolean searches, i.e, how to use the words 'and', 'or' and ' not' to best effect to find better information smarter. Teaching workers how to use advanced search options is also invaluable because they find the information first time, more of the time, and they find more pertinent results in the initial results. They begin to understand how information is sorted and how to exploit that to be more accurate in their searching.
Get the true facts
One thing that routinely gets forgotten is that not everything on the internet is true. For example, many people I have talked to see Wikipedia information as sacrosanct because they've never been told it is built by users and that the information on it can change at any time. It's much better practice to advocate for your staff to always check a number of sources to check the veracity of online information.
Developing digital literacy in the workplace is a sure fire way for businesses and organisations to increase their productivity. It does require time, commitment, leadership and money but then few things that are worth achieving are ever easy.
Colin Phillips is interactive director at Wellington agency Base Two. He was one of the early pioneers of web design and has worked with organisations in Spain, Germany, USA, Mexico, Canada and the UK.