Published on the 27/01/2014 | Written by Epicor Software Corporation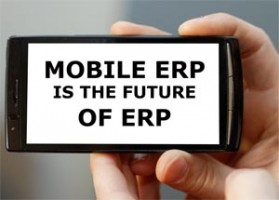 Mobile users are increasingly demanding ease of access to ERP information to perform their jobs on any device at any time...
Mobile user access to ERP is driving operational efficiency and deepening customer engagement. Without mobile access, system users are disadvantaged by needing to return to a desktop, often after a job is completed, to enter data relating to that job and get information about other jobs.

Frequently, that information is not entered at all and becomes a hindrance to user adoption of your ERP investment.

With mobile users demanding ease of access to ERP information on any device at any time, mobile solutions must:
Handle different mobile devices and applications for different roles/jobs
Provide the ability to be used by staff with limited computer or language skills, in adverse conditions (variable lighting, distractions/interruptions, potential for device to be damaged).
According to a recent report from Aberdeen Group, "Enterprise mobile apps in 2013 are no longer 'nice to have'—they've become essential enablers of organisational transformation, by increasing operational efficiency, accelerating time-to-decision, deepening customer engagement, and streamlining workflow processes."

Table of Contents
1. Who is a mobile user?
1. Types of mobile devices
1. Handheld
2. Purpose built device
2. Smartphone
2. Tablets
4. Why the shift?
4. Why Epicor?
4. Benefits to the company
5. Benefits to the end user
5. Future of mobile

To find out more about how mobile users are using ERP information to perform their jobs, download our free whitepaper (registration required) – The Rise of Mobile Access to Your ERP Data.

Medication errors can happen anywhere, but knowledge is your best defense. So it's no wonder that online pharmacies is becoming more pop over the last years. Viagra is one of the best treatment options of all time. Nowadays a lot of articles were published about natural viagra substitutes. Usually, when people talk about ED, they think "otc viagra substitute". A medical review about "http://corpmoreinfo.com/where-to-buy-viagra-online.html" found that men's most common sexual dysfunction is erectile disfunction. Furthermore, this may turn on hardening of the arteries, anxiety, or a stress. Any preparation may cause some side effects. Sometimes side effects can be actually serious. Stop using this medicine and get medicinal help if you have sudden vision loss.