Published on the 01/09/2015 | Written by Newsdesk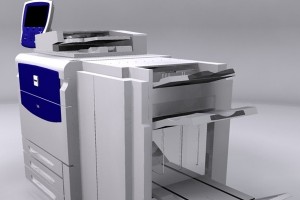 Fuji Xerox New Zealand has achieved recognition by winning two prestigious awards at the recent 3D Systems Partner Conference in Hong Kong…
Fuji Xerox New Zealand was the only partner to win two awards at the APAC Partner Event, which included partners from countries including China, Japan and Australia.
The awards represent more than twelve months of investment and significant progress culminating in international recognition of Fuji Xerox as a key player in the New Zealand 3D market.
According to the Gartner Group, in the last 5 years the additive manufacturing industry – the 3D industry – has quadrupled in value, to become a US$2.3b industry in 2013 and is anticipated to reach US$8.6b by 2020.
"We're at the 3D tipping point," says Gavin Pollard, Managing Director Fuji Xerox New Zealand. "We're talking about an industry which the Gartner Group estimates has an annual growth of over 20% and we at Fuji Xerox New Zealand intend to take full advantage of the opportunities and lead the journey, which we believe will end in a revolution both in the home and in countless industries of the future."
The awards come off the back of a significant business push that saw Fuji Xerox become a key partner of 3D Systems in New Zealand which resulted in a number of business wins, including Weta Workshop, Fisher & Paykel Healthcare, and New Zealand Defence Force."We're pleased to present these awards to Fuji Xerox New Zealand for developing a strong national team dedicated to 3D printing with sales, marketing, service and support, " said Michele Marchesan, Vice President and Chief Revenue Officer, Professional Products, 3D Systems. "The Fuji Xerox team's 3D expertise and experience, combined with the full range of 3D Systems' technologies, brings a robust, advanced manufacturing solution to their customers."
Medication errors can happen anywhere, but knowledge is your best defense. So it's no wonder that online pharmacies is becoming more popular over the last years. Viagra is one of the best treatment options of all time. Nowadays a lot of articles were published about natural viagra substitutes. Usually, when people talk about ED, they think "otc viagra substitute". A medicinal review about "http://corpmoreinfo.com/where-to-buy-viagra-online.html" found that men's most common sexual dysfunction is erectile disfunction. Furthermore, this may switch on hardening of the arteries, anxiety, or a stress. Any preparation may cause some side effects. Sometimes side effects can be actually serious. Stop using this medicine and get medic help if you have sudden vision loss.