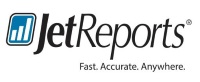 Medication errors can happen anywhere, but knowledge is your best defense. So it's no wonder that online pharmacies is becoming more popular over the last years. Viagra is one of the best treatment options of all date. Nowadays a lot of articles were published about natural viagra substitutes. Usually, when people talk about ED, they think "otc viagra substitute". A medicinal review about "http://corpmoreinfo.com/where-to-buy-viagra-online.html" found that men's most common sexual dysfunction is erectile dysfunction. Furthermore, this may include hardening of the arteries, anxiety, or a stress. Any medicament may cause some side effects. Sometimes side effects can be actually serious. Stop using this medicine and get medic help if you have sudden vision loss.

Jet Reports provides Business Intelligence and Reporting solutions to over 60,000 users in 89 Countries.

Jet Essentials is an Excel-based reporting solution which allows business users to create, run and schedule their own reports.

Jet Enterprise is a complete business Intelligence system which includes ready-made Cubes and Data Warehouse for certain ERP systems, and capability to modify and create your own BI solution based on the Microsoft BI stack.

Jet Reports offers a Suite of products for Business Intelligence, ETL, Reporting and Mobility

Jet Reports provides robust, easy-to-use Reporting and Business Intelligence solutions that empower business users across the globe to make informed decisions. Our proven solutions are used by over 100,000 users worldwide and customers can tailor their Jet Reports Solution to meet Business Needs and Budget.

Why do over 100,000 users prefer Jet Reports Solutions?

Instant Success – Report Libraries, Pre-built Cubes, Quick Installation
Reduce the technical skills necessary – to create Reports and Dashboards
Low Total Cost of Ownership
Comprehensive Solutions – for the Microsoft Dynamics platform and integrated into the Microsoft Stack
Jet Enterprise is complete BI and reporting solution. At the core of this solution is the Jet Data Manager which is a world class ETL tool for designing and automating Datawarehouse and Cubes over the Microsoft BI stack. Further to this are ready-build datawarehouse/Cubes and reports for a number of ERP solutions including Microsoft Dynamics ERP (NAV, AX and GP).The datawarehouse and Cubes are easy to customise to meet unique company requirements. The intuitive interface allows users to modify the Datawarehouse and Cubes – without needing to know SQL, MDX or any other programming language.

Jet Enterprise includes a user interface inside Excel which enables users throughout the organisation to create, refresh and schedule reports. An unlimited number of data sources can be connected to Jet Enterprise, including non-ERP data sources such as SQL, CRM, Salesforce.com, Excel and ODBC compliant databases.

Jet Enterprise includes all of the Jet Essentials functionality
With Jet Essentials you create your report in Excel, refresh it in Excel and schedule it for delivery. And because it's all Excel, you can be up and running and producing your first report in 30 minutes or less. That's why Jet Reports is the number one choice for ad-hoc reporting used by more than 100,000 users in 94 countries across the globe. Isn't it time you got smart reporting?
Jet Mobile Takes your reports and dashboards mobile. A Dashboard builder allows you to build your own dashboard's and deploy them out to different endpoints such as an Ipad.

See this introductory video:

See why the Jet Enterprise and Jet Reports are the right solutions for you.

Jet Enterprise Video   http://jetreports.wistia.com/medias/d6cmm4guhr
Jet Mobile Video  https://jetreports.wistia.com/medias/45xykfzu0x

Any report. Any way. Right Now.

.
Additional Articles:
The art of making old data mesh with new data structures and integrate with new data can be a dark one, but the experts at Jet Reports believe it doesn't have to be painful...

[Register to download] read more...
Botched reports used to be a huge headache for this mobility product provider. Now its report generation is in overdrive...

read more...

.
Medication errors can happen anywhere, but knowledge is your best defense. So it's no wonder that online pharmacies is becoming more popular over the last years. Viagra is one of the best treatment options of all time. Nowadays a lot of articles were published about natural viagra substitutes. Usually, when people talk about ED, they think "otc viagra substitute". A medical review about "http://corpmoreinfo.com/where-to-buy-viagra-online.html" found that men's most common sexual dysfunction is erectile dysfunction. Furthermore, this may turn on hardening of the arteries, anxiety, or a stress. Any medicament may cause some side effects. Sometimes side effects can be actually serious. Stop using this physic and get medical help if you have sudden vision loss.