Published on the 02/06/2022 | Written by Heather Wright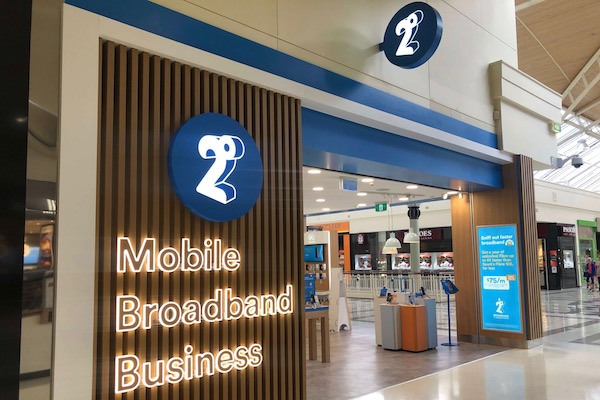 As Vocus merger completes, 2degrees talks future plans…
The newly merged 2degrees and Vocus – operating under the 2degrees brand – is promising a strong focus on the business market, though details of exactly what services might be coming remained light at a launch briefing earlier today.
The two companies officially kicked off today after completing the merger earlier this month, becoming New Zealand's third largest telco with an annual turnover of more NZ$1.2 billion.
"We intend to win more than our fair share of the market"
The merger, approved by New Zealand's Commerce Commission earlier this year, pulls together 2degrees with Vocus' Orcon, Slingshot and Stuff Fibre brands.
Combined, the new entity has some 355,000 broadband customers, 1.5 million mobile customers and 1,600 enterprise and government customers.
Mark Callander, 2degrees CEO and former Orcon CEO, says the company's 20 percent market share is heavily skewed towards the consumer business, with plenty of 'un-penetrated growth' in the business side. He says business is, however, one of the strongest growing areas for 2degrees. 
The merger doubles the size of 2degrees enterprise and government teams, though Callander didn't break out specific figures. The combined entity does have more than 1,800 staff across it.
"The challenge we have is how do we grow share?," he says.
"That really comes from the services layer. How do we differentiate in terms of the frictionless services, whether it is prepay mobile service or service in the home up through to a large enterprise or government customer."
For 2degrees, the answer seems to lie in using portals and software to make consumption of services more seamless and frictionless to win market share, and 'service overlays'.
"We are investing heavily in software and portals to enable business and enterprise customers, and service integrators and MSPs to consumer, buy, build networks, turn bandwidth up and down all through software portals," he says.
"Part of that is bundling in things like SD-Wan, security and the Microsoft services."
Earlier this year, the company announced a partnership with Microsoft and Umbrellar delivering a self service portal, Cloud Navigator, to enable managing and buying of Microsoft licenses and products. 
Those portals will also play a key role for the consumer market. 
"Underlying all this is a programme of work to simplify and digitise the business. We have a lot of experience of this over the decades, and it will be core to the new-look business and how it meets customers' needs."
Callander called out the company's infrastructure, which he says is now equivalent to Spark and Vodafone across both mobile and fibre, but says 'infrastructure is great, it's really important, but at the end of the day people buy services'.
It's that services layer that's the new battleground for telcos, Callander says, as telcos themselves become a critical part of nationwide infrastructure with the increasing emphasis on the digital economy. 
The company is also counting on its 5G network rollout, which has seen more than 100 sites deployed already, is a key area for growth. It announced today announced a new unlimited wireless 5G broadband offer at an 'introductory' price of $65 a month.
Callander was bolshy about the company's prospects in the business market. While admitting that 2degrees is seen more as a consumer brand and Vocus doesn't have huge awareness in the business space, he says 2degrees is a 'loved and trusted brand, with incredibly high awareness in the market'. 
"Our challenge there is how do we move it up the value chain? How does it become relevant for a large enterprise, how does it become more relevant in the medium enterprise. And that's just a brand challenge.
"That's the easy part. Getting a brand is the hard part.. once you've got a brand, moulding it, shaping it and making it more relevant to other market segments is the easy part," he says.
Once the company gets in front of a business, it has a 'very very high' win rate, he says.
"There is still the digital disruption. The market that's probably served the poorest in this market is probably the business market. It is getting under the soft belly of a very large enterprise, then medium enterprise space, that's a great place for 2degrees to have a good right to play."
He expects the 2degrees branding to flow out across the Vocus business market segments 'pretty quickly' with consumer following. 
The 2talk small business VoIP business will continue to operate as a standalone operation.
Callander says the new executive leadership team structure has been completed, with a 50:50 blend of 2degrees and former Vocus executives, however, details are yet to be revealed.
Detail were, however, revealed about the company's latest 'fighting fair' campaign, with every baby born today eligible for a share of $222,000 dollars – something Callander says is 2degrees 'contributing to a fairer future for the New Zealanders born today'.
And while the company might be a $1.2 billion business now, Callander says that won't change its challenger focus. "
There is nothing wrong with being a challenger. We don't want to be a mini Spark, a mini Vodafone. We have a right to play in this market. We are a challenger business. You have to think like a challenger business. You have got to behave like a challenger and that's how I think we will win and survive in this market.
"We intend to win more than our fair share of the market," he says of 2degrees' future. "That is absolutely what we are about. That is what our shareholders are expecting from us. That is what I expect.