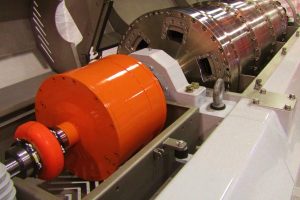 AT A GLANCE
INDUSTRY
Manufacturing and Distribution
BUSINESS OBJECTIVE
Automate front-end processes to improve overall efficiency, cost control and planning.
Improve business intelligence, streamline sales processes and enhance growth opportunities.
SOLUTION
Introduce parallel scheduling to automate production planning and sub-assembly and improve work-center efficiency.
Replace time-consuming, manual customer-quote process with Abel's in-built process to shorten the sales cycle and get the jobs on the factory floor faster.
Automate purchase ordering system and CRM.
BUSINESS BENEFITS
Significant improvements in overall efficiency and manpower savings, including work-centre, sales, engineering and accounts.
Improved bottom line, driven by higher margins and turnover.
Better overall business intelligence, using Abel's integrated data together with specialised reporting and analytics from Abel partner, Virtual BI.
Clear view of all customers and new business opportunities.
FOR MORE INFORMATION
ABEL SOFTWARE
W: www.abelsoftware.com
Australia
E: davidm@abelsoftware.com
T: +61 2 9888 3355
New Zealand
E: davidm@abelsoftware.com
T: +64 9 442 4603
The first step for this leading provider of high-tech equipment, GTech Bellmor was to focus on driving efficiency in their front-end processes…
Faced with a major market downturn and high overheads, a top global manufacturer of high-performance machinery worked with their ERP provider Abel Software to automate front-end processes and improve business intelligence – driving greater efficiency, higher turnover and growth.
Christchurch-based GTech began operating in 1989 as a supplier of meat-rendering machines to the New Zealand market. Since then, the company has grown into a multimillion- dollar manufacturer of specialised centrifuge equipment for a range of industries across Asia, Australia, North America, South America and Africa.
"Improving efficiency has not only increased our margins more than we expected, it's also boosted morale."
"In our industry, success comes down to innovation, performance and price," General Manager Will Colenso says. "GTech has thrived because we design and manufacture the best-performing machines on the market, with IP- based technology and a low cost of ownership."
But when Will took over as General Manager in 2017, GTech's largest export market, the U.S. oil and gas industry was in a slump. With sales down and overheads high, Will decided if GTech wanted to improve their performance and prepare for growth they needed to become smarter and more efficient.
"I was convinced we could at least double our turnover, without throwing more money into our overheads," he says. "but to do so, we had to focus on driving efficiency in our front-end processes-everything from customer quotes and orders to production assembly-because if you don't get this part right, you won't get the rest of your business right."
GTech had implemented Abel ERP in 2011 to provide an integrated and flexible business management system to manage production, planning, inventory, equipment designs and financials across their sites in the United States, Australia and New Zealand.
Will was new to Abel, so he worked closely with Abel's Christchurch office to drive GTech's new supply-chain improvements. "Collaboration was key. The Abel team took the time to understand the issues we were facing, and our wild ideas, and delivered the improvements we were determined to achieve, even when they didn't seem possible."
One major change GTech made was to implement Abel's parallel scheduling functionality to optimize their production planning. Instead of scheduling sub-assembly jobs individually, GTech now uses a parent job to automatically merge components, BOMs and complex routes for jobs (some with as many as 80 parts). With this new top-down approach, every job, subassembly and machine can be scheduled in parallel or sequentially from the one job number.
Thanks to this automation, GTech is now meeting more aggressive production demands for its biggest selling product – a 2.5ton, $300,000 decanter centrifuge called Echo 3, used in the oil and gas industry to reduce waste and recycle substances like drilling mud.
"We are now committed to putting one of these machines on a direct flight to Houston once a week. Without Abel's functionality, we couldn't do it. It just takes one thing to ruin a schedule, but now our schedule works smoothly, and we get it done."
Overall work-center efficiency has also soared. Will says GTech recently charged 96.7 percent of its monthly labour, up from as low as 70 percent in previous months.
"Improving efficiency has not only increased our margins more than we expected, but it's also boosted morale," he says. "Staff used to get frustrated if they had a job to do and materials weren't there. We don't have that problem anymore."
Streamlining the quotation workflow has also helped GTech take another significant step forward. Previously, sales staff manually created complex quotes on paper with inventory parts and then sent them to engineers for completion, a process that often took three weeks to complete. Switching their quotation process to Abel means customer quotes can be built using BOMs and sub-BOMs to accurately break down the costs. The sales team now produces detailed quotes in only two or three days, with BOMs, drawings and other necessary information already attached. "It used to be a time-consuming and costly process," he says, "and often by the time we had sent our quote to a customer they'd already taken their business elsewhere. Our new process is simple, and it has significantly reduced labour costs. Because the quotes are now in Abel, we can instantly generate the customer order and the job using the detail in the quote and send the job to the factory floor within hours of the quote being accepted."
Will says other processes that they switched to Abel are also delivering big dividends:
GTech's purchase ordering process, that previously took one-person hours a day to do manually, is now completed using an Abel purchasing screen in only thirty minutes, twice a week.
Moving GTech's commercial invoicing for overseas shipments from Excel® to Abel was quick to configure and produced massive time savings for their business.
"I don't understand why some companies don't want to invest in software configuration or enhancements that improve their businesses," he says. "It's just crazy. I knew if I spent money I'd get it back tenfold, but I've recovered it a hundredfold."
Abel's in-built CRM functionality has also become important in GTech's drive for new business. With complete visibility of the sales cycle, Will says, "Abel's CRM does everything you'd expect from a CRM system, enabling me to easily track, value, assess and prioritize every opportunity we're working on." New business may require a lot of time and represent only a small part of your turnover, but Will says, "It's the incubator of your business and you have to do it to support long-term growth. Abel's CRM is an invaluable tool."
Abel's breadth of functionality provides GTech all the real-time information they need to accurately analyse and measure performance over all areas of the business. Thanks to a specialised reporting and analytics package from Abel partner Virtual BI, Will receives daily business intelligence reports on key criteria, from sales and invoicing updates to work-center efficiency. "With other tools it can take 10 or 20 hours a week to run these kinds of reports, but now I get them automatically every morning wherever I am. It's incredible."
With all these improvements, GTech is well-positioned to meet their goals for higher turnover and future growth. One figure that stands out for Will is GTech's increase in margins. "We're a whole lot more efficient," he says. "We've improved our margins, and I'm confident we can increase turnover significantly without adding any overheads.
"Abel has made a big difference to our business and I would definitely recommend Abel ERP to other businesses. And I don't say that lightly. Abel's team went out of their way to help us and drive the changes we needed. I have an increased respect for the Abel team and their product for getting us where we wanted to go."
Source: This article was originally sourced from Abel
FURTHER READING
About This Vendor
More Case Studies

Crafting efficiency, traceability and flexibility…

When divestment prompted leading NZ dairy solutions provider DTS to transform their systems, they turned to Abel ERP…


After a mislabelled product exposes a critical business risk, a leading pasta manufacturer needed to safeguard its fast-growing business…

Devex Systems wanted a system that could power their complex business functions…

As a multimillion-dollar supplier of DC power products, Australia's Helios Power Solutions turned to Abel ERP to drive the automation, flexibility and efficiency needed to strengthen its expanding international business…