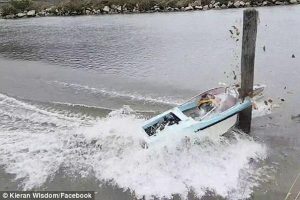 AT A GLANCE
INDUSTRY
BUSINESS OBJECTIVE
Introduce cloud system
Enable remote working, self-service
Reduce processing times, automate business processes
Equip for growth.
SOLUTION
BUSINESS BENEFITS
Reduction in administrative overhead
Productivity gains through improved user interface
Business process automation
Mobile-enabled
Ability to scale seamlessly
FOR MORE INFORMATION
JAVLN
W: http://javln.com/
Australia
T: 1800 000 106
New Zealand
T: 0800 405 405
E: enquires@javln.com
Mariner Marine Insurance selects locally developed back end system for a performance boost…
As a niche insurer with growth intentions, an Auckland-headquartered operation has selected a locally-developed cloud solution to power all aspects of its line-of-business operations. That solution is JAVLN; used by some of the biggest insurers around, it extends enterprise functionality on a cost-effective and scalable basis. As a result, Mariner Marine Insurance is equipped with a complete business system which expands in concert with business growth.
Operating for nearly a decade, Mariner is a specialist insurer solely focused on the needs of boaties in New Zealand. An underwriting agency of Vero Insurance New Zealand Limited, the company prides itself on its knowledge of everything to do with the marine industry. Its staff is passionate about boats and hold a range of boating qualifications, including RYA Yachtmaster, BITO Boatbuilding Electrical and Electronics, and instruction qualifications.
Situation
Aaron Mortimer, director at Mariner, explains that the insurer found itself roped to a legacy system which had little development behind it. "We wanted something more modern and oriented to the future rather than the past. Our legacy system had no options for cloud applications and nothing to support modern work practices," he says.
This, Mortimer adds, meant technology systems were limiting Mariner's ability to respond flexibly and rapidly to meeting the needs of its customers, particularly since the system could not be accessed outside of the office.
"When we went to market to find a suitable solution, we looked near and we looked far for the most appropriate solution. What we sought was cloud architecture, a high level of process automation and a complete system which would cater to all our needs, both in the immediate and longer terms," Mortimer explains.
It was 'close' that the right solution was identified. "What we liked most about JAVLN is that it is a locally developed and supported solution. That means we engage directly with the vendor should we run into any issues or require additional features or functionality. You just can't get that when dealing with a big international provider," Mortimer adds.
Solution
JAVLN is a complete back-office which provides client policies, claims, accounts and reporting functionality. It provides an internet-accessed portal that enables secure online and mobile access; underwriters can work remotely, while customers are provided with 'self-service' access for quotes, payments and policy documentation.
Mortimer says the completeness of the feature set available in JAVLN, coupled with its flexibility – it can configure any term-based insurance product – makes the solution ideal for Mariner's needs.  "But probably the biggest advantage we saw was in the automation it offers. Being able to natively email renewals straight to the client, and automating management of other elements like credit control, is a real win for us," he notes. "That and the fact that this is a locally developed product. We can speak directly with the people who made it."
The advantages of the new system, Mortimer continues, can be found in 'a lot of little things'. "Those things add up to a much better bigger picture. This is a solution which ticked a lot of boxes for us and that has driven the implementation. And a big part of that is the ease of use and cloud architecture."
Results
While it is still relatively early days for Mariner's JAVLN implementation – which was signed off in August 2016 – Mortimer says the benefits are becoming clear. "The major change is that we have been freed up from a lot of the administrative tasks which previously bogged us down. We were a certificate processing machine before, now we're able to focus attention on sales and growing the business."
Much of that is thanks to the automation and self-service features of the JAVLN solution. "The new system means it is a lot quicker to get things done. Moreover, as a cloud solution, if there is a need to work from home or set up a satellite office for a show, we can do that with ease."
That's further bolstered by JAVLN's compatibility with tablet computers.
From a customer point of view, policyholders can choose to have all their documents sent via email, enabling 'paperless' operations. "Of course, some customers like that, others prefer to receive documents in the mail. JAVLN enables either option," Mortimer adds.
It isn't measurable, but he says ease of use which comes with a modern user interface provides a further boost for Mariner's people working with JAVLN. "Ease of use and cloud-based is good for us. We're looking to migrate the rest of the business – around 90 percent – into the cloud, and that means no need to maintain infrastructure or worry about support or capacity, while there are far better disaster recovery options. We can focus on the business rather than making sure the gears are turning."
The ability of the system to scale smoothly with growth, says Mortimer, is a further advantage which is likely to play a role into the future, as in New Zealand's boat-crazy society, Mariner believes it has the headroom to expand considerably. "Growth is always a chicken and egg thing, with staff and customers – which do you add first? With our JAVLN solution, provisioning new staff with the system is simple, it's just a case of 'bang and off you go'. But before we even get to that point, the automation and ease of use means we can manage a whole lot more customers with the same number of staff members."
"The automation and ease of use means we can manage a whole lot more customers with the same number of staff members."
In short, Mortimer says Mariner is equipped for the future. "We're freed from process and operations to focus on sales, growth and the introduction of new products. JAVLN the product works for us and JAVLN the company has proven responsive and forward looking. That works very well for us."
FURTHER READING
No posts found