Published on the 02/10/2014 | Written by Newsdesk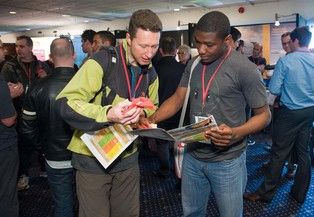 The Canterbury Software Summit is in full throttle and has deliberately chosen a low cost-to-entry and a political stance to appeal to the widest audience possible and promote the sector further…
The annual Canterbury Software Summit has grown from a gathering of 30-odd people to hosting 500-plus in just eight short years. It is run by the apolitical Canterbury Software Cluster whose aim is to advance software innovation, commercialisation and export. Today the event is being held at the Air Force Museum of New Zealand with keynote speeches from such cognoscenti as media platform pioneer Alex St John, nanotechnologist Dr Michelle Dickinson, CTO of Telogis Ralph Mason, and the Hon Amy Adams, Minister of Communications and Information Technology in the previous cabinet.
When iStart caught up with Canterbury Software Cluster chairman Geoff Brash over the phone during the morning tea break he said the venue was already looking full and he expected more to arrive after lunch. He said the event had attracted a variety of people and ages, from hardcore developers and engineers to business owners, entrepreneurs and even high school students – anyone with an interest in technology, especially software.
"It's looking really good – seats are pretty full and people are talking to each other which is what we want," said Brash, who explained that the price for the event had been deliberately kept low (free to members and $97.50 +GST for non-members) to enable as many interested parties as possible to attend and facilitate these interactions.
"We look at what we can ask for for tickets. We try to keep it reasonably low to make sure people can come along," he said. If you put $400 ticket price on an event like some do, self-employed people and students won't be able to afford it, he said. Instead the voluntary committee works within it budget, keepings costs low and enjoying the support of "great sponsors". Brash said he would rather have 500 than 150 people and also expressed a desire to see more women in the audience – an industry-wide issue that the Cluster has been working to address.
In a press release announcing the event earlier this year, Brash said that the 'Full Throttle' theme reflected the momentum in Canterbury's technology sector.
"ICT strategies have featured prominently in the election campaigns of all parties, plus the Government has made some big commitments to support Christchurch's new Innovation Precinct," he said at the time. Today he reiterated those sentiments saying that, while we always talk about the big technology success companies in the region – the Taits and Jades – there are many more small businesses out there doing excellent work that need to be supported and represented.
"That's why with membership and the Summit we want to be broad," said Brash. "We want to include everyone we can, because there's 100s of great software companies in Christchurch.
"I think Canterbury is becoming the place to be [for software], particularly with the rebuild," he said, referring to Christchurch's Innovation Precinct, which will house a new postgraduate computer school, local offices for Callaghan Innovation and NZTE, and anchor tenant Vodafone's new South Island Headquarters and 'Xone incubator'.
The Canterbury Software Cluster currently has a membership of 107 business members and 76 individual members. For more information, or to join the Cluster, go to www.canterburysoftware.org.nz