Published on the 05/07/2017 | Written by Newsdesk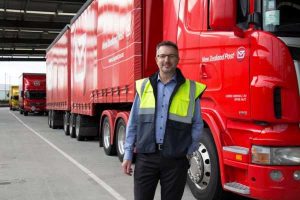 Journey to transformation sees 'NZ first' implementation of Oracle cloud technology…
New Zealand Post may become the country's first organisation to put its warehouse management system into the cloud – although that is an achievement which was downplayed in an announcement that it is to upgrade several systems to improve delivery performance and lure new 3PL business.
As an organisation forced to transform in the face of a dramatically changed operating environment, New Zealand Post has taken multiple steps to change how it operates in an environment where its bread and butter – the A4 envelope stuffed with a bill – has all but evaporated. The challenges faced by NZ Post are summarised in this Diginomica article, where then-CFO (now CEO) David Walsh noted, "On the postal side the action has primarily been around getting leaner to rationalize on cost, while on the other hand we've made serious investments to ensure customer experience doesn't get negatively impacted."
Part of the company's transformation included the implementation of the Unit4 cloud ERP solution; now it is taking further steps into the cloud with the introduction of Oracle solutions.
So it is, then, that PrimeQ has landed a contract with the post service which it said in a statement is 'designed to improve parcel and mail monitoring and deliveries'.
The intention is to help deliver over 560 million items each year by automating transportation and warehousing requirements through the cloud. PrimeQ said it is to install, deliver and support transport management system (TMS) and warehouse management system (WMS) software.
PrimeQ is solely focused on Oracle in the cloud; established in Australia in January 2015 by a group of ex-Oracle employees, it has expanded rapidly, to the extent that it is planning a listing on the ASX by next year. The company has offices in Auckland, Wellington, Adelaide, Melbourne, Sydney, Brisbane and Perth.
One of those ex-Oracle men is CE Andrew McAdams, who in a statement said: "New Zealand Post will be able to monitor deliveries in real time, creating a better customer experience via the cloud…a state-of-the-art TMS will use the power of data to track the transportation of letters and parcels at every step of their journey and improve planning of bulk pick-ups and deliveries."
He added that consolidation and upgrades to New Zealand Post's WMS will help the organisation to better service e-commerce businesses seeking to outsource warehousing and deliveries.
New Zealand Post GM Transport and Logistics Alan Court said in addition to anticipated improvements in deliveries, the new systems "will also support the growth of New Zealand Post's third-party logistics business, using the benefits of the cloud."
And slipped in there towards the end, McAdams said PrimeQ would support New Zealand Post 'to become the first organisation in New Zealand to transfer a WMS into the cloud'.
"This is a major win for PrimeQ off the back of our rapid expansion in New Zealand and will create significant benefits for New Zealand Post," he said.
The project is well underway already, with initial design phases complete. McAdams added that a go-live can be expected within six months, "compared with 12 to 18 months for an on-premise system."