Published on the 03/09/2020 | Written by Heather Wright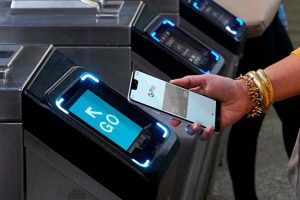 Changing priorities, restoring trust and creating safer cities…
As public transport operators look to woo passengers back post-Covid lockdowns, the call has gone out for the adoption of technologies to alleviate customer concerns and make transport more resilient to future issues.
From adding social distancing features to journey planning apps to incentivising customers to travel off-peak, transport operators are being forced to move with the times and adjust post-Covid.
Tom Walker, senior vice president and Asia Pacific managing director for Cubic Transportation Systems, says the pandemic has caused many city and regional authorities around the world to re-examine their public transport systems.
"By utilising journey planning applications with the appropriate data analytics platform, agencies could add a social distancing feature."
Cubic – which of course has a vested interest in the topic given that it sells transport solutions – has just released a discussion paper, Roadmap for Resilience, on how technology can be leveraged to provide greater consumer confidence, improved safety and reduced congestion.
The Asian Development Bank has also released its own report, Guidance Note on Covid-19 and Transport in Asia and the Pacific, looking at the impact of the pandemic on travel and how public transport can adapt to the 'new normal' and adopt technologies to render it more green and resilient.
"The two key challenges ahead are addressing capacity on public transport to maintain safe distancing requirements and how best to regain public confidence to return to public transport," says Bambang Susantono, ADB vice president for knowledge management and sustainable development.
"In the short term, more effort is needed to reassure public transport users of safety and demonstrate clean and safe public transport," he says.
"In the longer term, technological advances, big data, artificial intelligence, digitalisation, automation, renewables and electric power can potentially offer fresh innovations to tackle changing needs, giving rise to smarter cities."
The reports come as New Zealand introduces government mandated NZ Covid Tracer QR codes on public transport, driven by the need for constant contact tracing on the back of a recent resurgence of Covid in Auckland. Data from the codes is stored in individual users Covid Tracer contact tracing app.
On that contact tracing front, the Cubic Report notes that Singapore's TraceTogether app lets citizens know when it is a good time to go to the supermarket.
"By utilising journey planning applications with the appropriate data analytics platform, agencies could add a social distancing feature in the application that would provide agencies with a communications tool to help enforce policy and maintain safety for their travellers," the report says.
Walker says post-Covid, demand for contactless fare collection has skyrocketed.
"Three quarters of consumers now say they will look to use a contactless system to reduce their interaction with physical touch points – like ticketing machines and gates – as well as their time waiting in crowded spaces.
Contactless systems aren't new, of course – though some are better than others, as anyone who has fought Auckland Transport's Hop system, or had to wait 24 hours for money to be added to the card after doing an online top-up, will attest.
But Cubic says open payment systems, enabling passengers to buy a fare using either a contactless credit card or mobile wallet, are a growth area.
Transport for London's open payment system sees more than 60 percent of all trips being paid with a contactless credit card or mobile wallet, such as Apple Pay. Australia's Opal enables users to tap on and off using their credit, debit or linked device.
And while London, Sydney and New York City – which also harnesses open payment systems – might all be large urban systems, Cubic says smaller cities like France's Dijon are also sharing the same contactless benefits, with the advent of 'as-a-service' models and the commodification of commercial off-the-shelf hardware making expansion of open payments an option for organisations 'of any size'.
Wireless positioning technologies, such as RFID, Bluetooth Low Energy enabled smartphones are also being harnessed as BiBo (Be In Be Out) technology. An app on the smartphone identifies the traveller as they approach, generating a 'tap' based on their location to open a gate or board the transport.
While in the short term, the priority for many companies is reducing touchpoints, longer term it's the prospect of real-time information to enable transport to become more flexible and efficient and to re-instil trust.
"From reducing time spent waiting at crowded stops and stations by providing accurate and up-to-date schedule information, to incentivising commuters to change their travel plans to avoid congested services, using up-to-the-minute data to push updates to mobile apps and digital signage will be the new standard for communicating with customers."
Miami's Department of Transportation and Public Works is using technology to identify people traveling during peak periods and proactively reach out to them to offer incentives such as discounts if they switch their travel to off peak periods.
It's not just passengers who stand to gain from greater use of technology by public transport operators.
Walker says the same technology will also help city and transport planners reduce network congestion and ultimately create safer cities.
Sydney's Transport Management Centre is aiming to be a truly predictive, data driven, multimodal operation, optimising the entire transport network and helping manage end to end journeys, rather than disparate modes. It's transport management platform, running on Azure, ingests information from a range of data sources to provide 'situational awareness' and a common operating picture across the State's entire transit network to enhance management of the road network, coordinate public transport and improve management of clearways and incidents.
"Ultimately a totally integrated transport system allows all the elements to work together more efficiently, supported by real-time data, to encourage more use of public transport, increase safety, reduce congestion and limit other harmful effects, like pollution," Walker says.