Published on the 27/08/2019 | Written by Heather Wright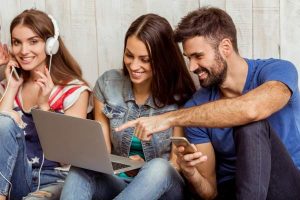 Aussie tops rating despite dismal NBN, while affordability and cybersecurity drag NZ down…
Australia has trounced New Zealand in a new Digital Quality of Life survey, taking top slot out of 65 countries, with New Zealand taking twentieth position, thanks to its mobile internet.
The inaugural report from privacy company Surfshark which tracks a range of factors including internet speeds and affordability, cybersecurity, availability of e-government services and personal data protection legislation, paints a picture of two countries with widely differing internet fortunes.
While New Zealand's ultrafast broadband project has seen the country reaping the returns in terms of fast internet – with a three-month average of 86.98Mbps versus Australia's measly 34.26 Mbps average – that's where the good news seems to stop for New Zealand's broadband, both fixed and mobile.
Aussies need to work just 21 seconds to afford 1GB mobile data. Kiwis will be working 489 seconds for that 1Gb.
The report finds that Australia is winning the affordability race hands down for both broadband and mobile internet, with 'very high affordability of mobile internet', and comparatively high mobile internet speeds. A solid level of cybersecurity (ranking 11th overall), 'well developed' e-government services – which saw the country ranked seventh overall – and 'comparatively extensive legislation on personal data protection' also helped propel Australia into top spot of the 65 countries reviewed in the Digital Quality of Life Index 2019.
Goddy Ray, DQL research lead at Surfshark, says with more than half the population using the internet, our lives are now profoundly affected by our digital wellbeing.
"This is the first attempt to estimate the quality of our digital lives, which, we expect, will provide grounds for further discussions within the indexed countries," Ray says.
"We wanted to understand what matters most for people in the digital sphere and compare digital experiences around the world."
While Australia might be tops overall for digital quality of life, its broadband offerings come in for a slapdown, with the report noting Australia's 'underdeveloped broadband infrastructure' put it in the lower half of countries for broadband speeds – number 42 to be specific – and ranked it in the lower end of indicators for broadband speed and affordability.
"This makes it an exception, since among the selected countries for Digital Quality of Life 2019, Australia is ninth in GDP per capita and has the fifth highest average wage (net).
"Australia's average mobile internet speed is 57.71 Mbps and its average broadband speed is 34.26 Mbps [making mobile 1.7 times faster than broadband]. This makes Australia one of the few indexed countries in which mobile internet is faster than broadband," the report notes.
"Also, one only has to work 21 seconds to afford the cheapest 1GB of mobile internet and 1.36 hours for the cheapest broadband package."
Australia's mobile internet speeds was the sixth fastest of all the countries ranked – but still well behind frontrunner Iceland's 73.93, Norway's 68.36 and Canada's 65.57.
For New Zealand the high cost of broadband was a key factor dragging the country's scores down, with affordability having one of the most substantial weights in the index. While the country ranked highly for speed – coming in at seventeenth overall at 86.98Mbps compared to the global median of 54.62 and Australia's lowly 34.26 – it also ranked second most expensive for the cheapest broadband package price available (the caveat being that the report is based only on the cheapest package, and packages in some countries 'may be very basic, with only minimal speed or download allowance'.) Only Qatar had a more expensive starting price for broadband, at $54.93, with New Zealand listed at $42.35.
According to the DQL Index, Kiwis need to work 181 minutes to afford the cheapest broadband internet. Aussies, in comparison need to work a full 100 minutes less to afford their cheapest broadband offering.
When it comes to mobile, the news is even worse. While Aussie is logging mobile speeds of 57.71Mbps, New Zealand is hitting 44.83Mbps – but when it comes to costs the differentiation is even greater: Aussies lead the world needing to work just 21 seconds to afford 1GB mobile internet data on the cheapest mobile internet plan, thanks largely to high average monthly salaries and comparatively inexpensive mobile data. New Zealanders will need to work 489 seconds for that 1Gb.
At $1.91 for 1Gb of data, New Zealand ranks tenth most expensive out of the countries surveyed. While that's bad news for Kiwis, spare a thought for those in Switzerland, where the price is a whopping $8.30 for 1Gb of data.
New Zealand's cybersecurity is also apparently letting the country down – ranking it just 33rd overall.
The two countries were more evenly matched across other measured factors with New Zealand's e-government services placing the country 12th, while both countries were ranked 'top tier' for data protection and content availability.
Ironically, 'unrestricted' access to internet porn in both countries was a factor for improved Digital Quality of Life score, with the report factoring in availability to the most popular forms of entertainment content – Netflix, Amazon Prime, YouTube Premium and internet porn – all of which it notes are freely available in Australia. Weighting for e-entertainment is however at the lower end.
"It is important to note that people living in around two-thirds of the indexed countries do not have unrestricted access to at least one of the four researched services."
Uncertainty on the legislative front around personal data laws and the encryption bill are also putting a question mark over Australia's future rankings, the report notes.
"Although it received the highest indicator score for the presence of personal data laws, recent legislative developments and the encryption backdoor law passed in the Parliament of Australia, might implicate the digital quality of life there in the future."
The law, which enables companies to be forced to add backdoors to their encrypted technology offerings, has been slammed.
As to the other top countries for Digital Quality of Life, France, Singapore, Norway and Japan rounded out the top five, followed by Canada, Denmark, South Korea, Italy and Sweden.
And those with the lowest digital quality of life? That distinction went to Algeria. Ethiopia was 64th, with Iraq, Egypt and Pakistan taking out the remaining bottom five slots.
Meanwhile, if you're looking to create a digital utopia, the Digital Quality of Life report suggests combining Australia's mobile affordability with the UK's cybersecurity, France's data protection laws, Denmark's e-government services availability, Iceland's mobile speeds, Singapore's broadband speeds, Israel's broadband affordability and the US's content affordability for the 'perfect' DQL country.