Published on the 26/03/2019 | Written by Pat Pilcher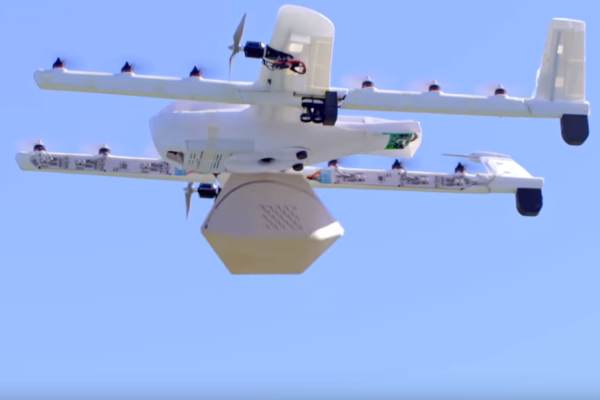 Delivery trial raises Canberra's ire, but will Google listen?…
When technology is good, it can be life changing, but when it's bad, it can be terrible. Often it isn't so much a case of the actual technology being good or bad but of tech giants pushing agendas and not thinking through the impacts on communities.
A case in point is Google subsidiary, Wing. They're trialling a drone delivery service, much to the dismay of residents Bonython, a suburb of Canberra.
While the drones can deliver a hot cup of coffee mere minutes after it gets ordered, locals living under the drone's flight path say Wing is making their lives miserable as the noise produced by drones flying over makes relaxing in their own homes impossible.
Operators such as Wing are going to struggle to gain public acceptance if they get seen as an annoyance or intrusion by every household they fly over.
So how noisy are these drones? As almost anyone who has spent time near a drone can attest, they are not quiet. Most sound a like an electric weed eater colliding with a hive filled with angry killer bees. Most of the promotional videos of drone delivery services make liberal use of musical backing tracks to drown out the high-pitched scream of drones in action.
To better understand the true problem, watch the video below (with the sound up):
Privacy concerns and stories of drones used as online peeping toms also means many are wary of uninvited drones flying over properties.
Wing's parent, Alphabet, has said they will tweak the Wing delivery drone sound levels by reducing flight speeds and changing routes. Alphabet says that means their drones will not only run quieter but they will also not pass over the same addresses regularly, ensuring there is less likelihood of them being an ongoing annoyance.
Complaints out of Canberra are not the first, nor are they likely to be the last examples of communities taking issue with Silicon Valley corporates.
When discussing bumpy community relationships and Silicon Valley companies, Amazon is a name that repeatedly crops up. In the US, Amazon has sought out cities and counties to house their fulfilment centres where goods are packed and shipped to customers. Amazon says they created 40,000 full-time jobs, yet the Economic Policy Institute contradicts this in a report that says that counties with Amazon fulfilment centres are not seeing a sizeable boost to their local economies.
The Economic Policy Institute argues that local governments in communities are giving away large sums of money as tax credits, exemptions and infrastructure assistance to Amazon but are not seeing significant benefits as jobs created are offset by jobs lost in areas such as retailing which is contracting due to the growth in online shopping.
Adding insult to injury, working conditions also appear to nosedive in areas where Amazon sets up shop. A UK undercover investigation found that Amazon warehouse employees took to urinating in bottles so that they did not miss strict time targets. When the investigation went public, other Amazon employees came forward to tell similar stories, saying there was no time for bathroom breaks, or even speaking to co-workers. Reports in the New York Post surfaced of Amazon Drivers using vans as improvised toilets, in order to meet delivery targets. In many states were Amazon operate, wealth is not flowing back into communities. In some US states, up to one in three Amazon workers need food stamps as wages are not enough to keep them above the poverty line.
While the impact of Wing's drone trials is nowhere near as dire or far-reaching as Amazon's operations, complaints are still flying thick and fast out of Canberra.
Drone delivery services are a perennial tech media topic, and most have yet to eventuate. While big players like Uber Eats have said they are keen to launch a drone delivery service by 2021, many vendors are still grappling with a multitude of issues surrounding drone deliveries.
Perhaps the most significant issues centre around safety and security. Many drones are easy to hack and this, says cyber-security experts, could see drones taken over by malicious actors. Wings delivery drones are able to fly at 120kph at altitude, so the potential for injury (or spilt coffee) is real. Rather than hacking a drone to crash, experts also speculate that hackers would most likely seek to hack a drone and steal the payload the drone was delivering (the lengths people will go to for a good cup of coffee is amazing!).
In countries like Australia or New Zealand with unpredictable weather, strong winds or torrential rain is another risk that could see delivery failures being an issue as drones getting blown off course or crashing. Privacy is also a big issue. Few members of the public are crazy about camera-equipped drones flying over their properties. How companies such as Wing manage this remains to be seen, but a lack of regulatory oversight in different countries could see this issue being a contentious issue for some time.
If the demo videos are any indication, noise is the big challenge. One thing is abundantly clear, drone delivery operators such as Wing are going to struggle to gain public acceptance if they get seen as an annoyance or intrusion by every household they fly over.