Published on the 09/02/2018 | Written by John Leonard, General Manager for ERP/EPM SaaS at Oracle A/NZ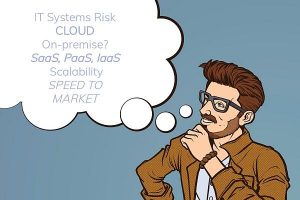 Why did Oracle choose to write its cloud applications from the ground up? It came down to customers' ability to deliver innovation and transfer risk…
In recent years, Oracle has invested in ground-up development of a new SaaS Application Suite (including CX, ERP and HCM). This was a major decision over simply hosting and rebranding its existing legacy products (E-Business Suite, JD Edwards, PeopleSoft) as 'cloud' as most of its competitors have done. It was an expensive and challenging call – so why was it made?
The term 'cloud' has become so ubiquitous that many people in the IT industry struggle to distinguish the different 'flavours' of it. One way to simplify is to focus on the key value proposition: cloud is the transfer of risk from the client to the vendor. In this context, Software-as-a-Service (SaaS) delivers the optimal value. Not only because the vendor is responsible for nearly all of the running and operating of the system, but also the nearly frictionless innovation that SaaS alone delivers.
Like many competitors, Oracle had the option of simply offering our existing Enterprise Resource Planning (ERP) products through a hosted model and selling either E-Business Suite or PeopleSoft via subscription. And while this PaaS cloud service would have offered value, it would not have been SaaS and would have ultimately deprived our customers of having the very best option available on the market.
Why is this so important?
If you go back to traditional on-premise software, the way an IT vendor would provide innovation was through improvements consumed through product upgrades and implemented at the customer's expense. As with the initial product implementations, upgrades could often be disruptive and costly. In an effort to reduce disruption, technology vendors often delivered upgrades at infrequent intervals – sometimes several years apart, leading to an irregular cadence that lacked uniformity or consistency. All of this came against the backdrop of the client's unique technology environment which often included some level of customisation, many times adding even more cost, risk and complexity to the upgrade process.
All around the globe, speed to market with new offerings or capabilities and the ability to pass that savings on to customers is a key differentiator. The painful upgrade process forced many customers to delay – often for years – taking on the innovations that were meant to benefit their organisations and their end customers. This could expose those organisations to competitive disadvantage, resulting in lost revenue, share and opportunity.
The difference of SaaS
SaaS has uniquely addressed this issue because the time, cost and risk has largely been removed from the process. And unlike other cloud services like Platform-as-a-Service (PaaS) or Infrastructure-as-a-Service (IaaS), where customers are still responsible for the operating and running the actual application, in a SaaS model that falls to the vendor so the customer is free to focus on their business.
SaaS products cannot be technically modified (though they are highly configurable) so new updates do not "break" the existing system. Moreover, the update process itself is highly uniform – Oracle sends updates four times per year – and innovations are embedded in the product releases so they can be leveraged immediately.
As a result, innovations arrive at a uniform and predictable cadence and can be leveraged without delay. This provides an enormous benefit for customers who have this capability, and allows them to leverage a competitive advantage across their business and in the market. By contrast, organisations who are operating in the old paradigm are at an immense disadvantage as they are literally years behind their competitors and face high barrier to close the gap.
Iterating in the real world
There is another critical factor that is unique to SaaS: the feedback loop.
Improvements in technology allow organisations to deliver customer experiences because they have large data sets. Online retailing is an example. Whilst traditional brick and mortar retailers depend entirely on an anecdotal or reactive relationship (e.g. they know what you have already purchased versus what you want or need), they struggle to bring this information to bear on your experience. There is zero personalisation.
Online organisations on the other hand, have digital relationships with their customers. This allows online retailers to learn and respond very quickly – often with the use of machine learning – whether or not you have made an actual purchase. And by leveraging their data set and applying it in real time, the entire experience is personal and relevant.
SaaS computing operates much the same way. Years ago, product enhancements were informed by our anecdotal relationship with customers, either through direct meetings or from reviewing bug fixes. Given the aforementioned upgrade process, that feedback loop was an achingly slow, anecdotal and inexact.
Today, we interact with our clients digitally. Our entire base of Oracle SaaS application customers run on the same global instance, so our data runs across a uniform experience. There is no better method to operate at scale and with velocity. This provides an enormous advantage for our customers.
Transferring the risk and struggling with the 'how'
Due to the challenge of finding objective information and the historical risk profile of enterprise technology projects, over time customers adopted a process for evaluating options and selecting a partner. Often this process would run several years, require sizable investment, and (ironically and for a variety of reasons) would not often deliver the desired outcome.
Among the many benefits of the new world is easy access to information and the reduced risk to the customer that ERP SaaS provides. This affords an opportunity to manage project risk in a far more practical way.
As a result, the processes that take years to complete with RFIs, RFPs and bake-offs actually introduce more time, cost and risk than small, agile project sprints that go right into production (and can be switched off as part of a subscription.)
Many organisations are taking advantage of this new-found agility and speed and are bringing capabilities to market years earlier than their competitors, proving that driving a dated, rigid process with an aim to derive the very best of a modern technology platform may undermine your ultimate objective.
This is the third article in a series looking at the modern CFO.
The second article is The data-driven advantage for CFOs
The first article is The CFO of tomorrow
ABOUT JOHN LEONARD//
John Leonard is the General Manager for ERP/EPM SaaS at Oracle A/NZ.