Published on the 05/10/2009 | Written by Newsdesk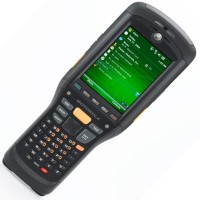 Now available in New Zealand, the MC9500-K has a number of new features and improvements including display, data capture and wireless connection enhancements...
Motorola has launched its latest rugged mobile computing device, the MC9500-K, into the New Zealand market.

Targeted as a productivity tool for workers in sectors such as delivery, transportation and logistics, and field services, the device is the latest addition to Motorola's MC9000 ruggedised handheld computer platform.

"With the MC9500-K, Motorola is offering improved design and performance that will give kiwi companies who depend on rugged handheld computing the chance to take mobile productivity to a new level," says Aldas Palubinskas, general manager of local Motorola specialist Mobico.

Palubinskas says key features of the new model include enhanced processing power, better display technology, improved data capture, GPS and more wireless connectivity options. The ergonomic design has also been significantly improved.

"It feels balanced and comfortable to hold and it's even more rugged and secure than previous models," says Palubinskas.

"Given the importance of being able to get through a full day's work without having to worry about batteries running out, Motorola have improved the battery life of the MC9500-K," he says.

"Equally importantly, it has a sophisticated power management and LED monitoring system so you can see the charge state and health of the battery, meaning there are no unwanted flat battery surprises for users out in the field."

The MC9500-K's connectivity features include 802.11a/b/g wi-fi with VoIP support, Bluetooth v2.1 with enhanced data rate, IrDA for legacy connectivity, and Motorola's "FlexWAN" system of customer-swappable 3.5G broadband modules, either GSM/HSDPA or CDMA/EVDO Rev A.

Motorola says another key feature of the MC9500-K is its integration with the company's "universal accessory system" where it has taken a modular approach to the design of accessories for the device, meaning accessories will be compatible with future handhelds on the platform.

The MC9500-K also has a single I/O connector on the back of the device allowing it to be cradled either with or without snap-on accessories attached.
To view the full range of Motorola handheld computers (including the MC9500) contact Mobico.
Mobico
W: www.mobico.biz
E: info@mobico.biz
T: +64 9 303 0686