Published on the 20/09/2016 | Written by Newsdesk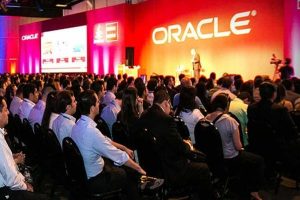 News from Oracle OpenWorld in San Francisco…
Among the expected slew of announcements from its annual talkfest taking place in California, industry heavyweight Oracle has revealed a strategy to blend third-party data with real-time analytics and behavioural inputs to create applications that adapt and learn. It also shook the covers off a number of new 'clouds' – a variety of applications which span financial, human resources and internet of things solutions.
The result of its blending approach, said Oracle, is (or should be) 'intelligent cloud applications that automatically offer individualised recommended actions and streamline the tasks of business users such as human resource or finance professionals'.
Called Adaptive Intelligent Applications, it said they will leverage data from Oracle's Data Cloud, a collection of over 5 billion consumer and business profiles, with over 45,000 attributes. It all sounds a bit like a Google of the enterprise technology world.
The applications, said Oracle, will learn and ingest data about an organisation's users and their behaviours to deliver targeted information to customers and employees. These analytical insights will apparently 'build a knowledge base that helps improve business results across organisations'.
In a statement, Ray Wang, principal analyst and CEO at Constellation Research said: "Machine learning applications and analytics provide huge opportunities for customers to monetise their existing businesses and accelerate digital business. Success requires a large corpus of data, strong expertise in data science, massive compute power, industry and domain expertise, and breadth of application solutions. More importantly, machine learning techniques are here today and the ability to adapt on demand is what separates the hype from the reality."
Hype is something we have come to know and love; OK, hype is something we have come to know.
Oracle VP of application development Steve Miranda (recently interviewed by iStart and who said one hundred percent of businesses will put their applications into the cloud, noted further: "A company's data is its most valuable weapon. To remain competitive today, companies must access their information in real time to intelligently forecast and grow."
Because Adaptive Intelligent Applications leverage anonymised information, and combine with a company's own data, Miranda said it is possible to 'provide unparalleled customised insights to help enhance business performance'.
For example, said Oracle, finance professionals can negotiate best supplier terms, while optimizing cash flow needs and balancing costs; recruiters can automatically identify best-fit candidates in the shortest time; HR managers can create job descriptions that will help candidates more efficiently find the best and most well-suited positions; Marketing and Commerce managers can drive higher conversion rate; Supply Chain managers can automatically find the best options to distribute goods.
"Within the foreseeable future, every enterprise application will be a smart application that intuitively learns from interactions with an enterprise's data. Oracle's new Adaptive Intelligent solutions take this value proposition a step further. They are set apart from others by allowing the intelligent applications to learn from billions of anonymized consumer and business profiles available from Oracle," said Dave Schubmehl, research director of cognitive systems and content analytics for IDC.
New additions to its 'Cloud' branded solutions include: Engagement; Financial Consolidation and Close; Revenue Management; Student; Human Capital Management; Internet of Things; and Supply Chain Management. Each product gets an 'Oracle' ahead and a 'Cloud' behind for the full name – so, Oracle Engagement Cloud, etc.
More announcements from Oracle OpenWorld, which runs from 18 to 22 September.