Published on the 15/06/2017 | Written by Newsdesk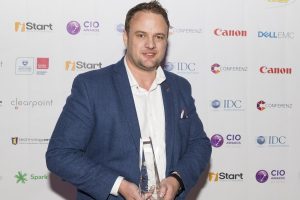 With the CIO Summit Awards taking place last night in Auckland, the top gong went to a government CIO…
While New Zealand Trade & Enterprise's Richard Kay took out the major prize for the evening, serial entrepreneur Claudia Batten was recognised for her outstanding contribution to technology and business in New Zealand.
The IDC and Conferenz CIO Awards are supported by ClearPoint, Halo Consulting, Spark, TechnologyOne, The University of Auckland Business School and Canon.
Winners were announced in six categories. Nick Whitehouse, chief digital officer for law firm MinterEllisonRuddWatts (and now CEO of legal aid AI startup McCarthyFinch) was named Emerging ICT Leader of the Year 2017. Whitehouse has previously featured in iStart; he has played an instrumental role in making a reality of MinterEllisonRuddWatts' vision to become a digitally enabled market disruptor.
The Engaging Youth In ICT award went to Code Avengers, with brothers Michael and Adam Walmsley collecting their prize. This award showcases outstanding initiatives by private enterprise, public sector or academic institutions that encourage young people to learn about and successfully pursue careers in information technology. Code Avengers is targeted at high school children and provides 'A better way to learn to code websites, apps and games'.
A group from BNZ secured the Best ICT Team Culture award, which seeks to celebrate organisations that see recruitment, retention and training top talent as key ingredients for high performing IT teams. That came on the back of the response to the Kaikoura earthquake, when a critical technology team was established to transition 1,500 staff dislocated from their Wellington office, and help BNZ restore banking services in Kaikoura.
The Business Transformation through Digital and IT award, a category new for this year, went to data insights company Valocity. This award honours the achievements of organisations that have successfully used disruptive technology to innovate and transform their business. Valocity has produced a solution that has transformed mortgage lending for financial institutions, valuers, brokers and consumers.
In winning the Outstanding Contribution to Technology and Business in New Zealand award, the 'digitally obsessed' Batten's considerable achievements were cited. This award is given to a high-profile businessperson whose contribution to IT has significantly and uniquely impacted the greater New Zealand or global business community over the course of their career.
USA-based Batten has founded, grown and sold two startups in the digital advertising space; she was most recently appointed to run North American operations for NZTE, is a director of Serko, and digital advisor to the board of Westpac New Zealand.
And New Zealand's new CIO of the Year Kay is recognised for transforming NZTE's ICT function across 53 global locations. In 18 months, he moved his department's NPS score from -15 to +80, overcoming low engagement and morale.
Starting with fixing the small things when they mattered most, he then developed the 'Way we Work' philosophy, designed via a collaborative process which included new ways of thinking such as 'We say yes', 'We find a way' and 'We keep people informed'.
Kay and his teams have migrated systems almost fully into the cloud, with the focus on creating a knowledge environment. Incredibly, these changes have been made without impact to budgets.
He said the secret to success was having full support from the leadership team and the board.
IDC ANZ MD Ullrich Loeffler described the standard of entrants, finalists and winners as 'exceptional'. "[That's] testament to the increasingly important role that ICT plays in business in New Zealand. The winners demonstrated excellence in delivering ICT and driving business transformation through innovation, leadership and culture, providing a beacon for others to follow."