Published on the 22/02/2017 | Written by Donovan Jackson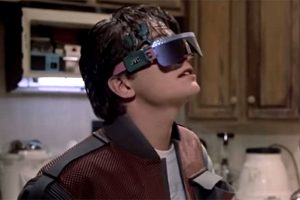 Google Glass might be dead, but the segment in which it inspired a good deal of public opprobrium isn't…
At least, that is, not according to Juniper Research, which reckons this could be the next properly hot segment for the tech industry. It said it has identified smart glasses as the highest growth sector of the consumer wearables segment over the next five years, reaching 11 percent of the overall wearables market by 2021 – despite the fact that Google Glass went down in some spectacular flames.
Just how steep that anticipated growth curve will be is evident in the numbers: Juniper said revenues are forecast to grow from US$327m this year, to US$9billion in 2021, propelled by an emerging new generation of smart glasses.
The research, Smart Wearables: Vendor Strategies, Opportunities & Forecasts 2017-2021, also found that the dominant wearables categories of smartwatches and fitness wearables, have begun to slow. Juniper said these items will claim just over 50% of wearables revenue by 2021, compared to an expected 75% this year; meanwhile, vendors like FitBit and Jawbone are laying off staff and facing slowing sales. Industry pioneer Pebble shut up shop at the end of 2016 and Motorola bailed on the market altogether.
Apple, in that annoying fashion of large vendors (like Microsoft, which, for example, won't say how many of its Surface computers it has sold), doesn't let the market in on the performance of its Watch – beyond Tim Cook who 'couldn't be more excited' about the product. No numbers lends itself naturally to suspicion; quoted in the Financial Times, an analyst is somewhat less excited, and noted, "Without a doubt, wearables have failed to live up to the hype by any measure. In general, it still feels like a solution looking for a problem."
Personal experience might confirm the rapid rise and wane of interest in fitness trackers: when was the last time you synchronised yours?
The other popular – at least in terms of its ability to attract headlines – wearable is, of course, Microsoft's HoloLens, and despite Redmond's patchy-at-best track record with hardware, the device has caught the imagination of numerous vendors, with a demo unit at Intergen commanding a good deal of attention and that organisation's parent company Empired recently saying it is looking for opportunities for the device in mining, manufacturing and architecture.
But whether the HoloLens is defined as 'smart glasses' at all is probably up for conjecture, as it is more of a back-office device likely to adorn the large heads of professionals at work, potentially in mining manufacturing and architecture; what's more Juniper said smart glasses are 'being repositioned away from their technological roots to appear more like conventional glasses; new products from ODG and GlassUP look more like large sunglasses. Marty McFly would be proud.
But there are still the 'idiot' and 'creepiness' factors which need to be overcome. Some of the memorable headlines spawned by Google Glass include Wired's 'I, Glasshole: My Year with Google Glass', Gawker's subtle 'If You Wear Google's New Glasses You Are An Asshole', and The Verge's 'Google Glass makes you look like a 'dick on a Segway,' says designer'. Even the restrained Forbes got in on the action: 'How To Not Look Like A Jerk With Google Glass'. Aside from the fact that the product is discontinued, one imagines the answer to the question posed is to not wear smart glasses at all.
Juniper's bet is that 'more ambitious wearable devices, which require new modes of interaction, will bring more and better devices to consumers in the near future. This will help to remove the stigma of wearing smart glasses in public, as will the renewed focus on private use cases.'
Oh, and there's a whole new category, too: ear-based wearables, or hearables, said Juniper, will bring more possibilities. 'These devices are becoming platforms for digital assistants such as Alexa and Siri, as well as enhanced multimedia consumption, using voice commands and gestures as interaction methods'.
Juniper has a whitepaper with more details (registration required): 'Wearables ~ Fad, Fashion or Function?'