Published on the 20/03/2017 | Written by Donovan Jackson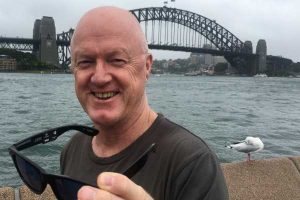 Whole world goes crazy over Visa in sunglasses...
Forgot your wallet? Don't worry, your sunglasses could be the answer to stumping up for the groceries. In a move which, among the dinosaurs who prowl the iStart offices, immediately sparked memories of the classic dotcom bustup case study Pets.com, the credit card company Visa has delivered unto a breathless world WaveShades.
Yes, sunnies with a wee NFC chip on one arm. Where there's Paywave, brandish your WaveShades, Bob's your uncle and bang goes a few bucks out your account.
Behind this astonishing development is an Australian startup and FinTech Australia member Inamo. The company's contribution to global peace and prosperity is the pretty straightforward notion of adding a chip to an everyday device.
We're not kidding about the breathless planet, either. WaveShades have, said the press materials, 'led to a world sensation after being unveiled at the iconic South by Southwest (SXSW) Festival attracting television and online media attention across the globe'.
Inamo founder Peter Colbert said he thought of the contactless payment sunglasses after surfing with friends at Manly beach near Sydney. "It was my turn to pay for a round of coffees with friends and I realised I didn't have any wallet or cash to pay. I had a light bulb moment and thought 'wouldn't it be great if I could go surfing, even go for a run or bike ride and not have to carry my wallet or mobile phone'."
Where Archimedes' 'Eureka' made him jump out of the drink, Colbert's one was something of the opposite. He developed the Inamo Curl, a waterproof payment wearable that can be attached to watch and fitness bands and is compatible with PayWave terminals.
Armbands…why not sunnies! Why not indeed. The chip used on the Inamo Curl is now embedded in the arm of the WaveShades sunglasses, and the rest, as they say, is history.
Credit cards, which are ingrained in popular culture, are of course, nothing more than tokens. For years, those with good memories could dispense with the token altogether as a recall of the numbers and dates would be sufficient to transact. Now that NFC chips can replace cards, as they have done in implementations like WaveShades or the perhaps more orthodox smartphone payment systems, those chips can be attached to probably anything.
As folk who rarely go anywhere without undies, iStart is looking into the creation of the world's first WaveJocks (although our chips are already located on our shoulders). With these bad boys, you'll never again need access the 'I've gone and left my wallet behind' excuse.
As for Pets.com, at the height of the dotcom boom, this domain name, for the business was little more than that, burned briefly but brightly, in the process consuming over US$300-million of venture capital in the overheated late 1990s dotcom frenzy. As the company was around for just 268 days, that was more than a mil every 24 hours.
But the world is a very different place now. People buy and use selfie sticks, of all things. So while WaveShades could be an overreach, it could just also have broad appeal: Inamo is in good company as a founding resident of the Sydney Stone & Chalk fintech startup incubator. Check out a video of surfer dude Peter Colbert talking about how he started Inamo here.