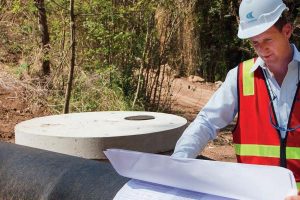 AT A GLANCE
INDUSTRY
Construction and Engineering Professional Services
BUSINESS OBJECTIVE
Automation of key business processes
Elimination of manual tasks and paperwork
Information accessibility through APIs
Integration with client/partner systems
Ease of reporting
SOLUTION
Greentree product suite / Greentree API Engine
BUSINESS BENEFITS
Improved efficiency
Information access and visibility eased
Value chain integration enabled
Better reporting
FOR MORE INFORMATION
MYOB//
E: biggerbusiness@myob.com
NZ: 0800 696 239
AU: 1300 555 110
https://www.myob.com/
Subscribe to MYOB's monthly bigger business newsletter.
MYOB Newsletter signup
ERP system communication builds Comdain Infrastructure's reputation for efficiency and customer service…
Faced with cumbersome paper-based processes, construction and engineering consulting company Comdain Infrastructure recognised that its technology system could provide a better way. By leveraging the power of its MYOB Greentree enterprise resource planning solution, it has introduced automation to eliminate errors and substantially accelerate throughput.
Comdain Infrastructure has been in business since 1962, specialising in engineering and asset management services for major public utilities. Comdain engineers and maintains assets including water pumping stations, water pipelines, or gas distribution networks to name a few. These projects range in value from a million to tens of millions of dollars. The company employs in excess of 500 staff in Victoria, Queensland and New South Wales and is involved in more than a dozen capital works projects, while its maintenance work delivers over 50,000 work orders per annum. Its clients include Multinet Gas, Sydney Water and APA GasNet.
Situation
"We're a sophisticated, privately owned, national company that plays against international organisations," says Comdain's IT Manager, Matt Hughes.
With those thousands of work orders, he explains that before the introduction of MYOB Greentree, every single one would involve paperwork – and that lead to data mistakes.
Comdain's Infrastructure Project Manager Ben Volombello points out the problem: "The expenditure we approve and the invoices we generate are crucial to our bottom line. A job may entail hundreds of purchase orders and labour costs for dozens of employees on varying pay scales."
Solution
With the implementation of the MYOB Greentree ERP solution, the company saw an immediate benefit to its ability to win business and deliver superior customer service.  "The flexibility of our MYOB Greentree system has been central to our success and sustained growth," notes Hughes. "We outperform our competitors in terms of our technological infrastructure. When we bid for contracts, we demonstrate our integrated IT and field service capabilities to prospective clients; this has helped us to win business."
He singles out MYOB Greentree's API engine for special mention. "With electronic data flow via APIs, we can accelerate key business processes – for example, invoice clients faster – which has increased our efficiency and productivity across the board."
Going into more detail, Hughes explains that MYOB Greentree captures all the job costs for work done by Comdain staff and subcontractors, and uses APIs created by its API Engine to integrate with other systems, including those of clients, to manage service requests and work orders.
A further example of the efficacy of API engine can be found in a field service application developed with the help of its MYOB Greentree Partner. The application integrates with MYOB Greentree CRM via an API, enabling Comdain to institute service level agreements that promise response within 60 minutes for emergencies such as gas or water leaks.
Results
This sort of capability, he says, "is huge. Our business model is based on us meeting targets, meeting the client's needs, and adapting our system to that of the clients."
The high level of integration has helped to grow Comdain's reputation for best business practices, says Hughes. "Because MYOB Greentree is easy to talk to [through the API Engine], it gives us real-time data," says Hughes. "For instance, if our client releases a work order into its system, a work order is automatically created in MYOB Greentree and sent straight out to staff in the field."
As a result of the system, project managers are better able to handle client queries through being able to drill down instantly into MYOB Greentree to get the information they need – and Comdain receives glowing client testimonials that talk of "comprehensive and well-established management systems", "gratitude and appreciation in the effort and care applied to these works", "excellent standards" and "professionalism."
MYOB Greentree, says Hughes, makes forecasting and compiling reports easier. "I can track jobs the way I want to, break them down into smaller components and extract data for my reports in no time. "Superior quality of customer service has won us a lot of business. MYOB Greentree helps us to be flexible, improve efficiency, and get more accurate data out of our day to day work."
"Superior quality of customer service has won us a lot of business. MYOB Greentree helps us to be flexible, improve efficiency, and get more accurate data out of our day to day work."
Source: This article was originally sourced from MYOB
FURTHER READING
About This Vendor
No items found
More Case Studies


To modernise their business MoAD needed to streamline their financial management…


MYOB Advanced is up for it!…


What started as a one-man's passion project turned into an award-winning beer brand found all over New Zealand and overseas…


High speed success GX2 Technology is regarded as one of the industry's ongoing success stories…


Global roofing manufacturer relies on MYOB Greentree to weather challenges…