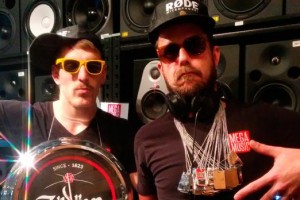 AT A GLANCE
INDUSTRY
BUSINESS OBJECTIVE
Improve information visibility for better inventory control, management reporting
Eliminate multiple difficult-to-use, disparate business systems
Improve front-end/back-end integration
SOLUTION
BUSINESS BENEFITS
Increased sales staff confidence
Complete visibility of business operations across multiple locations
Improved customer management
Tighter stock control and inventory accuracy
FOR MORE INFORMATION
MYOB//
E: biggerbusiness@myob.com
NZ: 0800 696 239
AU: 1300 555 110
https://www.myob.com/
Subscribe to MYOB's monthly bigger business newsletter.
MYOB Newsletter signup
Faced with the challenge of multiple disparate systems, Western Australia's Mega Music found the ideal business management software in MYOB Exo…
For many rapidly growing businesses, the introduction of new systems to help manage the organisation can happen on an organic basis. While that quickly addresses immediate challenges, it can result in a miscellany of isolated programs which can, in time, cause more difficulties than they address.
That's a situation in which Perth's Mega Music found itself. Established in 2001, the company quickly grew to become one of the city's favourite music stores, large enough to offer a great selection at competitive prices, but small enough to still retain a friendly culture. Providing quality gear for music professionals, students, schools and bedroom warriors, Mega Music also offers instrument repairs, servicing facilities and a music academy with highly skilled teachers.
Situation
Mega Music struggled with a mismatch of different accounting and Point of Sale systems across its business, which Kajen Velupillay, Owner/Director describes simply (and effectively) as 'clunky.' Issues included difficulty in using the systems, while the inability to share information from one system to another limited the value of data, particularly in terms of managing customer relationships. The company also wanted to improve accountability by providing easy access to information, allowing operators to view previous sales, repairs or services.
To Mega Music, notes Velupillay, "a professional and personal touch is as significant as each individual transaction".
" What we liked most about what MYOB Exo delivered was a back end system that operated and performed to our team's expectations."
It therefore sought a system which would help create a single customer view, in turn supporting the goal of developing one-to-one relationships and tailored options for individual customers.
Solution
Mega Music approached MYOB partner Horizon Business Systems to examine the available options, identifying Exo as the preferred basis on which to develop an appropriate solution.
Working together, Horizon and Mega Music tailored the system to enable more dynamic customer relationships by understanding and reporting on individual needs rather than just a straight "point of sale" of instruments and accessories.
With three locations – and looking to expand – Mega Music recognized the value of MYOB Exo to deliver multi-site POS (point-of-sale) from a single database, operating both on and offline across all sites. It also needed stock to be easily and accurately transferred across locations, with accurate reporting to keep track of stock throughout the supply chain.
Results
Velupillay says MYOB Exo has delivered to Mega Music's expectations. "What we like most is the back-end system which interfaces seamlessly with the front-end a POS system," he notes, explaining that it empowers salespeople to know what stock is available, so they can accurately meet customer requirements.
He says the customisation of MYOB Exo completed by Horizon Business Services has allowed staff and management at Mega Music to provide a much higher level of accurate, timely and personalised service to its customer base. "It is these customer relationships that make Mega Music the fastest growing music store in the region," Velupillay concludes.
FURTHER READING
About This Vendor
No items found
More Case Studies


To modernise their business MoAD needed to streamline their financial management…


MYOB Advanced is up for it!…


What started as a one-man's passion project turned into an award-winning beer brand found all over New Zealand and overseas…


High speed success GX2 Technology is regarded as one of the industry's ongoing success stories…


Global roofing manufacturer relies on MYOB Greentree to weather challenges…