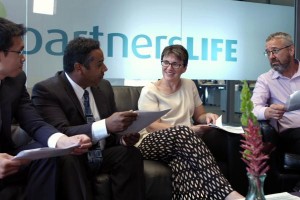 AT A GLANCE
INDUSTRY
BUSINESS OBJECTIVE
Achieve a 50 percent minimum reduction in the time between lodging the application form to it entering the company's underwriting system. The process was taking up to one and a half days.
SOLUTION
FUJIFILM Business Innovation imaging and indexing service
BUSINESS BENEFITS
Releasing of close to 90 percent of all applications into the Underwriters' approval queue within 4 hours
Validation process is automated and accurate
Employees freed up and reassigned to more valuable tasks
Underwriters able to make more rapid decisions
Applicants and advisers delighted with shortened response time
FOR MORE INFORMATION
FUJIFILM Business Innovation
W: FUJIFILM Business Innovation
New Zealand
E: kevin.ptak.pc@fujifilm.com
T: +64 21 275 4321
Rapidly expanding insurance company Partners Life has applied advanced imaging technology to automate data capture and deliver major efficiency gains…
Partners Life is changing standards in the insurance industry using a managed service solution from FUJIFILM Business Innovation to quickly convert paper-based information into digital, accelerating the turnaround time for life insurance applications and supporting an improved customer experience.
Founded and managed by Naomi Ballantyne, Partners Life embraces new and innovative technologies to deliver happy outcomes for its customers. This approach has seen the company achieve exponential levels of growth in a highly competitive market. Since its 2010 establishment, Partners Life has grown from 10 to 160 staff, and expanded its Inforce premium to NZ$134M at March 2015, at an annual growth rate of 79 percent.
Situation
The insurer receives 1,100 new business insurance application forms every month, each of which contains 36 pages of information.
Prior to 'Project ACE' (Application Capture Extra), all application forms were manually reviewed by the Underwriters to identify whether they were completely and correctly filled out, and data from paper forms was keyed in for submission to the underwriting system.
This hands-on approach slowed down the entire approval process. The company's rapid growth meant it would need to hire 6 more operations staff to cope with the predicted increase in application numbers.
For an organisation that prides itself on providing great first impressions and memorable customer service – this just wasn't good enough.
Solution
FUJIFILM's managed services means that 80-90 percent of all applications are released into the Underwriters' approval queue in 4 hours, substantially faster than the previous processing time of one and a half days.
FUJIFILM Business Innovation also designed an indexing and imaging solution to capture and validate information on the application forms – regardless of the original submission format – against a complex set of business rules. The process sees close to 400 fields of data being captured and the application of 250 business rules for the Partners Protection Plan application forms, and 150 for children's application forms.
Extracted data includes the applicants' contact details, medical questionnaires, and financial information, all securely transferred and integrated with the Partners Life Policy Administration System and the Underwriting Assistant System. Various stringent security measures were implemented throughout the entire process to ensure that the confidentiality of the extracted data is protected at all times.
Applicants now have the choice of filling out the forms on a tablet with a stylus, or by hand in a paper format. Advisors can photograph hard copy applications and submit the images by email, or batch scan and email images from home or the office, at the end of the day.  Errors or omissions trigger a notification, providing for rapid corrections.
The information captured is presented to the Underwriters as a consolidated view, accelerating the decision-making process.
Results
The high level of accuracy and the hands-off process means that employees can be reassigned to other jobs and tasks.
However, the main benefit for Partners Life is how delighted both applicants and advisers are with the quick response time. Furthermore, to assess the efficacy of the service on an ongoing basis, FUJIFILM Business Innovation prepares and presents weekly reports to Partners Life, which highlight potential improvements in the application forms, and the business rules applied to them. Fewer rules result in a more streamlined process, and the already impressive processing time becomes even more abbreviated, and the sales cycle shorter.
Mark Lewis, General Manager, Software Development for Partners Life, is impressed with both the technology and service that FUJIFILM Business Innovation brought to the table. "In FUJIFILM, we found a partner with the same philosophy as us, and with a track record proving they would, and could, deliver the innovative solutions we were after. They most definitely have the solutions and expertise, locally and internationally, to deliver change for the better."
Lewis is a happy man. "We've invested strategically in fresh and innovative solutions that help us set new standards in the New Zealand insurance sector," he says. "Our decision to work with FUJIFILM Business Innovation means we can operate at 60 percent of the costs that our competitors face. Along with our cloud strategy, the outsourcing of key business processes has made us nimbler, and we've established practices we can roll out internationally as we expand."
More than that, "The outcomes we've achieved with FUJIFILM Business Innovation across all our projects have been measurable, and they've exceeded expectations in all cases. Best of all, the improvement process is dynamic. It's always subject to ongoing scrutiny and refinement. There's no sitting back and being complacent. Instead they're always looking at what else we can do to streamline our processes. They have the sort of "can-do" attitude that sits well with us, and our customers."
FURTHER READING
About This Vendor
More Case Studies

Automation transforms AP function…

Reduced manual data entry, faster processing, greater visibility and less 'taxing' on their staff is just the beginning…
Visibility of procurement and payments delivers compliance and fraud prevention…

Back-office automation saves hundreds of hours and contains costs…

Fuji Xerox delivered a Robotic Centre of Excellence, giving the company the ability to deploy software robots for data processing…