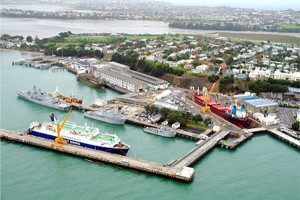 AT A GLANCE
INDUSTRY
Engineering & Maintenance
BUSINESS OBJECTIVE
Naval dockyard operator VT Fitzroy needed to deliver faster and more accurate project estimates for its key customer.
SOLUTION
In a process managed by Infor and partner EMDA, VT Fitzroy upgraded from Baan 4 to Infor ERP LN
THE BENEFITS
Improved user interface of LN improved data transfer between projects.
Productivity gains in the project estimating process.
Ongoing process improvement through new features in LN.
FOR MORE INFORMATION
INFOR
W: INFOR
T: +61 2 9021 7100
PARTNER CONTACT
EMDA
W: EMDA
T: +64 9 921 6600 or
T: +64 3 343 0023
E: info@emda.co.nz
Naval dockyard operator VT Fitzroy is able to estimate the cost of ship refits faster and more accurately after upgrading from Baan 4 to Infor ERP LN…
Engineering projects don't come much bigger than overhauling a Navy frigate. When you have two or three jobs of that size under way, plus a dozen or more one-off repair projects, an industrial ERP system is an essential tool of the trade.
VT Fitzroy, which operates the Devonport dockyard in Auckland, has been using Infor ERP software alongside the specialised mechanical, electrical and electronic engineering equipment needed to keep the Royal New Zealand Navy afloat.
With the Navy representing about three-quarters of the company's business, VT Fitzroy goes out of its way to be quick and accurate when estimating the cost and manpower requirements of projects.
After upgrading to LN with the help of Infor and their channel partner EMDA, it has been able to respond to Navy work requests with greater efficiency.
"We wanted to be able to make some big productivity gains in our estimating processes," says VT Fitzroy financial controller Stephen Tilson. "That was one of our key drivers for upgrading."
And it's working. LN makes it simpler for VT Fitzroy's 20 project managers to reuse information from past jobs when putting together estimates for new work than was possible using Baan 4, the software version the company has upgraded from.
"There are a couple of changes that have provided some big benefits," says Tilson, "and that's simply the use and feel of the software, and being able to cut and paste data between projects and into spreadsheets — basic things like that."
Although an engineering company, Tilson describes VT Fitzroy as more of a project manager. It operates in a high-stakes industry.
Some work, like refitting Navy vessels, takes months and involves installation of weapons and communications systems. Hull repairs, which it carries out for a range of commercial ship owners, can require replacement of tonnes of steel plating. Overhauling engines, propulsion and electrical systems, meanwhile, will occupy dozens of tradesmen and technicians.
Tens of thousands of man-hours typically go into large projects, yet because ship owners want their vessels out of the water for as short a time as possible, and with VT Fitzroy's 181-metre dry dock booked years in advance, turnaround time is often just a few weeks.
When work is carried out on a fixed-price basis, it's essential that estimates are accurate so the company makes a profit.
And when the safety of ships, cargo and crew depend on the quality of work carried out, high standards must be maintained.
It all adds up to a demanding set of requirements for project managers and the software they use.
Aaron Davies, VT Fitzroy's IT manager, says the functionality LN puts at users' fingertips is a far cry from the manual procedures the dockyard used to follow.
When he began working there in 1984 as an electrical fitter, computerised accounting was an unknown phenomenon.
"The Navy would come to us and say, 'here's a ship, here's a purchase order, refit it'. When the work was done, you'd say, 'that all added up to $10 million'.
"There was no breakdown of the figures — just one piece of paper for the whole job."
That gradually changed when some early PCs arrived at the dockyard, with Davies and other electronic technicians becoming the de facto IT department.
Software was first introduced when the dockyard began operating as a state-owned enterprise.
In 1999, with Babcock running the facility under a 10-year contract, Baan 4 ERP software, with its strength in project management, was implemented. Baan changed hands a number of times over the next few years, before being bought by Infor in 2006.
Babcock, meanwhile, lost the dockyard contract in 2004 to VT Fitzroy interrupting plans to upgrade from Baan 4 to Baan 5. Davies says the upgrade plan was revived in 2007, but VT Fitzroy decided to skip Baan 5 and go directly to LN (the latest version of Baan).
The 11-month project was completed last year, in a process managed by Infor and EMDA. It was a big task, made more challenging by the fact that VT Fitzroy is one of just a handful of Australasian Infor users that make such heavy use of its project management functionality.
But Davies says Infor and EMDA assembled the necessary expertise from New Zealand and Australia to successfully complete the migration.
"Our projects are typically unique in each case — we'd be lucky to reuse four or five per cent of the same materials from one to the next. Steel plate and paint would be about the most common items between projects, with everything else being different."
Whereas in Baan 4 estimates would be worked out in a spreadsheet before being transferred to the ERP system, LN has an estimating module that streamlines the process. The ability to copy and paste from old projects to new ones is also a time-saver.
And LN's service module, useful for handling VT Fitzroy's non-project work, was another sought-after feature.
In the end, though, Tilson says the impetus for the upgrade came from the Navy's push to save money.
"We were under pressure to make improvements for the customer. In the long term, if we don't show willingness to invest in capital projects like this to make productivity gains, at the end of our 10 years we'd probably be replaced, as the previous contractor found to its cost."
With Infor LN, Tilson says, VT Fitzroy has an inherently more efficient system, and a platform for continuously improving its processes. "It's definitely a step up in technology terms."
FURTHER READING
About This Vendor
No items found
More Case Studies
Doing business better in real time…

Giving Veolia the ability to deliver requirements at short notice and improve their overall processes…

Automotive manufacturer zooms into the industrial cloud…
Seed, fertiliser and garden products company Tui Products has taken back control of complex stockholding by implementing Infor's Warehouse Mobility solution…


Canterbury sheepskin manufacturer's ERP implementation has set it on a firm footing for future generations…