Published on the 19/04/2018 | Written by iStart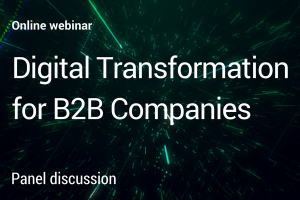 The world of paper-based, error prone, and rigid processes does not work in today's digital first B2B world…
The world of paper-based, error prone, and rigid processes does not work in today's digital first B2B world. From CPQ to personalised e-commerce, B2B sales are changing, and fast.
Buyers are swimming in infinite pools of content and information, but traditional processes are disconnected from their needs and expectations.
Less than 10 percent of B2B buyers feel like the sellers they work with know their business and are equipped to solve their problems. And with just over 11 percent of US B2B sales transacted online*, the opportunity to transform the buyer experience is huge.
Our panel of B2B experts explore the digitisation of B2B sales and how to drive more personalised and contextual buying and selling experiences.
This webinar covered how to:
introduce digital capability to enhance established relationships and processes
create a digital framework to improve solution selling
extend existing systems to automate sales proposals and establish B2B e-commerce channels
This webinar will suit any B2B-centric business and be relevant for roles from CEO & CIO to CMO and Sales Managers or any analyst or technical roles involved with digital transformation initiatives.
The Panelists:
James Gilbert – CEO
at The Solutionists
Elle Bell – Customer & Channels Senior Manager,
Accenture
Ben Cook – National Sales Director
at Microchannel
*Forrester B2B e-commerce Playbook 2018
Thanks to our event sponsor Cincom CPQ