Published on the 01/02/2014 | Written by Clare Coulson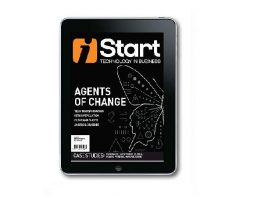 Several things have happened as I prepare to go to print with this issue which have reconfirmed my belief that technology is an agent of change. Deloitte has just forecast that 10 million wearable computers will be sold this year… [View emag]
INSIDE:

Features: The anatomy of technology as a change agent (the role of technology in effecting business change), The price of success (what retailers can learn from successful manufacturers), Tech wreck 2.0? (do stocks stack up?), Is cloud computing disenfranchising the CIO? (do CIO's still have a role in technology?), Liberating productivity (how to take the desktop mobile), Personal picks: 10 of the best for productivity (productivity apps used in your personal life).
IT success stories by industry: IT, Health and support, Mining and manufacturing, Aircraft manufacturing, Public sector, Hospitability, FMCG.
FROM THE EDITOR
While Google Glass has yet to be released in Australia or New Zealand, Westpac's chief digital officer, Simon Pomeroy says customers will be able to use the Cash Tank app on Google Glass by the end of this year. "That's pretty cool," he adds. "Hear, hear," I say. The leaps and bounds of technological innovation never cease to amaze me and today many one-time innovations are now intrinsic to every business.
With this in mind let's consider technology as an agent of change. Does change in business begin with technology? Should it? How much can technology change company culture? These are big questions, the answers to which, I believe, could fundamentally shift our thinking, as it has in several industries that have already been tipped on their head. We set Chris Bell on the case to find out more.
With such transformational potential, it's easy to see the allure of technology stocks, particularly as gilded stories of mega-billion tech successes get highlighted in global media. But we have been caught in this trap before, surely this time fundamentals will prevail? Beverley Head takes a critical look at the business of capitalising technology companies down under.
Manufacturing is one industry that embraced the use of technology early as a matter of survival in the face of globalisation and dwindling margins. We asked Anthony Doesburg to find out what the retail industry can learn from manufacturing. We also have a number of case studies that demonstrate technology delivering positive outcomes by transforming business processes and even creating new business models.
Amongst the maelstrom of innovation and change is the CIO. It's easy to think they should be at the centre of it, but the statistics show that CIOs are increasingly being pushed to the side and divested of power. I investigated whether the CIO is long for this earth and will admit to being surprised by some of what I discovered.
In the words of Ben Kepes it's "goodbye status quo" – there's a lot of potential out there, but it's up to you to throw off the shackles of the old and implement the new.
It feels a little like we're about to land on the moon. Again.
Enjoy the read,
Clare Coulson
Editor
The eMag above is optimised for desktop or iPad. On other devices, or for off-line reading in a PDF reader such as iBooks, the full PDF version below may be a better option:

Download as a PDF
(*** CAUTION *** large file 10.0 MB – a wi-fi connection is recommended)