Published on the 07/07/2022 | Written by Heather Wright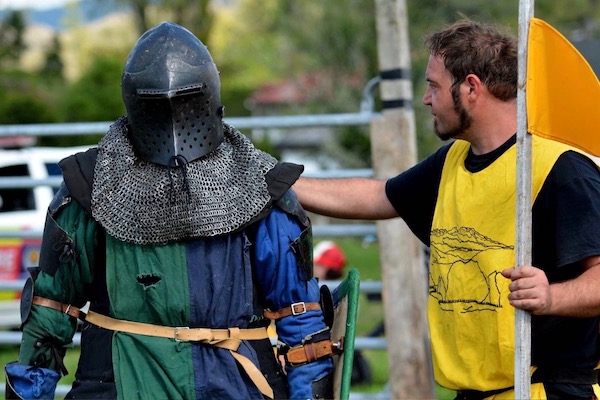 Medieval fighting, anyone?…
Community sports around New Zealand have a new vehicle to promote themselves – and garner some much needed additional revenue – through streaming their games.
CelloSport, which came out of business networks company Cello, which itself came out of Spark where it used to be the CCL Networks business, already has 20 clubs around New Zealand using its offering, which provides fixed multi-lens cameras using AI technology for the automated production of content and sharing, both live and on-demand.
"We're trying to take the reliance off some of the gaming money and create these funding loops."
CelloSport is using Israeli company Pixellot's technology, which came into its own during Covid when spectators weren't able to attend community games.  
Pixellot, which raised US$161 million in Series D funding last month, is a specialist in AI video technology. Its technology tracks both the ball and the players and is capable of providing a near TV style broadcast view of games, complete with panning and zoom. The technology also offers performance analysis options. 
Chris Sambrooke, CelloSport general manager, says CelloSport has a target to get another 50 to 60 systems out by the end of this year. 
"We always have a view around supporting local sport and the first leanings into supporting local sport was around putting connectivity into venues," Sambrooke says.
Initially parent company Cello installed internet and Wi-fi into a number of sites, including North Harbour and Wellington. 
"Then came the question of what do we want to do with this great connectivity, and they wanted to start streaming their games.
"When we looked around, there wasn't much that could get done around streaming that was unmanned and automated."
A link up with Pixellot would provide the mechanism needed to kick start a new offering, and CelloSport was born.
The company installs the cameras and provides the service of organising and scheduling games and streaming them via the CelloSport YouTube channel. 
"For the club it's pretty hands-free, so long as they let us know who the teams are that are playing and when the games are, then they don't even need anyone on site. We will handle it for them, organise the streams and get it out live."
While the recording and streaming offers value in enabling wider viewership of the sports and being used for player development, including enabling footage to be shared with recruiters or professional agents to provide Kiwi players with opportunities at International universities, it's in the sponsorship potential where Sambrooke sees real value for clubs.
"What we're trying to do is take the reliance off some of the gaming money and try to create these funding loops within their local community," he says.
"Essentially the club can create all of this great content that ordinarily is only seen if someone goes to the ground, and then the local sponsors – who might be local butcher, technology business, whoever – can extend their own vision by putting their logo in that stream that the community sees and in return they put some money back into the club and they can keep going around on that loop."
Where traditional sponsorship packages saw logos on jumpers or the stadiums where it was only seen by those attending the match, adding it to streaming content opens the doors to additional eyeballs. Sambrooke says the streams are receiving viewers from all around the world as ex-pats and those who studied here and played at the clubs tune in. 
With the automated system proving cost-effective – Sambrooke says at the high end it costs around $150 to cover a game, versus the thousands of dollars to send a film crew to site for a day – the goal is not just to be cost neutral, but to be a revenue generator for clubs.
Currently CelloSport has a range of sports covered, including some rugby league, 'the first little run' of rugby union, plenty of football and some futsal. 
But the technology is also offering plenty of chance for less covered sports to gain some time in the sun. 
One of the more unusual? Medieval fighting. Cello Sport covered some medieval fighting in January and will cover the trans-Tasman competition in August. 
While AI isn't available for medieval fighting, and a range of other lesser covered sports, Sambrooke says there are still options for covering lesser known activities using a fixed frame recording.
Women's sport too, is garnering greater coverage through CelloSport's offering. 
He cites the example of a Wellington football club which streamed the men's game the first week, and got good feedback. The following week, while the men were playing away, CelloSport streamed the women's first team with the masters playing as the curtain raiser. They had even more social impact, with more likes and comments than was received for the 'elite' game, something Sambrooke attributes to it being new and different to see the womens and masters playing. 
"It's something we are quite passionate about – creating content for teams that have never thad the opportunity to get it," he says.
"Our ambition really is to be that home of community sport in New Zealand but also to support them with a product that is going to generate revenue for local clubs.
"Sky and Spark Sport really focus on the top one percent of what gets broadcast and the the reason for that is the cost of broadcast and sending crews. What we're trying to focus on is the 99% of games that don't get streamed and trying to enable clubs from a sponsorship revenue point of view and from a player development perspective," Sambrooke says.
"Locally the focus hasn't previously been community sport with live content here. In this part of the world this is really the growth phase of it."