Published on the 11/07/2018 | Written by Jonathan Cotton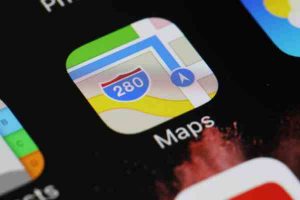 Sure, we laughed at the disastrous Apple Maps launch in 2012, but the tech giant hasn't given up on its plans for cartographic dominance...
Apple Maps: At one time a synonym for, well, surreal and completely nonfunctional mapping technology, but the tech megalith has decided that the whole project deserves one more shot.
The company is planning a do-over of its once-reviled map tech, this time for the forthcoming iOS 12. Hopefully the giant has learnt a few lessons since its last disastrous foray into uncharted map territory.
Because, as it turns out, cartography is hard.
"…the financial chickens are coming home to roost after it's failure to launch a viable map product six years ago."
Problems with the first incarnation were many, but much of the issue came down to the the fact that the Apple Map product relied on myriad data sources – not all of them accurate, up-to-date or conveniently formatted, not to mention the wrangling of several different map-making disciplines simultaneously is no small feat.
Suffice to say, the launch of the original Apple Maps back in 2012 was a disaster, followed by ridicule, firings and CEO apologies. "At Apple, we strive to make world-class products that deliver the best experience possible to our customers," said a chastened Tim Cook at the time. "With the launch of our new Maps last week, we fell short on this commitment. We are extremely sorry for the frustration this has caused our customers and we are doing everything we can to make Maps better."
You know things are bad when the CEO of Apple suggests off-brand replacements of its own products: "You can try alternatives by downloading map apps from the App Store like Bing, MapQuest and Waze, or use Google or Nokia maps by going to their websites and creating an icon on your home screen to their web app," Cook said at the time.
So what's changed? This time around the tech will be based on data sourced from Apple itself (via iPhones, aerial and satellite technology and its own fleet of sensor-packed cars) – not the motley collection of third party players that saw the original product plagued by inaccuracies and poor functionality. They've even opened a dedicated mapping centre in India and are committing to the rebuild of Apple Maps from the ground up.
It says that new improvements to the tech – along with better graphics, more granular detail and, hopefully, better accuracy – will see the iPhone producer challenge Google's 70 percent market share of the map industry.
But none of this answers the question 'why?' Why Maps? And why now? Could it be the tech giant has recognised that the financial chickens are coming home to roost after it's failure to launch a viable map product six years ago?
The dramatic price surges for Google Maps API products recently revealed – which sees some users such as Wellington public transport provider Metlink facing 3,000 percent increases – gives an indication of just how much good map tech is worth.
"We know change is hard, but our plans and pricing were adjusted as we updated our product offerings, improved the overall experience and to reflect current market conditions," said the search engine giant in a statement.
"We thought carefully about how to price Google Maps Platform products and introduced the free tier, which is a US$200 credit and covers the usage of most of our customers."
So can Apple take a slice of the mapping market? Maybe, but it's unlikely that Google – with 70 percent market share – is likely to be unseated any time soon.