Published on the 15/12/2021 | Written by Newsdesk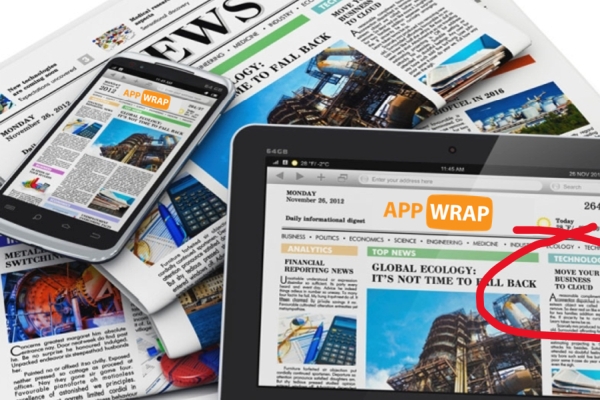 Keeping you up to date with A/NZ and world tech news from 2021…
AppWrap December 2021
13.12 MYOB is buying the Greentree practice of Auckland-based online ERP and business intelligence specialists Endeavour Solutions in a move MYOB says will see Endeavour boost sales and support capability around MYOB's cloud ERP solution, MYOB Advanced Business. Back in 2016, MYOB acquired Greentree's enterprise business for $28.5 million. Endeavour Solutions' Founding Director, Chris Miller, says that the acquisition is a great opportunity for Endeavour's Greentree customers to gain access to a direct line into MYOB and the ability to benefit from MYOB's recent investments in Greentree sales, operations and support.
13.12 Paul Matthews is stepping down as CEO of IT Professionals New Zealand after 14 years. ITP has called for expressions of interest in the CEO role by December 19.
13.12 Border exemptions for 600 tech workers have been granted in a move which has won muted applause from NZTech. The industry body has been calling on the government for many months to free up border restrictions to enable more tech workers into New Zealand and says the exemptions for 600 software and application programmers, ICT managers and security specialists and multimedia specialists is 'a drop in the ocean'. Between 3,500 and 4,500 IT visas have been issued each year for the past five years to keep up with demand for tech skills, NZTech notes.
09.12 Google's most-searched topics list for 2021 is out. Squid Game and Bridgerton, DMX and Prince Philip, Birria tacos and feta pasta, and Australia vs India and Covid vaccine are all there. While many were Googling for vaccine information, the lists show the old standards of sports and entertainment also remain popular. Monthly breakdowns are also available, showing searches for United States capitol spiked in January – ahhh yes, those old Trump days…
07.12 Wendy's is using a chatbot to streamline its recruitment, with 'Lou' screening candidates, and filtering out those not deemed suitable, finding the right job and branch and scheduling in-person interviews. The chatbot, from American AI company Paradox, has made the process faster for both jobseekers and Wendy's, the NZ Herald reports. More than 1200 applications have been made since the system went live.
06.12 Inland Revenue has switched off its First mainframe computer system, after a five year project to transition to a new software system, Start, from US company Fast Enterprises. The transition is the public sector's biggest-ever computer project and has been dubbed a success by business groups with the project close to paying for itself, based on some measures, Stuff says.
01.12 Callaghan Innovation has launched the KiwiSaaS community to connect the country's fast growing SaaS sector in an attempt to further accelerate growth. New Zealand SaaS investor Serge van Dam, Bruce Gordon, former chair and CEO of Pushpay; AskNicely's Aaron Ward and Lind Jenkinson, the first Kiwi woman to list a company on the Nasdaq, are on the advisory council. Van Dam says an active community accelerates learning for startups, making it less about luck and more about deliberate innovation.
01.12 The GCSB is making its new cyber defence tool, Malware Free Networks, available to several Kiwi tech businesses, including Spark, Vodafone, Kordia and Datacom, to help protect their customers. But a cybersecurity company CyberCX says the government needs to be stepping up its fight against cybercriminals and conducting offensive cyber operations, Stuff says.
01.12 New Zealand's software-as-a-service sector is a burgeoning market for M&A, garnering 38 percent of tech sector M&A activity. The tech sector itself has captured more than $11 billion in deals in the past six years, with investors taking the local market 'very seriously', RNZ notes.
AppWrap November 2021
29.11 Clearview AI is facing a £17 million fine from the UK privacy watchdog for scraping personal data and images and using biometrics for facial recognition. The announcement of the intent to fine follows a joint investigation by the Information Commissioner's Office and the Office of the Australian Information Commissioner. Clearview's technology was offered on a free trial basis to law enforcement agencies, with agencies in UK, Australia and New Zealand among those taking up the offer.
24.11 National courted the tech sector this week, saying tech was one of eight major opportunities New Zealand should seize on. The online event – one day before National party leader Judith Collins was rolled – featured a lineup including Rocket Lab founder Peter Beck, MyWave's Geraldine McBride and Outset Ventures Imche Fourie as well as representatives from industry bodies. Stuff says the launch of the issues paper, designed to stimulate new ideas, comes ahead of a tech summit planned for early next year.
23.11 Australia's Federal Government now has the power to take control of private infrastructure as a 'last resort' in cyber incidents after the Security Legislation Amendment (Critical Infrastructure) Bill 2020 was passed this week. The bill's powers sparked widespread concern from the industry, with many saying it was 'unworkable', ITNews notes.
22.11 Failure by NZ to invest in AI research will doom the country to being relegated to users of overseas technologies developed by countries with different values, a white paper from the Artificial Intelligence Researchers Association says. The NZ Herald says the report recommendations include increased funding for public AI research with the development of new research centres, hubs and programmes in basic and applied AI research and the doubling of the number of researchers, lecturers and professors in AI by 2024, then again by 2030.
17.11 Aussie VC firm Blackbird is on the hunt for Kiwi startups to invest in. The company established a $60m fund to invest locally in 2019, with half of that now invested into a range of tech firms, RNZ says.
17.11 New Zealand's vaccine certificate, My Vaccine Pass, has launched with the website crashing under the load on launch morning, Stuff says. The pass, which takes the form of a QR code that can  be shown digitally or printed, will be required to attend large events and some venues under the 'traffic light' system planned for NZ.
15.11 Fonterra has signed a distribution deal with Dutch AI startup Connecterra to sell its Intelligent Dairy Assistant (Ida) in New Zealand. Ida uses AI to translate data from collar mounted sensors and internet-connected farm systems, equipment and third party sources into real-time insights, Dairy Reporter says. The deal follows a two-year trial in South Waikato.
10.11 Weta Digital's technology division has been sold for NZ$2.3 billion to US video game developer Unity Software. The cash and shares deal will see the tools used to create settings and characters like Gollum available to creators around the world, Stuff notes. Ownership of the Visual Effects business remains in Wellington as WetaFX.
09.11 ASB has signed on as an anchor tenant for Microsoft's planned New Zealand data centre with plans to shift hundreds of applications and thousands of servers to the Azure cloud, Microsoft says. Last month ACC signed a three year cloud services agreement with Microsoft, which will see the government agency moving its operations to the local cloud region when launched.
04.11 Facebook parent Meta is 'investing' in New Zealand publishers with a fund to promote up and coming news publishers and boost their digital capabilities. But the newly rebranded social media giant won't be paying publishers for content, a la deals seen in other countries including Australia. Instead the investment will come in training programmes – to help publishers drive their digital audience and revenue growth on and off Facebook, Reuters says.
03.11 Clearview AI has been ordered to destroy existing biometric images of Australians and cease collecting them after the OAIC found the company had breached Australian privacy rules by scraping biometric information from the web and disclosing it through their facial recognition tool on a 'large scale, for profit'. The finding comes after joint investigation by the OAIC and the UK's Information Commissioner's Office. Australian police forces engaged in trials of the facial recognition tool between October 2019 and March 2020 the report notes. The OAIC says it is finalising an investigation into the Australian Federal Police's trial use of the technology. Clearview's technology was also trialed in New Zealand.
03.11 The Commonwealth Bank of Australia is launching cryptocurrency exchange services, enabling customers to own and trade crypto. The service will be available starting later this year via the CommBank app InformationAge says. The bank will be the first of the big four banks to offer the service.
03.11 Microsoft is also joining the metaverse rush, with Satya Nadella launching Microsoft Ignite outlining his vision of 'an era of ubiquitous computing and ambient intelligence'. The vendor's Teams chat and conferencing program will be updated early next year with digital avatars for immersive spaces where workers can meet, Geekwire says. Microsoft announced its Mesh software, enabling augmented reality and virtual reality earlier this year. Ignite also sees Microsoft rolling out dozens of new cloud, AI security and productivity offerings and upgrades.
AppWrap October 2021
29.10 3D technology and building information modelling are being harnessed in a $1.7 million project aimed at lowering the number of workplace accidents in the building sector. The BIMSafe NZ trial, funded by ACC and MBIE will see technology highlighting hazards to show where the risk is, the Otago Daily Times says.
28.10 Will the meta verse be the next major computing platform? Facebook – the company, that is – certainly thinks so. It's betting big on its 'metaverse' plans, with the company saying it's changing the name of the company to Meta. As to what the metaverse is, it's essentially a digital world layered on top of the real world, or in Mark Zuckerberg's words an 'embodied internet' says Engadget.
28.10 The ACCC has turned its focus on Google's search service, calling for new powers to stop the tech giant from being the default pre-installed search engine. Google Search is the default search engine on the two most popular browsers in Australia, Google's Chrome and Apple's Safari – for which Google reportedly pays Apple US$15 billion a year. The ACCC says that gives Google a 94 percent market share in Australia, and it wants measures including a choice screen, providing a selection of search engines, to be introduced.
27.10 Video games proved a point of connection for parents and children during the pandemic according to the Digital New Zealand 2022 report. The report from IGEA says 3.7 million Kiwis play video games with 92 percent of Kiwi households connecting with video games, spending on average 81 minutes a day gaming through 2020-21.
26.10 New Zealand agritech companies are attracting millions of dollars in investment with AbacusBio deepening their relationship with Bayer Crop Science, FarmIQ and Farmax joining forces with AgResearch, BlueLab bringing on new shareholders and Hectre attracting $3.5 million in new capital. AgritechNZ says local agritech is seeing 'remarkable progress in new global partnerships, collaborations, investments and team growth'.
25.10 Apple privacy changes enabling app tracking earlier this year have hit Facebook with the social media giant admitting it faces 'significant uncertainty' in Q4 due to 'continued headwinds from Apple's iOS 14 changes and macroeconomic and Covid-related factors'. Non-ad revenue is also expected to be down year on year, Facebook says. Don't feel too sorry for the tech giant, however. It is expecting Q4 revenue to be in the range of US$31.5 billion to $34 billion. And the company racked up US$29 billion for Q3, up 35 percent year on year.
21.10 The RegTech NZ forum has launched looking to solve regulatory compliance challenges through collaboration and technology. Co-founder Janet Chenery says the aim is to allow New Zealand to join the conversation at a global level and find solutions to some of the common challenges faced globally, Insurance Business says.
20.10 Just one in five Kiwi organisations have gone beyond AI trials according to the inaugural State of AI in New Zealand report from Qrious. The report notes for the vast majority of businesses an AI plan is simply a work in progress with the majority of businesses surveyed reporting that they're still in initial trial stages, having only run ad-hoc pilots or applied AI to a single business process. Seventeen percent says they have not considered implementing AI at all.
20.10 Cryptocurrency businesses and assets will be licensed by Treasury under a new plan to regulate the sector. The Select Committee on Australia as a Technology and Financial Centre tabled a report introducing a framework for digital currencies and a legislative foundation this week, InnovationAus says. The report includes 12 recommendations focused on new licensing regimes, addressing debunking and tackling emissions related to crypto mining.
14.01 The government My Covid Record app has scored a D for security according to one security expert. The web app will be used to store vaccine certificates and Covid test results. Daniel Ayers told Newshub the poor showing, which includes use of outdated software, was 'unacceptable'. The Ministry of Health however says 'it is absolutely safe', that the issues highlighted are 'very low risk' and the software has been 'crawled all over' by security partner firms and there is nothing wrong with the site or app.
06.10 Talks are underway for a merger of 2degrees and Orcon. Trading in 2degrees' parent Trilogy International Partners were halted and activity for an IPO for the telco has been paused, Trilogy says. Orcon's owners, Macquarie Infrastructure and Real Assets, have also put float plans for Orcon on hold, AFR says. A merger would create a $2.5 billion player.
06.10 Kiwi cryptocurrency retailer Easy Crypto has secured $17 million in funding and is eyeing up the possibility of a share float in the future. RNZ says the funding – raised in three weeks from investors including Nuance Connected Capital, Pathfinder KiwiSaver, Ice House Ventures and several overseas players – will enable the company to expand its product offerings and enter new markets including the Philippines and Indonesia. The company, founded in 2017, generated $5 million in revenue last financial year with underlying profit of $3.7 million for the past year.
05.10 Inland Revenue's systems will go offline for a week in late October as the agency migrates its systems in the final 'business transformation release'. Systems will be shut down at 3pm on Thursday 21 Oct and reopen Thursday 28 October. Businesses have been granted an extension to 04 Nov to file and pay GST and provisional tax, Inland Revenue says. The final stage includes an upgrade to myIR to enable customers to do more for themselves and adds child support to the system. The changes will also enable future Covid relief packages to be implemented faster.
05.10 Facebook, Instagram and WhatsApp have been hit by an outage, affecting both web and smartphone apps around the world. There are also reports Facebook's VR headset platform Oculus has been affected, along with apps requiring Facebook logins, such as Pokemon Go. No official reason has been given for the problem, however, network experts have speculated that it is likely a DNS configuration error, RNZ says.
01.10 NZ Covid Tracer is going tap and go – or at least Victoria University of Wellington and a number of small businesses are trialling the new function, which sees the app making use of NFC tags as well as the QR code to record diary entries, Stuff says.
AppWrap September 2021
28.09 Vaccine passports will be available for Kiwis from November and will come in the form of an app. The Ministry of Health is working with private providers to develop it, Deputy Prime Minister Grant Robertson told Three's AM Show.
27.09 Microsoft is going password-less, enabling customers to remove their passwords and log in through the Microsoft Authenticator App, Windows Hello, a security key or a verification code sent to a phone or email. CPO Magazine says all Microsoft accounts now support the passwordless login in an effort to help protect accounts from identity attacks like phishing.
24.09 CIOs are bracing for a price increase of up to 25 percent for Microsoft 365. The price increase is due to kick in March 2022, an includes at 25 percent increase in per-seat pricing for Office 365 at the E1 support level and a 20 increase in Microsoft 365 Business Basic. Other subscription levels will also face increases, albeit smaller ones, CIO notes. Increases are smaller on the fuller-featured – read more expensive – versions as Microsoft attempts to drive enterprises to the higher support levels by making them more attractive. Microsoft 365 E5 is apparently exempt from the changes.
23.09 AWS has announced a $7.5 billion investment to build a cluster of at least three data centres in Auckland. The cloud giant says spending on construction and operation of the infrastructure is expected to contribute $10.8 billion to New Zealand's GDP, while the AWS region should see the creation of around 1,000 new FTE roles. The facilities are expected to start coming online from 2024, Stuff reports. Eight more AWS regions have also been announced in Australia.
17.09 Auckland medtech company Heartlab has raised $3.5 million in a funding round led by Peter Thiel's Founders Fund and supported by Icehouse Ventures among others. The company says the funding will 'supercharge' the entry of its Pulse AI heart scanning technology into the US market early next year. The technology is being trialed by cardiologists and monographers in New Zealand with Heartlab expecting FDA approval early next year.
16.09 Kiwi food traceability SaaS provider Rfider is set for US growth as one of 12 winners of the US FDA's New Era of Smarter Food Safety Low- or No-cost Tech-enabled Traceability Challenge. The only company outside of North America among the winners, Rfider will now be promoted widely by the FDA as part of its New Era Smarter Food Safety campaign. Rfider is a SaaS offering that simplifies capturing, securing and sharing critical event data along supply chains all the way to consumers.
16.09 $3.9 million was lost to cybersecurity incidents in New Zealand in the April-June quarter. The latest Cert NZ report shows 245 incidents of the 1,351 responded to by Cert NZ resulted in financial loss. While 50 percent were below $500, 13 were $100,000 and over – double the six reported last quarter. 'Dating and romance' scams accounted for three of the $100,000+ losses. Business email compromise accounted for two and there was one ransomware and one crypto currency investment scam resulting in big losses. Others related to buying and selling online.
10.09 Privacy advocates have thrown shade on Facebook's Ray-Ban Stories smart glasses. The glasses allow users to listen to music, take calls and capture photos and short videos – and share them on Facebook – using a button on the glasses or through voice commands. However, the social media giant's poor track record when handling user data has sparked concerns, despite Facebook saying it won't access media used by smart glasses customers without their consent or for personalising ads, Newshub says. The ability for warning lights showing when recording is happening to be easily defeated has also raised concern.
08.09 Kiwi data insights startup Yabble has raised NZ$3 million as it looks to increase the depth of its offering, and move into Australia and the United States. The company is looking to grab a bigger slice of the US$72 billion insights and research market with its Hey Yabble offering. Investors include Movac, New Zealand Growth Capital partners, Enterprise Angels and some high net worth individuals, Yabble says.
08.09 A number of online services, including banks and NZ Post have been hit by outages which have taken their systems offline this morning. NZ Post, ANZ, Kiwibank, Westpac, the MetService and the Ministry for Primary Industries are reportedly all having issues, Stuff says.  The outages have prompted concerns about the potential of a widespread DDoS attack. Cert NZ has said on Twitter that it 'is aware of a DDoS attack targeting a number of New Zealand organisations'. "We are monitoring the situation and are working with affected parties where we can," the agency says. The issues come just days after an attack on a Vocus customer downed internet services for many (see below).
06.09 New Zealand's digital competitiveness has slumped 70 points in the European Centre for Digital Competitiveness analysis. The drop continues a backward slide for the country since 2018 and has prompted renewed calls from NZTech for government action on getting critical digital skills into New Zealand.
03.09 NZ suffered a major internet outage today as a Vocus customer was hit by DDoS attack. The attack, saw major ISPs showing a spike in connection problems on DownDetector, affected 'a range of Vocus customers' for around 30 minutes, Vocus said. The company is New Zealand's third largest internet provider with brands including Orcon and Slingshot, Newshub notes. Vocus said its response to the cyberattack temporarily triggered the outage.
01.09 The MoH has restarted using bluetooth in CovidTracer after two weeks where no bluetooth keys were sent out. The Ministry of Health told OneNews it will be working with public health units to assess whether Bluetooth activation with positive cases in the seven workplaces affected to date, may assist.
01.09 UCG is giving staff who get Covid vaccinated an extra day of annual leave. The telecommunications services company, which has more than 1,250 employees, contractors and delivery partners across New Zealand and Australia, says delivery partners will also be rewarded with a $100 gift for double vaccinations. Ralf Luna, UCG executive chairman, says he hopes other companies will adopt similar incentives to be part of an aggressive vaccination strategy to enable A/NZ to open up to the world more quickly.
AppWrap August 2021
25.08 New Zealand privacy commissioner John Edwards will head up the UK's Information Commissioner's Office according to the Telegraph. Edwards had been tipped for the role and is seen as 'the ideal man to ensure it takes a more open and transparent and collaborative approach in future dealings with business," The Telegraph says.
23.08 KPMG Australia is acquiring Oracle implementation specialist Certus APAC in the latest in a string of acquisitions of systems integrators by big consulting firms. The deal, expected to be finalised in late 2021, will enhance KPMG's ERP and Oracle cloud services capabilities – an area the company says is critical at a time when clients are 'challenged' with navigating organisations through Covid.  APAC's 40 strong team will integrated into KPMG's Melbourne, Sydney and India teams, KPMG says. Certus APAC booked more than $10 million in revenue last year. KPMG says
23.08 Sharesies has been issued with a formal FMA warning for failing to comply with anti-money laundering rules. The share trading platform was pinged for not determining customer's reasons for using the platform, not undertaking checks to see if some customers should be subject to greater due diligence and for failing to verify the identity of nearly 8,000 customers with account balances greater than $1,000, RNZ reports.
23.08 Rocket Lab is due to touchdown on New York's Nasdaq on Thursday NZT as the company seeks to raise US$467 million through the float. The pricing signals an initial market capitalisation on the exchange of around US$4.5 billion, Stuff says. The company has racked up losses of US$203 million since 2013 and expects those net losses to continue for several more years.
19.08 NZ's Optimation Group has sold its Australian Mentum Systems business to FTS Group, one of Australia's largest privately owned IT services and consulting companies. The company says the deal, for an undisclosed sum, will enable Optimation to accelerate its Kiwi efforts to build enterprise digital and cloud solution capability. The company recently signed partnerships with IBM and subsidiary Red Hat.
18.08 Kiwi VC firm Global From Day 1 (GD1) has raised $130 million in an over target Fund 3. The first close, more than double its original target, was led by large institutional funds and top tier investors, and GD1 says the final close is expected to hit $160 million. The company told Startup Daily that its focus is on supporting NZ B2B technology companies focused on global expansion. Fund 3's capital is earmarked for investments in Runn.io, Dawn Aerospace and JunoFem.
12.08 AWS and Australia's The Dream Collective have launched a free online learning programme to encourage women into tech. SheDare's features four online 45 minute self-paced modules focused on 'expanding perspectives, understanding transferable skills and equipping participants with pathways to build skills and find job opportunities'.
10.08 The Australian government has been advised to replace its ANZSCO job classification list with a more flexible offering better reflecting today's job market. The recommendation from the Parliamentary Joint Standing Committee on Migrations Inquiry into Australia's Skilled Migration Program says many ICT roles aren't sufficiently covered by current role classifications, which underpin the skilled migration lists. Increased use of permanent residency to attract and keep skilled staff in Australia was also recommended, ITNews says.
06.08 The Commerce Commission looks set to allow HP New Zealand an exemption to engage in resale price maintenance, enabling it to specify the prices which third-party distributors sell its products to consumers through its online stores. In a draft determination the Commission says its preliminary view is that authorising RPM 'in this case is likely to lead to a net public benefits and that it would be appropriate to grant authorisation for five years'.
06.08 The government has ruled out using CovidCards, despite admitting use of its Covid Tracer app is 'below where it needs to be', Stuff says. A new feature, enabling reminder notifications to be pushed to those who haven't used Covid Tracer in a while, has been developed in an attempt to increase app use.
05.08 John Deere is acquiring autonomous tractor startup Bear Flag Robotics in a US$250 million deal. The deal is the second big tech buy in recent years, with the company also snapping up Blue River Technology, which makes intelligent weed-killing robots, in 2017 for $305 million, Wired notes.
05.08 The NZX's tech woes continue with a connectivity issue forcing the early closure of the exchange on Thursday. The 'technical issue' saw trading halted mid-afternoon Good Returns reports. In May the FMA approved a plan to upgrade NZX's tech capability which has been under fire after a cyberattack and outages a year ago and a scathing report from the FMA which said outages were causing a loss of trust in the exchange.
01.08 Artificial intelligence has been recognised as an inventor of a patent in a landmark Australian court decision. The Federal Court ruled in favour of US-based Dr Stephen Thaler, the developer of the AI machine DABUS, finding that 'the inventor can be non-human' in his case against the Australian Commissioner of Patents. ABC says the historic finding came just days after South Africa awarded a patent recognising DABUS as an inventor.
AppWrap July 2021
28.07 Google is establishing a New Zealand based engineering team along with a new Melbourne A/NZ cloud region and point of presence. Google says the a small group of current engineers working on 'a really important project' will move to New Zealand as part of the engineering team, along with the creation of new roles, reports ResellerNews.
25.07 New Zealand Privacy Commissioner John Edwards is favourite to take a top UK role, heading up the Information Commissioner's Office. Edwards has been recommended for the role with the appointment awaiting approval by Prime Minister Boris Johnson the Sunday Times and Daily Mail report.
23.07 Uber 'interfered' with the privacy of 1.2 million Australians, failing to protect personal data of customers and drivers which was accessed in a 2016 cyber attack, the Office of the Australian Information Commissioner says. The attackers destroyed the data and there was no evidence of further misuse of it, however, Uber has been found to have breached the Privacy Act 1988 by not taking reasonable steps to protect personal information or to implement practices, procedures and systems to ensure compliance. Uber paid the attackers a reward through a bug bounty program, rather than disclosing the breach.
22.07 Salesforce has completed its US$27.7 billion acquisition of Slack. In announcing the deal back in December Salesforce said the deal – its biggest ever – will enable them to provide a 'Slack-first Customer 360' and providing customers with a single source of truth and a single platform for connecting employees, customers and partners, Engadget says.
21.07 A cross-government partnership has been formed to make New Zealand 'a centre of global clean tech excellence'. The NZ CleanTech Mission aims to convert local clean tech into profitable businesses, Stuff says. Last year the 98 clean tech businesses which have been funded by Callaghan Innovation generated $334 million in revenue, but Kiwi innovators are struggling to compete with foreign counterparts because they can't attract the same level of innovation.
19.07 Capgemini is on an A/NZ acquisition trail this time offering to buy ASX-listed Empired (Intergen in NZ) for A$233 million.  The Empired Board has recommended shareholders vote in favour of the scheme, which will see Paris-headquartered Capgemini bolster its credentials in the region with Microsoft Dynamics 365 and Azure cloud hosting services. If successful, 1,000 A/NZ staff will join 270,000 in Capgemini in November.
19.07 AU Govt has launched a ransomware offensive with intelligence forces assigned to a new cross-agency taskforce. Dubbed Operation Orcus, the initiative spans the Australian Cyber Security Centre (ACSC), the Australian Federal Police (AFP), the Australian Criminal Intelligence Commission (ACIC), Austrac and state and territory police forces, as reported in InnovationAUS. The move will increase the number of AFP staff working directly with the ACSC on cyber issues from 13 to 35.
14.07 Augen Software Group is now CodeHQ. The software development service provider says the rebrand reflects its adapting 'to meet the shifting software development needs of New Zealand businesses while continuing to deliver world class service'. Augen was founded in 1993 by CEO Peter Vile and Mitchell Pham and combines 'local expertise with offshore scale' via teams in NZ and Vietnam.
13.07 Icehouse Ventures new $75 million IVX growth fund will see established Kiwi startups being given a helping hand to scale globally. Around 30 high growth startups will each get $1-10 million of investment through the fund, in a move designed to help fill the expansion capital funding gap, Icehouse Ventures says. Eight companies, including Halter, Memetemia, Shuttlerock and Crimson Education have already received IVX investment.
12.01 The draft report for the Digital ITP Skills workstream has been released. It features 10 skills actions the skills steering group says must be achieved to 'truly transform skills to enable industry transformation'. Included are rapidly expanding pathways to industry, refining the immigration system to be more targeted, expanding the Tech Story to a domestic audience, increased support for digital tech learning in schools and the radical redefining of standardised job 'roles'. The draft plan is open for consultation until Friday 30 July.
09.07 The Epic Games vs Apple anticompetitive case will be heard in Australia after the Federal Court found in favour of the Fortnite creator. Epic is alleging Apple's App Store control breaches Australian Consumer Law and the Competition and Consumer Act, ITNews says. Apple had requested the case be dismissed given US proceedings are also underway.
08.07 AWS, Google, Microsoft and Atlassian say proposed cyber takeover laws will cause more issues. The four tech giants were among those fronting a Parliamentary Joint Committee hearing into the Security Legislation Amendment (Critical Infrastructure) Bill 2020, criticising a proposal which would see the government able to install software on their networks for 'incident' response. "I do not believe that there is a situation where installing ASD software on our networks or our systems, especially in the heat of an incident, is actually going to cause anything except more problems, and it's not going to help the solution and it's not going to help the problem at hand," ZDNet quotes Google director of threat analysis group Shane Huntley as saying.
06.07 NZ to get consumer data right Consumer Affairs minister David Clark says the government will introduce legislation next year to establish a Consumer Data Right to give people more control over the information businesses hold on them, Stuff says. Australia introduced a CDR in 2019, with banks the first to come under the requirements there.
04.07 Facebook hit a US $trillion market capitalisation last week, nine years after its $100 billion+ IPO, reports TechCrunch. America's five major technology stocks are now all worth more than $1 trillion each with Microsoft and Apple both over $2 trillion each, after Apple became the first US company to reach the trillion mark three years ago. Facebook has outpaced growth from Amazon, Google, Apple and Microsoft, up nearly 500% in the past five years.
01.07 Misinformation big concern for Kiwis The majority of New Zealanders are 'somewhat' or 'very' concerned about the spread of misinformation and support specific groups or organisations taking action to deal with the spread of misinformation according to a new report. The Edge of the Infodemic: Challenging Misinformation in Aotearoa from the Classifications Office found the 57% of Kiwis believed they had come across misinformation in the past six months with many concerned about the impact on issues like the pandemic and climate change.
AppWrap June 2021
29.06 Westpac is investing $370,000 in a GovTech Accelerator programme designed to help identify problems and use 'creativity and technology to solve them'. Government funds and 'other sources' of funding will cover the remaining costs for the three year programme, Stuff reports.
25.06 Microsoft has unveiled its next-gen Windows 11 OS, but it won't work on all devices. Windows 11 will enable users to configure multiple desktops, includes tighter integration with Teams and comes with Xbox Games Pass pre-installed says BBC News. However, it will also require eighth gen Intel chips and needs 64Gb of storage and 4Gb of Ram.
24.06 BIS has slammed cryptocurrencies as 'speculative assets' often used for criminal purposes. The Bank for International Settlements threw its weight behind central bank digital currencies and hinted it may launch a renewed challenge, saying cryptocurrencies work against the public good, says CBC.
23.06 Tech occupations have been added to AU's priority visa scheme, reports InnovationAus. The new occupations include analyst programmers, software and application programmers, ICT security specialists and multimedia specialists. Employer-sponsored applications will be prioritised, allowing tech migrants to receive visas within two weeks, and then book flights and quarantine space at their own expense.
21.06 The Productivity Commission is calling for submissions on its Immigration, Productivity and Wellbeing paper which discusses issues with the country's immigration policy settings and invites input into their review. Submissions are open until the end of the year, but with an interim report being drafted in October, submitters are encouraged to respond sooner rather than later. With immigration a hot topic in tech circles, industry association NZ Tech is also seeking survey input from tech companies that are actively recruiting offshore to inform policy discussions.
17.06 Greenwashing is rampant in tech, and IT buyers need to work harder to confirm both environmental and social credentials of products, Information Age reports. A/NZ's distance from the China sweatshops means upstream risks aren't registering for many local purchasers. A TCO Development report says 40 percent of IT purchasers report false claims on sustainability goals.
17.06 Australian law enforcement agencies have received CovidSafe data, but they haven't accessed or decrypted it. InnovationAus says a report from the Inspector-General of Intelligence and Security says agencies are taking 'reasonable steps' to quarantine and delete data from the contact tracing app as soon as practicable after becoming aware of it and are not deliberately targeting it. The WA Government introduced legislation on Tuesday to stop police accessing data from the state's SafeWA contact tracing app after it was found police had done so on two occasions.
17.06 R&D collaboration between SMEs and universities and research institutions has real payoffs for SMEs. CSIRO found 66 percent of companies collaborating with researchers design or manufacture new product, compared with just 28 percent of non-collaborators. The SMEs also saw higher turnover and were better able to cope with uncertainty and change.
16.06 Fake online reviews are responsible for around US$152 billion of consumer spend globally and $1.2 billion of Australian spend. The CHEQ and University of Baltimore study says four percent of all reviews posted are fake.
16.06 Kiwi startup Exsurgo is using EEG to manage pain, reports Newsroom. The new twist on old technology will help patients retrain their brains to manage pain. The home-based electroencephalography (EEG) device reads electrical activity in the brain to help chronic pain patients take control of their rehabilitation, aiming to help reduce the $14 billion cost of pain treatment in NZ. Axon is a wearable non-invasive helmet with electrodes that transmits brain wave data to the patients' tablet or phone in a game format that gives positive reinforcements when their brain relaxes.
15.06 Forget Mars Rover, Kiwi company Lens Outdoor has launched Lens Rover, a trailer complete with image recognition technology to provide localised traffic data for proposed new billboard locations. Stoppress says the technology will provide real-time audience metrics.
14.06 Interruptions and meeting overload are derailing software engineering. A Github report shows going from two to three meetings a day lowered the chances of developers making progress on their goals from 74 percent to just 14 percent. Drop meetings to just one a day and the developers had a 99 percent chance of knocking out high quality work. Those who are less interrupted during the day were more likely to report having a 'good day'.
09.06 ANOM: FBI messaging app leads to global arrests worldwide after more than 800 suspects were tricked into using an FBI-run encrypted messaging app, the BBC has reported. The operation, dubbed Operation Trojan Shield, jointly conceived by an Australian enforcement officer and the FBI, saw devices with the ANOM app secretly distributed among criminals. Drugs, weapons, luxury vehicles and cash were seized across more than a dozen countries. This included eight tonnes of cocaine, 250 guns and more than US$48m (£34m) in various worldwide currencies and cryptocurrencies.
09.06 Numerous big name websites around the world went offline last night after a 'technical issue' at content delivery network provider Fastly. The outage affected sites including TVNZ OnDemand, TradeMe, The Sydney Morning Herald and Melbourne's The Age, Amazon, Reddit, the BBC, CNN, the New York Times, the Financial Times, Spotify, Paypal and large tracts of the UK .gov
08.06 Livestock Improvement Corporation (LIC) is divesting its automation portfolio in a $38.1 million deal, the company says. One of New Zealand's leading agritech companies, LIC is selling the automation business, including the Protrack suite of automation and sensing technology offerings, to US based MSD Animal Health, a division of Merck & Co. MDS has manufacturing facilities in Palmerston North.
08.06 Use by the Reserve Bank of New Zealand of a hacked file sharing system for more than it was intended for placed more information at risk than would otherwise have been the case according to a public summary of KPMG's review of the January hack. The report notes the bank was using the hacked system as an information repository and collaboration tool, rather than limiting use to secure file transfers, as intended.
02.06 The Sage Australia & Asia sale to Access Group has closed, meaning Sage's non-ERP products such as Handisoft accounting, Micropay and Easypay payroll solutions now sit under the Access umbrella. Sage UK still retains the ERP products globally along with an Australian office. Access, itself based in the UK, has expanded into the APAC region with the acquisition of Attaché and Unleashed over the past 2 years. The solutions will be integrated into the group's Workspace platform.
02.6 The Australian operations of the world's largest meat processor, JBS Foods, was temporarily shut down this week after a ransomware attack, affecting 11,000 A/NZ staff. The weekend attack affected some servers supporting North American and Australian IT systems. JBS is warning that 'resolution of the incident will take time, which may delay certain transactions with customers and suppliers'. The company has said there is no evidence customer, supplier or employee data has been compromised. Reuters says JBS has pointed the finger at a criminal organisation most likely based in Russia. The attack comes just three weeks after the US' Colonial Pipeline was attacked, disrupting fuel infrastructure and leading to panic buying and temporary gasoline shortages in the US.
01.6 AI will add very little to New Zealand's GDP, says a new report from Otago University. The Impact of Artificial Intelligence on Jobs and Work in New Zealand report notes that while the industrial revolution's profits landed extremely unevenly across British society, they did at least mostly land in Britain. Early AI benefits however are mostly accruing to Silicon Valley's FAANGs, such a Google and Facebook, who have built up data assets so great it will be difficult for Kiwi companies to compete.
AppWrap May 2021
31.5 Low-code is still very much the domain of IT staff, at least for now according to a new survey. While low-code might be touted as a way to enable citizen developers and line of business to create apps, the Creatio survey found just six percent of low-code development is being done by business users without any IT involvement. Holding back adoption? A lack of experience with low-code platforms, according to 60 percent of the survey's 1000+ respondents.
28.5 The Australian Human Rights Commission is calling for a ban on facial recognition and other AI-based technologies. Its landmark report calls for a temporary ban on the use of facial recognition and other biometric technology in "high-risk" government decision making until new laws are developed, reports IT News. It has also urged the federal government to employ an independent "artificial intelligence safety commissioner" that would lead a multi-disciplinary taskforce on AI-informed decision making.
27.5 Kiwi startup Dawn Aerospace has received "significant" funding to propel its space transportation business to new heights. The company makes satellite propulsion products and has developed an unmanned spaceplane called Mk-II Aurora powered by rocket engines. Named New Zealand hi-tech startup company of the year in 2020. Stuff has reported the company has now received 'significant' funding from New Zealand's largest tech investment firm, Movac.
27.5 All Australian companies will have to use the government's digital identity service in order to apply for the RDTI, according to InnovationAus. Deloitte won a $1.1 million contract last July to build the digital platform, which has just launched.
27.5 Forget internal IT teams, it's external contractors who are making up the bulk of IT staff for some of Canberra's biggest agencies, reports ITNews. In fact the there's almost 7,500 contractors spread across Defence, Services Australia and the Department of Home Affairs. Internal stuff numbers for those three: Less than 4,000.
26.5 The best 50 New Zealand tech companies and startups to work at has been drawn up by venture capital investors and career platform Matchstiq, reports Stuff. To be considered, companies had to be of a minimum size and be well-funded, and of 20 years' age or less. They were chosen for their growth potential, innovation, purpose, and contribution to nurturing a diverse pool of talent.
26.5 The ransomware attack crippling services at Waikato District Health Board is into its second week with multiple services affected as IT system recovery work continues. Stuff reported that the crisis has been escalated to a national level, prompting a meeting of the Government's top-level officials. Health Minister Andrew Little said the Government had "stepped up" the crisis response to the ransomware attack, and the Officials' Committee for Domestic and External Security Coordination (ODESC) would meet on Wednesday afternoon to discuss the response. The DHB is the fifth-largest in the country and provides care to more than 430,000 people.
25.5 Free EV Regos in ACT has come as welcome news for Australia's carbon neutral by 2045 aspirations. Information Age has reported that residents and businesses in the ACT will now receive two years of free car registration when they buy an electric vehicle (EV) as the territory looks to cut its carbon footprint. The deal is extended to new or used EVs bought between 24 May and 30 June 2024.
25.5 Crowdfunding has opened for AU university innovation through crowdfunding platform VentureCrowd, which today announced a partnership in Which-50 with early stage commercialisation fund Uniseed, to make university research ventures available for individual investment. Uniseed was founded in 2000 and has invested in 57 startups, exiting from 10 including Spinifex, Fibrotech Therapeutics and QRX Pharma. According to VentureCrowd, this is an Australian-first partnership.
24.5 A national booking system for Covid-19 vaccinations is being piloted in Auckland and Canterbury and will be available nationwide by July, reports eHealthNews. The Ministry of Health is using Skedulo, a scheduling plug-in app for Salesforce, which is the platform of the national Covid-19 Immunisation Register and National Contact Tracing Solution. A Ministry of Health spokesperson says the system is being piloted at vaccination sites in Ōtara and Manurewa in the Auckland Region and Christchurch is trialling it at their Kaikōura site.
24.5 Facebook is cleaning up Covid misinformation – they couldn't do it for Christchurch, but Facebook has removed 110,000 fake Covid news and posts made by Australians, among 14 billion posts removed globally which shared misinformation on the pandemic, InnovationAus reported this week.
24.5 NZ Tech Week 2021 runs this week, culminating in the Hi-Tech Awards on Friday. The festival saw over 300 events organised nationwide, celebrating the technology sector's role in New Zealand innovation.
Footnote: links take you to the third party news sites as attributed in each story.