Published on the 27/04/2018 | Written by Jonathan Cotton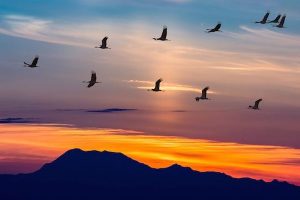 With Amazon, MS and Google all upping their enterprise cloud game, why do businesses so often fail in their great migrations?...
The cloud is often touted as the great panacea to a raft of business ailments. Low agility? Cloud. Rapid scalability? Cloud. Streamlined processes and lower overheads? Cloud, cloud, cloud.
But while cloud computing can and does help multitudes of businesses achieve just such outcomes, simply shifting traditional IT systems to the cloud rarely produces good results. In fact, poor cloud migration can make a lot of things worse.
A new report from management consulting company McKinsey entitled 'Cloud adoption to accelerate IT modernisation' tackles this very issue and looks to highlight some of the reasons why so many businesses fail to realise so many of the benefits of cloud adoption.
That report, penned by McKinsey partners Nagendra Bommadevara and Andrea Del Miglio, and McKinsey expert Steve Jansen, says that the realisation of enterprise cloud goals requires a holistic approach to transformation, powered by the standardisation and automation of the IT environment through an open API model, the adoption of modern security practices, and agile, automated operating models.
"Companies that view cloud capabilities in this way," says the report, "can create a next-generation IT capable of enabling business growth and innovation in the rapidly evolving digital era". While these benefits are not unique to cloud specifically, it does act as a "force multiplier".
There's much to tempt traditional enterprises to the cloud. Pay-per-user billing models, easy scalability and high resiliency, not to mention lower upfront costs. Many enterprises have found great success in their adoption of SaaS solutions specifically, replacing legacy systems wholesale and leaving busiwork such as new feature development up to the provider. This, in turn, has seen the the widespread adoption of SaaS solution for marketing and sales, HR, and communication and collaboration.
In many sectors however, certain core business functions – billing for the utilities sector for example – are still yet to receive mature SaaS solutions.
"As a result, despite overall increased cloud investment, enterprise cloud adoption is maturing slowly," says the report. "Many enterprises are stuck supporting both their inefficient traditional data-center environments and inadequately planned cloud implementations that may not be as easy to manage or as affordable as they imagined."
"While some forward-thinking companies have been able to pursue advanced enterprise cloud implementations, the average enterprise has achieved less than 20 percent public or private cloud adoption."
"The average enterprise has achieved less than 20 percent public or private cloud adoption."
According to McKinsey, cloud is the great enabler for standardizing systems and automating IT support processes, removing complexity from IT systems and lessening the need for an army of IT administrators just to keep things running. With cloud, companies can radically reduce IT costs, scale processes up and down at will and reduce IT incidents, sometimes by as much as 70 percent.
But capturing those benefits from cloud adoption requires more than just "lift-and-shift", especially when systems are heavily customised and IT processes are mostly manual.
McKinsey recognises four key areas of concern for companies looking to make their cloud migration successful:
First, choose your partners wisely. Partner with public a cloud provider to build and manage the cloud stack while adopting the necessary guiding principles to avoid being locked into one provider. Then, after achieving a certain level of maturity explore further providers to successfully scale up.
Secondly, upskill staff in the appropriate way for the cloud operating model.
"Unlike traditional operating models, the public cloud requires IT to manage infrastructure as code," writes the report's authors. "This requires software engineers who understand the compute, storage, and security protocols of public cloud (as opposed to network engineers or system administrators). For most enterprises, this translates to a massive upskilling of the infrastructure organisation and the operating model in which they work."
Thirdly, pay proper attention to the security and capacity requirements of the public cloud, refactoring existing applications for cloud suitability. "Security must be baked into these applications, and they must work in a more automated fashion. This requires significant attention from application teams, which can be hard to get."
Finally, cultivate the right skills. Hire and train cloud experts and integrate them into your team, setting up specific innovation labs as needed.
"This aggressive approach relies on true commitment from leadership in the form of money (one financial-services business is investing $300 million in a cloud transformation) and time (these programs can take two to three years)."
Click here to read the full McKinsey report, 'Cloud adoption to accelerate IT modernization'.