Published on the 27/08/2021 | Written by Heather Wright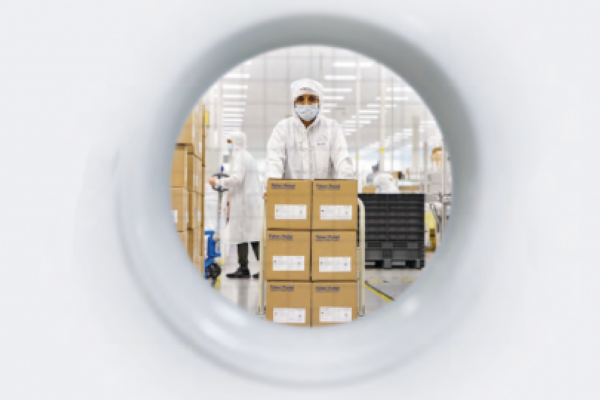 Can workplace tracing trump blanket shutdowns?…
When news came through that a Fisher & Paykel Healthcare staff member in Auckland had tested positive for Covid, company bosses likely quivered, but they knew they had a head start on contact tracing.
One of the largest listed companies on the NZX and the leading provider of two key primary respiratory therapies used to treat Covid globally, Fisher & Paykel Healthcare is using bluetooth cards, provided to all its 4,000 New Zealand staff.
Similar to the much touted – and ultimately abandoned – community Covid Card, the credit-card sized cards deployed by F&P Healthcare are designed to assist manual contact tracing efforts by creating a record whenever a wearer comes into contact with another card user.
"Bluetooth-enabled cards are not currently interoperable with the NZ Covid Tracer app or our contact tracing systems."
The cards deployed by Fisher & Paykel were supplied by SaferMe and developed by Hamilton company Virscient.
Worn on a lanyard, they don't track where a person goes but, like the official NZ Covid Tracer app with bluetooth enabled, they do record details when they come into close contact with another card.
While the company this week declined a full interview, saying it was too busy and '100 percent focused on continuing to operate safely and sustainable as an essential service throughout the pandemic' a spokesperson acknowledged the value of the cards.
"The bluetooth contact tracing cards we implemented last year – and continue to use – do help up improve the effectiveness and accuracy of our contact tracing processes," she says. "We still have a dedicated on-site contact tracing team of people assisting our Auckland-based people 24 hours a day, seven days a week."
As to how useful F&P Healthcare's efforts were for the overall Ministry of Health response, well, the MoH's responses to questions from iStart was simply to say "Bluetooth-enabled cards are not currently interoperable with the NZ Covid Tracer app or our contact tracing systems. Though, some organisations may wish to use them for internal purposes."
Despite the uptake of contact tracing cards by large employers, the Ministry's Contact Tracing at your Workplace advisory does not make any mention of bluetooth tracing cards. Likewise, its advisory on what happens if you have a confirmed case among your staff does not mention use of card systems as a valid way to identify close contacts.
It appears the risk sits with the employer to convince public health officials – after the fact – that their in-house contact tracing is acceptable.
Bluetooth alerts = 10 hits
Even the Ministry's own Covid Tracer app's bluetooth isn't proving especially useful for New Zealand's contact tracing efforts – despite the Ministry repeatedly urging Kiwis to turn on bluetooth functionality.
The Ministry of Health told iStart in the current outbreak less than 10 notification have been sent as a result of the NZ Covid Tracer app's bluetooth function being used. Of the three million registered users of Covid Tracer, nearly 1.9 million devices are using Covid Tracer with bluetooth active.
Between Tuesday 17 August – when Case A was announced – and Thursday 26 August, notifications were sent to more than 3,000 devices, the vast majority based on QR scans at locations of interest.
Writing on his personal blog, Andrew Chen, research fellow at Koi Tū: The Centre for Informed Futures at the University of Auckland, offers up several possible reasons for the lack of bluetooth alerts, ranging from the thresholds for bluetooth alerts being too high – you need to be within two metres of someone for 15 minutes to trigger an alert – and officials low confidence in those high alerts given the high transmissibility of Delta, to digital exclusion (including the large number of under 10s affected) and demographics.
But he notes one of the more compelling explanations is that contact tracers are simply prioritising other tools ahead of bluetooth.
Certainly, the Ministry has always been keen to push that bluetooth and indeed, the Covid Tracer app in general, were merely adjuncts to the favoured manual human contact tracing processes.
New Zealand has more than doubled its contact tracing team in the past week, with more than 1400 people responsible for identifying, tracing and advising the more than 24,400 close contacts identified by Tuesday morning.
Despite all that, the cards have piqued the interest of companies. Wellington-based 'proximity safety specialist' SaferMe, supplier of the Virscient cards, said earlier this year that it had sold thousands of the cards including to US organisations, and was expecting sales to continue ramping up.
The selling point: The possibility of avoiding a work site or factory being locked down because of one case or, more to the point under the current blanket 'close contact' regime, the possibility of all your staff being required to stand down for a full 14 days. That's a real issue for a number of Kiwi companies at the moment – Countdown has around 20 stores on the MoH's dreaded 'locations of interest' list. That's amounted to around 2000 people – out of around 20,000 staff across New Zealand – isolating for two weeks. Low staff numbers have caused a number of stores across Auckland and Wellington to close, with staff reassigned to other stores temporarily.
Card proponents says the variability of devices is a factor against the use of smartphone apps for contact tracing. They also cite the visibility of cards as a benefit – companies can easily see the card is in use.
Community based bluetooth cards failed to get off the ground locally, with the New Zealand Government ultimately (after a protracted time and a $1 million trial) ruling them out for community use.
Covid Response Minister Chris Hipkins ultimately said the trial had 'not been hugely successful' and claimed 'some difficulties with the technology itself' and the card not picking up all the contacts. That was disputed by card provider, Australia's Contact Harald (which took on the trial after the NZ CovidCard initiative, fronted by Sam Morgan, gave up the push in frustration at the government). Instead Contact Harald suggested 'operational issues' might have been the problem and noted that the cards are in use all around the world and are generally more accurate than the bluetooth phone apps.
Indeed, experts agree the main pitfalls to the cards come down to human error, with people not wearing them correctly or leaving them at home or at work, or losing them.
"Otherwise the technology generally is as effective as bluetooth tracing in the NZ Covid Tracer app, with a slight difference in that if you wear the card in front of you it gets less interference than a phone in your pocket," one expert – not associated with any company selling the cards – told iStart.
One issue flagged by the trial was people taking their cards off and leaving them overnight at work, where the card continued to record any contacts passing by.
Virscient's offering turns off after a period of no movement to avoid problems such as that.
(It should be noted that it's not just New Zealand struggling with contact tracing apps and cards. In Australia, InnovationAus notes a report says the government's $16 million CovidSafe app is ineffective in 'very high-risk settings'.)
Delta aerosol trumps all
There's another question mark with bluetooth tracing and Delta – one that companies, and the Ministry of Health, seem reluctant to discuss.
Earlier this week Labour associate minister of health Ayesha Verrall noted that with Delta the two metre rule doesn't really apply anymore, with aerosol transmission of the illness a key issue.
That's behind the MoH abandoning previous classifications of close contacts – now, if you're in the same location as an infected person, you're deemed a close contact.
It also poses yet more questions for bluetooth tracing – though the MoH continues to advocate for users to turn the feature on. Just so long as it's in the Covid Tracer app.