Published on the 20/02/2019 | Written by Heather Wright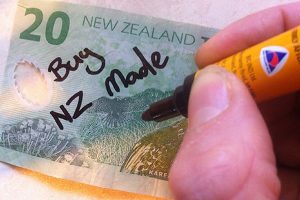 Thumbing noses in face of Amazon, Alibaba et al threat…
International e-tailers be damned, Kiwis e-tailers are thumbing their noses at the big name international sites, recording a 10 percent year on year increase in sales for December – while spend on international sites dropped one percent.
The BNZ Online Retail Sales report for December shows that for the first time, online spending on international sites was in the negative growth territory – down one percent on a year ago.
The report notes that the exchange rate was only slightly different (down two percent versus the US dollar and up two percent on the Euro) suggesting the drop off in growth was not exchange rate driven.
"For the first time, online spending on international sites was in the negative growth territory."
"Over time we would expect percentage growth rates to come down from the high levels we saw a few years ago, as purchasing patterns mature and the spending base grows," BNZ says. "But nonetheless, November and December look particularly sluggish for Kiwis' online shopping at overseas sites. Shopping at offshore clothing retailers, for example, was down nine percent on a year earlier."
That drop off comes just a year after Amazon fever hit Australia and New Zealand, with the international giant launching its Australian operations, complete with a Melbourne fulfilment centre, and grim predictions abounding about the potential for Amazon to eat everyone's dinner.
The drop off in spend on international sites was blamed for an overall slower growth rate than seen in recent months, with the total online growth down to six percent, compared to 10 percent in November and 11 percent in October.
The growth of spend at local sites at the expense of international site growth was a continuation of the pattern seen in previous months, with international online purchases dropping off in recent months, while Kiwi sales remained buoyant.
In November local online sites were up 15 percent on the same month a year earlier, while spend on international sites – usually a peak period for spending on offshore sites with an abundance of sales days such as Singles Day, Black Friday and Cyber Monday – was up just three percent.
The local growth also outpaced spend at traditional stores, which recorded an increase of just 1.3 percent year on year for the period.
When it comes to what Kiwis were buying online, recreation, toys, games, entertainment media and books saw the biggest growth for the month, up 11 percent, closely followed by groceries and liquor at 10 percent.
The growth in the numbers of Kiwis buying food and groceries online is proving a boon for local sites, which have a clear advantage over international sites when it comes to that category.
Paymark's data for the year shows online shopping was up 12.2 percent year on year to $4.3 billion in 2018, accounting for 7.3 percent of total Paymark spending.
The later part of this year will herald further changes in the market dynamics for purchases from international sites, with foreign companies being required to collect GST items below $400 from October 01. For many of us, that might just be a good excuse for a pre-October shopping blitz.