Published on the 06/05/2020 | Written by Heather Wright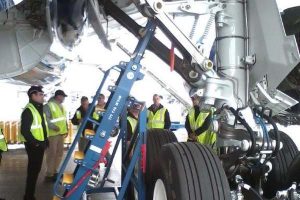 Otago Uni academic says yes – and the time to do it is now…
An airline CDO, a Ministry of Health rep – let's go with Dr Ashley Bloomfield since he's the man of the moment – and an Otago Uni academic walk into a bar and the academic says…
Ok, there's no punchline with this one, because the academic in this case – Robin Gauld, co-director of the University of Otago's Centre for Health Systems and Technology – is deadly serious. And what he says is that New Zealand should turn to Air New Zealand to provide some answers for the country's ailing health IT systems.
Air New Zealand's response? It says it's 'willing to help'.
"Everything is done in pockets and silos around the country."
Gauld says New Zealand's health IT systems are in disarray – the legacy of 20 district health boards running their own 'fiefdoms', independent of each other.
It's a system that he says has resulted in 'multiple, parallel and layered, legacy systems', lacking in system architecture – which he likens to building a house with no designer or multiple competing designers – and with an inability to easily share data between services.
"Everything is done in pockets and silos around the country," Gauld says.
"Covid has highlighted the flaws within the IT systems," he adds.
It wasn't until late March that the country's contact tracing centre moved to a national electronic platform linking existing health databases using the National Health Index of patient identifiers.
"There was difficulty getting information out of the 14 public health units, not for lack of will but because the systems weren't as robust, developed, co-ordinated and interoperable – able to share information easily and in real time. We have very low levels of interoperability in New Zealand," Gauld told iStart.
"Ideally all information should flow freely and easily – as it does with Air New Zealand anywhere across their system and the world."
He argues that IT requires a national approach. "In some areas you can argue for local input and arrangements to be in place, but with IT there is no justification. You really need architecture otherwise you have everyone designing their own patches and it's impossible to coordinate the building you're trying to create."
Gauld is a fan of Air New Zealand's app, which he says is world leading, linking services and schedules with information available to passengers and Air New Zealand itself, in real time.
"Anyone who is a client or customer of Air New Zealand is able to get real time information at point of service on delays, what's going on with planes etc," Gauld says.
"No one in our healthcare system has that capacity."
And that's the basis for his suggestion that the New Zealand government uses Air New Zealand – which it owns 52 percent of – to help build a national information system for the health system.
"This unfortunate downtime for the airline provides an opportunity to procure assistance of their IT, logistics and scheduling teams for the health sector," Guald, who is also pro-vice-chancellor and Dean of the Otago Business School, says.
"While they would likely be aghast at what they find, with will and backing, they could bring to health what they have achieved with air travel."
While Air New Zealand might be aghast at what they find in the health sector, the health sector might be aghast at the suggestion that an airline can build their health systems.
Even Gauld admits doctors and nurses are likely to recoil from the idea that healthcare is like an airline. But he argues that both are complicated systems with a lot of moving parts and a lot of things that get in the way of smooth operations.
"Air New Zealand have put a tremendous amount of effort into process improvement behind the scenes. The app and the IT they use support a whole lot of process improvement work, work around ensuring things are scheduled and running on time, that they're picking up on challenges on an hourly and daily basis and rectifying those problems. There's a lot of coordination work.
"I'm sure they have a finely tuned machine that they can probably put a crack team into the healthcare system."
So, what's Gauld's ideal scenario?
"I'd like to see an app-based, IT-based system that gave patients real time info on what's going on in the system.
"So if I want to see a GP I can go in and see availability, book an appointment, have it confirmed in real time, see delays in real time, maybe using QR codes for checking people in and out.
"But also having those systems linked with hospital and probably the private sector and ACC as well so that wherever you are within the system you can see what is going on with a patient."
It's a system that would also require co-ordination with all the other areas of healthcare, such as radiology and labs, to provide effectively a one-stop shop for patients.
But Gauld says it's not too big an ask: "You'd have to have everyone in the healthcare system coordinated. But think about the airline, they're coordinating what is going on in and out of all sorts of airports and different places, planes coming and going, unscheduled events taking place and things needing to be rescheduled and re-coordinated.
"It's a bit of an ambitious project, but I think it is way, way overtime."
As to Air New Zealand's views, chief digital officer Jennifer Sepull told iStart "Air New Zealand is willing to help – but there needs to be a New Zealand solution, rather than a company by company solution."
Beyond a nationwide IT system
Gauld's hopes for the health sector don't end with a nationwide revamp of IT systems.
He's keen to see DHBs disbanded and replaced instead with hospital regions, or alliances, with managers for each district or cluster, reporting centrally.
He says a move to a salaried system for at least some of New Zealand's GPs, and an opt-in basis, is also needed to encourage uptake of new ways of operating, such as video-consults and teleconsulting.
That's a view that echoes that of Scott Arrol, NZHIT chief executive, who told iStart back in March that the current funding model doesn't encourage the use of technology to deliver care, instead focusing on getting patients coming through the door, and that urgency needed to be given to changing funding models and incentives to enable GPs to change their business models to accommodate virtual healthcare.
He says Gauld's ideas for the health sector aren't new. "The actual thing is to push for the release of the Health and Disability System review sooner rather than later as that is what the taxpayers have invested in to provide recommendations for the future of our health and disability system."
The final report from that review, which was initiated back in 2018, was completed in late April 'and will be presented to Government when they request it' the review panel says.
The government has provided a $15 million GP funding package, noting when it did so that the money was to help support GPs with workload 'from testing patients and the costs incurred moving to virtual consultations'. However ongoing changes to the funding model haven't been made.
Says Gauld: "Many consultations don't need to be in-person. The new way of working [using virtual appointments] is very convenient for many patients, with no travel time or sitting around the waiting room, and it means GP services can be provided from anywhere into areas previously not possible.
"An addition of five to 10 percent to the health budget would fully capitate a good proportion of GPs, taking away patient charges and giving capacity to consult with patients using whatever channel is appropriate."
Services provided by hospital specialists, all of whom are salaried and many of whom are now working remotely, could be directly linked and coordinated with GPs via the technology and logistics work Air New Zealand could undertake, Gauld says.