Published on the 14/07/2017 | Written by Jonathan Cotton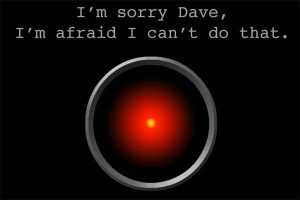 How much does a chatbot for your site cost? More than you might think…
Although AI-driven customer service is surely the new-shiny-internet-thing du jour, it may in fact do more harm to your business than good.
That's according to The Shift to Human Experience: Consumer Interaction Preferences and Challenges for Industries in Australia and New Zealand (registration required). The report, commissioned by Genesys and done by Telsyte, said most consumers still vastly prefer the human touch when engaging with a brand.
Of the 1000 A/NZ consumers surveyed, a whopping 70 percent said that human-on-human contact was one of their top three preferred forms of engagement, followed by in-person branch visits at 64 percent and email at 50 percent.
When queried on the reasons for the above, things get interesting with something like a degree of robot-phobia appearing – 70 percent of those surveyed said their reason for wanting to speak to a human was to avoid dealing with a robot.
Before you draw too broad a conclusion from the above, bear in mind that demographics play a big part here. The age group of 18 to 35s self-reported as the most flexible, happy to communicate via social media, SMS, video chat, chatbot or an in-person visit from a representative. Seniors (55 to 64 years) generally said they prefer phone service over any of the above, with over 65s stubbornly insisting that a branch visit is the only way to get results.
Telsyte's research also asked participants to identify what they think organisations do wrong when it comes to customer interaction. No surprises here: poor communication, lack of personalisation and sincerity and poor responses were the top reported sources of dissatisfaction.
And for those failing to provide good customer service, the consequences could be dire. Participants of the survey said the urge to talk about grievances with others is strong. 57 percent of those surveyed will tell their immediate friends and family about a poor experience, and a similar rate (52 percent) will stop using the company altogether. We're placing a bet that the propensity to wail and gnash teeth on social media is high, too.
Conversely, 20 percent of consumers said they have started a relationship with a brand because of expectations around good customer service, meaning yes, customer service reputation really can be a revenue driver.
Furthermore, there's a potential for upsell. Asked whether they would consider paying for better customer service, more than half (52 percent) of those surveyed said they would be willing to spend money on premium service models, with the biggest deciding factor being the importance of the service to the person.
Still thinking about that chatbot though? Fine, but remember costs vary. For a custom enterprise-level chatbot you're going to be looking at something in the $5k to $10k region for set up, then a couple of grand per month in ongoing maintenance. If you're happy using a self-service platform and you have low traffic volume you might be able to get away with as little as $20-$30 per month.
But do so at your peril – and keep an eye on that NPS.