Published on the 22/09/2020 | Written by Heather Wright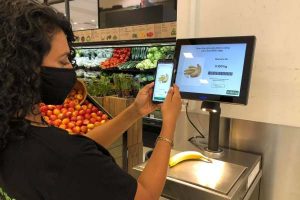 High(er)-tech hits the supermarket shelves…
Contactless, self-service shopping has taken another step forward with Countdown trialling a new 'Scan & Go' app-based self-scanning service, but it won't be entirely checkout free.
The offering, which includes new 'hi-tech' scales featuring image recognition and artificial intelligence to identify and price fresh fruit and vegetables, is being trialled in Countdown Ponsonby in Auckland.
"We definitely have a very high appetite to take it into some other stores."
Sally Copland, Countdown general manager brand and Countdown X, says Scan&Go makes shopping 'really fast and convenient and also contactless'.
That contactless aspect in particular is proving a key focus as Covid-wary customers seek to minimise contact and time in environments surrounded by others.
"We're seeing the trend globally and locally for contactless and Scan&Go is facilitating that," Copland told iStart.
"If we think about our personal behaviours now, I very seldom carry a wallet, I pay with my phone, I want as much as possible a contactless experience in certain retail environments and digital technology enables us to have that."
The push for contactless has also flowed through to the Countdown shopping app, which has added more detail around product location in shops, to let customers get in and out of stores more quickly and safely.
The Scan&Go offering sees customers using an app, preloaded with their payment and Onecard information, to scan products as they shop, doing away with double-handling and the hassle of unpacking and repacking items. Customers scan a QR-coded receipt at a dedicated, automated gate, checkout lane. Restricted products, such as alcohol, can't be purchased through the system yet.
When it comes to scanning loose produce, the system harnesses specially-designed scales which use image recognition and AI to identify which type of fresh fruit and vegetables customers choose, including identifying any other items on the scales, such as your keys or phone, and telling the difference between types of apples, for example.
Customers confirm the produce is what the system believes it to be, and then scan the barcode on the scale.
Anything that already has a barcode is simply a case of scanning the barcode on the back and confirming.
"While many people might still see tech like AI in the realm of science fiction, the scales are a great example of how technology can improve our everyday lives and save us time," Copland says. The scales will 'learn' to improve their accuracy in recognising products over time.
Parent company Woolworths rolled a similar system out in Australia around two years ago, which forms the basis of the Kiwi offering.
Countdown X – the company's local digital arm – spent four months developing the local app with a dedicated nine-member squad working on the technology. Copland says new features are still being built for the app.
Unlike Amazon Go, the offering doesn't rely on sensors, computer vision and cameras.
"That system has all the image recognition and it's a purpose built environment, it's in small format, cameras in the ceiling and a lot of the technology is built into the physical infrastructure in that store," Copland says.
"We wanted technology that could be deployed in an existing shopping environment that is large format and where customers will be choosing a number of different ways to shop the store. We have to be able to accomodate a lot of loose produce, and fresh and packaged as well. "
She says the team are already thinking about where the technology will be rolled out next, but admits there's no clear timeframe – particularly with the ongoing uncertainty around Covid.
"The first thing for us is to get that really robust customer feedback. It will really depend on how the trial goes and what data we take from that. And then the ability for us to be able to deploy it into other stores depending on what is going on in those stores. I'm not sure in a Covid world you can commit fully to any certainty with some of this stuff, she says, laughing. "But we definitely have a very high appetite to take it into some other stores."
Copland is a finalist for both the A/NZ Digital Transformation Awards DX leader and the CIO of the Year in the New Zealand CIO Awards, while Countdown is also a finalist in the CIO Awards' Business Transformation through Digital and ICT category and the Information Visionary and Omni Experience Innovator categories in the DX Awards. Copland says while the system is clearly a winner for the grab and go shop, it's also expected to prove popular for larger shops.
"What we are seeing globally is this technology is starting to really take off and people are also utilising it for their bigger shops. It will be somewhat customer dependent."
While the service might be deploying technology for self-scanning and the 'hi-tech' scales, it will be relying largely on more basic – human – intervention to ensure shoppers remain honest.
"We've built this technology for the vast majority of the public who are shop honestly, but we do have a combination of things from a theft perspective, Copland says. The same in-store monitoring and deterrents already used, including CCTV and trained staff, will be relied on, along with a check process built into the technology.
"Funnily enough it happened to me when I used it the second time, and I think it was based a bit on my behaviour because I was doing a test shop, taking things in and out of the basket so there would have been a couple of triggers from that perspective. But customers can also be stopped randomly for spot checks."
It's also relying on the customer's own mobile data, and Copland admits the issue of digital inequality is 'a topic for discussion', and one that will be ongoing.