Published on the 13/02/2019 | Written by Jonathan Cotton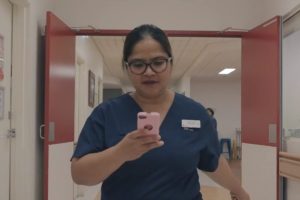 Are patients and nurses ready?…
A voice-activated patient response speaker system developed by Deloitte is being trialled at Burwood Hospital in Christchurch, allowing patients to request help by speaking into a smart speaker-like device.
The system – DeloitteASSIST – operates on a similar premise to Amazon Echo-type devices: Ask for the weather forecast, to change the TV channel or a for glass of water from a nurse. Using AI tech the system can respond to 17 different categories of commands.
Think of it as a hailing system/inflight entertainment for your next hospital stay.
"Algorithms have their place in supporting decision making, but the most important part is still the clinical decision making."
The tech has been trialled in 26 beds at Prince of Wales Hospital in Sydney since last year and is currently being trialled in Burwood's spinal unit and the transitional rehab unit.
When a patient makes a request the device processes their voice command, automatically prioritises the task and sends the information to a tablet docked at the nurses' station (priorities and escalation times are determined by Burwood Hospital). Staff members carry mobile devices and receive alerts of requests.
Burwood Hospital general manager Dan Coward says following the results of the Australian trial there is good reason to trial the technology here.
"We first received a presentation around what we'd seen in Australia late last year and came up with the concept of piloting at Burwood in terms of the rehab unit and the type of activity we do there," says Coward.
"One of the reasons behind Burwood is that it's a new facility and it's what we're calling it 'digitally enabled' – bringing technology into the health environment in a new facility."
"That data research behind it is a really important part of the decision-making process."
So what's the cost? Is there a per-patient price-point?
"Because it's a pilot, the price point is with Deloitte, so I don't know the actual cost," says Coward. "If we decide, yes this is clearly demonstrating an outcome that we want to roll out further, then that would go through the normal procurement process in terms of costs benefits.
"The trial will run for a number of months to enable us to get some really good data, to be able to take staff surveys, to be able to take patient surveys, to use some of the data to determine average time to respond to requests, so we'll be able to use all of those [data points] to determine whether it's actually adding value, to see whether it's making a difference, and do we want to continue to provide this going forward," Coward says.
"We know that for some patients, this might not be the solution for them, so it's about finding out how we ensure the right blend of technology to support that interaction."
But are smart speakers systems actually the best tech choice for hospitals? Why a smart speaker and not just a device such as an iPad/app combi? Presumably there are cheaper off-the-shelf options?
"There are multitudes of technologies out there and it's about finding the right product that is sustainable and that provides the right tech and tools that we need," says Coward.
"In terms of smart devices – such as an iPad – from a technology point of view there are software upgrades, they still require fixed power sources and the same level of support, technology and hardware is required for the likes of an iPad, or a tablet or a smartphone.
"We know that this system might not be the best solution for every patient, so this is really about doing a proof-of-concept for a system that's gone into an Australian hospital to see whether in the rehab environment in Burwood it has a role to play."
And what about that algorithm? If it all goes wrong – say, if the system deprioritised a message and the worst happened – who would be liable?
"The prioritisation has been developed through the clinical staff. They have looked at all the types of calls and requests we get, they've also looked at what's occurred in the spinal unit and that's given us a really strong degree of confidence that we have got the right prioritisation, voice commands and right information going.
"The fact is it doesn't matter what the request is, it still goes through to the care team, which means they can still make judgement calls based on their knowledge of the patient they're looking after – they know the patient's history and they know where the patient is at in terms of their rehabilitation – so it enables that human logic to come in, supported by the algorithm.
"In the event that the system does not recognise what a patient is asking, or is unsure, it puts that request through to the care team as a priority. Unknown commands are given priority, so those situations default to a human decision.
"Algorithms do have their place in supporting decision making, but the most important part is still the clinical decision making."