Published on the 24/09/2020 | Written by Heather Wright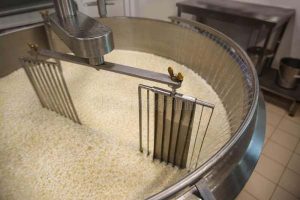 ERP mess just one challenge in tech reset…
The cheese and crackers are still some way off in HCL's challenging transformation of Fonterra's IT services.
It's early days in the dairy co-operative's $100 million deal, inked in February with HCL Technologies, but the right curds are being salted away, according to Toby Granwal, Fonterra's chief technology officer.
With the first part of the project only delivered in July, the NZ$19 billion co-op is confident of delivering cost savings of around $50 million over the next five years.
The early report card? Improving employee experience: Check. A standardised mobile platform: Getting there. Untangling the ERP 'mess': Not quite yet.
They are modest but notable achievements in the midst of Covid disruption and lockdowns including in India and Australia where some of the support is delivered from.
"There's a long pipeline of productivity improvements and things we can do."
Speaking this week, Granwal said the company had made the first successful steps in what will be 'a journey of continuous improvement and transformation', with more work to be done collapsing vendors and contracts down to smaller numbers of providers under the umbrella deal with HCL.
The deal includes full IaaS, data centre operations, cloud migration, network end-to-end services, a Hamilton service desk, cybersecurity and collaboration services.
A strategy review last year, and an internal survey around the same time to ascertain how staff viewed the IT services, spurred the new strategy.
"Perhaps unsurprisingly what it told us is that we weren't really delivering what IT users were expecting, we weren't delivering the service and capability that we need to enable the co-op to deliver its new strategy, so something needed to change. That was pretty clear," Granwal says.
He says the IaaS project had three key objectives:
Providing an enhanced IT experience, including basics such as improving conferencing facilities – "There were just too many complaints about Skype meetings that wouldn't work."
Sustained cost savings, which Granwal says was 'a big objective' and would allow Fonterra to use the money to do other things
Providing a standardised and secure IT platform across Fonterra's 220 sites globally – the backbone of the project. "A lot of what we are trying to do within operations and within the co-op is to provide a secure, stable, reliable platform from which to run the co-op. That is absolutely critical," Granwal says. "As we go into peak milk now – 70+ million litres of milk a day and rising – that stability of operations, the reliability, is absolutely critical and really world class infrastructure and a foundation platform is essential to that.
Covid's appearance on the scene accelerated Fonterra's plans and proved a good change management opportunity, particularly when it came to rapidly transitioning staff from the end-of-life Skype to Teams – a move that had been planned but came sooner than expected thanks to enforced work from home.
"In February we were running maybe 200 Teams calls a day. Quickly that was up to 30,000," Granwal says.
"It was a quick way, and a cheap way in some ways, to get people off end of life technology and onto what was going to be part of our suite of tools."
The deal also sees standardisation of mobile devices – Fonterra was previously attempting to support 64 types of mobile across the organisation.
"For us to be able to provide apps and a stream of mobile applications to match what staff are expecting is a quantum leap forward that we have now got as we standardise down onto one device. We are now beginning to push out some simple stuff to begin with – approvals on a mobile phone which is not exactly earth shattering but there's a long pipeline of productivity improvements and things we can do."
But while Fonterra might be ploughing ahead with its 'Fix our IT Foundation' strategy and plans to improve user experience, Granwal admits there's plenty still to be done. He admits it's just the first step for Fonterra.
The company runs a 'fairly bespoke' customised set of legacy processes, systems and integrations, including SAP (a retail instance and ECC are in the lineup), JDE and a number of small custom applications.
"We've got to stabilise now what we have got and improve and build on the foundations for infrastructure, then we start thinking about what we do to untangle that mess because we're going to have to address that next," he says.
While HCL has the global scope Fonterra was looking for, Granwal says the vendor's preparedness to invest in the New Zealand economy through a Hamilton service centre, was also an important part of the deal.
The company had inaugurated its Hamilton delivery centre back in August 2019, pre the Fonterra deal. On announcing the Fonterra deal, it promised 60 jobs from the centre.
Michael Horton, HCL Technologies Perth-based executive vice president and country manager for Australia and New Zealand, says those promised roles are 'pretty much all in place' now, with the centre used for the service desk, with some application support people also based there.
Horton says HCL is looking at building the facility up as centre of excellence for SAP services.
The company is also starting up a 'graduate-type programme for school leavers to get them into technology' – though was somewhat coy on details.