Published on the 08/03/2018 | Written by Jonathan Cotton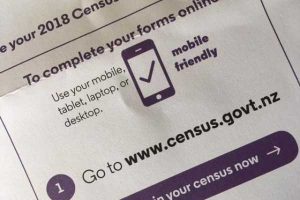 With online census success, new digital petitioning and a fresh commitment to open data, some think NZ might just turn out to be a global GovTech leader...
Of course there have been reports of the elderly and infirm having problems – as well as some people not receiving their access codes – but all things considered, the 2018 Census, the first in the country to be primarily conducted online, looks like a success.
Almost 3 million people have now taken part in the online data gathering exercise and Stats NZ is saying a rich data picture of New Zealand emerging. It's a solid result and a far cry from the outcomes of similar endeavours, most notably Australia's disastrous Census 2016.
"Almost 3 million people have now taken part in the online data gathering exercise – a solid result and a far cry from the outcomes of similar endeavours, most notably Australia's disastrous Census 2016."
It's not entirely new ground; the last two censuses weren't disasters and both of those had digital elements – and with an average 34 percent digital adoption rate. Stats New Zealand announced they were hoping to double that number this year with a target of 70 percent, but the Government is still calling it a win.
"We have achieved our census night target of 60 percent of the estimated number of people in the country on census night to take part online," 2018 Census general manager Denise McGregor said.
"It doesn't take long to complete and timing for online forms is averaging four minutes for the dwelling form and eight minutes for the individual form," McGregor said.
It's a small victory but one of several welcome digital-first approaches tested recently. The petition process – a way of seeking changes to a law or addressing a local or private concern – has similarly been refreshed and can now be created and lodged through the Parliament website.
"I see the new electronic petition system as a new and user-friendly way for the public to engage with their Parliament," enthused Clerk of the House of Representatives David Wilson earlier this week.
"The electronic petitions page is easy to follow and help will be provided at each step to make sure it meets the rules of the House and the intent of the petition is clear."
"Hopefully lots of people will take advantage of it."
Hopefully so, if only in that by supporting the government's new drive to collect data, we can partake in all the more of it. On Monday the Government committed New Zealand to adopting the international Open Data Charter, an agreement designed to support public accountability, encourage engagement with government and drive innovation.
With the signing of the charter New Zealand joins 17 countries, including Australia and the United Kingdom, in confirming its commitment to the practice of openness in government.
Last year Minister Scott Simpson announced the Government's intention, saying that signing the agreement would meet increased user demand for open data as well as ensure the "accountable, transparent, and resilient in our use of data."
"The Government holds a vast amount of valuable data on behalf of New Zealanders. Open government data is non-personal, unclassified and non-confidential, and is freely available to anyone to use and share."
"Supporting the Government priority for data, a key objective of signing up to the Charter is to ensure Government-held data is used to help achieve better outcomes for New Zealanders, through data-driven innovation, informed decision-making and evidence-based policy."
All of which will watched with great interest, presumably, by a new – and rather mysterious – govt-tech collective launched in New Zealand last week, GovTech World.
The "self-assembled community" appears to be hitching a wagon to the idea that New Zealand is "uniquely placed" to be a "world leader in the emerging global GovTech market".
The Wellington-based group says that there is a growing body of evidence supporting New Zealand's inherent leadership in govtech, including research from Fletcher School of Tufts University, OECD E-leaders Group, D5, and World Bank recognition.
Co-creator Nick Gerritsen said in a media statement released last week that the group understands "that 'GovTech' is New Zealand's differentiator within the digital economy and provides significant domestic and export opportunities for New Zealand businesses and innovators."
"GovTech World facilitates the digital transformation of the public sector by connecting it with the wider community. We are a collective of professionals bringing together governments, innovators, investors, citizens, and businesses to help solve societal problems using GovTech. We do this from our base in Wellington – New Zealand's capital city and tech hub."
While a member list is elusive, the group lists The Department of Internal Affairs, The Wellington Regional Economic Development Agency and Angel Association New Zealand as among its sponsors.