Published on the 13/05/2020 | Written by Heather Wright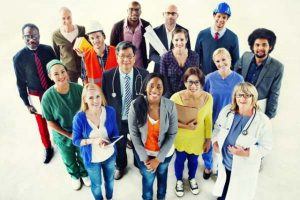 Report quantifies the benefits of frontline tech…
We've long heard that enabling data-driven decision making for frontline employees – and the whole citizen data scientists concept – can bring benefits for companies. Now a new report from HBR quantifies the benefits – and highlights just how few companies are capitalising on the trend.
The New Decision Makers: Equipping Frontline Workers for Success from Harvard Business Review analytic services and sponsored by search and AI analytics provider ThoughtSpot, shows 72 percent of the companies surveyed saw at least moderate productivity increases through enabling technology-enabled insights for frontline workers. Sixty-nine percent said they've increased both customer and employee engagement, while 67 percent have increased the quality of their products or services.
The report shows that of the companies classified as 'leaders' (who accounted for just 20 percent of respondents), one third have seen revenue growth of between 10 percent and 30 percent, with 16 percent growing more than 30 percent.
"These efforts are also generating enhanced innovation, top-line growth, market position and profitability."
Alex Clemente, Harvard Business Review analytics services managing director, says "Quality frontline decision making is driving short term gains, but more drastically propelling better business in the long term.
"The shift to an empowered workforce is causing organisations to experience significant increases in productivity and customer and employee satisfaction, however, more holistically, these efforts are also generating enhanced innovation, top-line growth, market position and profitability," Clemente says.
The report also clearly shows the benefits of data-driven decision making on the frontline isn't really news for most business: Eighty-seven percent of the 464 global respondents say their organisation will be more successful when frontline workers are empowered to make important decisions in the moment.
But despite the high confidence in the benefits, only one-fifth of organisations in the survey have frontline workers who are 'empowered' (read trained and with a culture in place to encourage staff to operate more autonomously) and digitally well equipped to succeed in this way. Forty-three percent of companies are classified as laggards.
So what's holding companies back?
It's those old chestnuts of culture and processes. Laggard companies were 10 times more likely than Leaders to say top management didn't want frontline workers making decisions, while a lack of effective change management and adoption processes (44 percent) is cited as the largest hurdle to frontline worker empowerment. A lack of skills to make appropriate use of technology-enabled insight (31 percent) was also a key stumbling block, level pegging with the cost of rolling out digital technologies to the broader employee base.
"In addition to equipping employees with new digital tools and information, frontline champions need to enlist company leaders to drive culture change," the report says.
"Training and change programs must engage all parts of the organisation, from leaders to middle managers to the frontline workers themselves."
The report cites a senior strategist at a large investment company: "Frontline employees have a better understanding of how the business works. It's levelling the playing field between leadership and frontline workers."
HBR says many companies will have to redesign or override existing organisational structures to accommodate new lean, cross-functional ways of working.
Equipping staff with the right technology, data and insight to enable faster, more distributed and higher quality decision making is equally important.
Communication and collaboration tools (55 percent), self-service analytics (54 percent), learning and performance management systems (47 percent) and AI tools (41 percent) were the top technologies respondents expect frontline workers to be using over the next two years.
Survey leaders were more than twice as likely as laggards to strongly assert that their company is increasing investment in digital capabilities to transform frontline workforce, their technology and their environment.
That starts with the data, notes one survey respondent, whose company made large upfront investments in data dictionaries, data hierarchies and having a single record for everything.
"As they push data, insight and decision-making ability out to frontline workers, organisations will need to make sure that data security and governance practices keep up with the new reality," the report also notes.