Published on the 27/07/2018 | Written by Heather Wright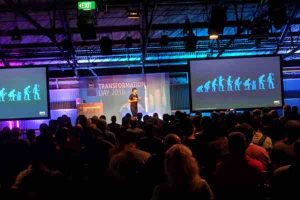 AWS NZ builds 'field of dreams' for Kiwi customers…
AWS executives took to the stage in front of a full house in Auckland yesterday in an effort to nudge New Zealand businesses further down the road of transformation, with personal education and business change taking centre stage.
The company outlined a raft of new initiatives for the local market, including a 'Learning Month', expansion of the Activate programme for startups and a new training partner in Auldhouse.
"I suspect AWS Learning Month might morph into AWS Learning Year and then subsequently AWS Learning Decade."
Tim Dacombe-Bird, AWS New Zealand country manager, outlined three key areas of transformation AWS is pursuing.
"For us transformation is about our ability to influence the transformation of the New Zealand economy, our ability to transform the careers of individuals in the AWS community, and our ability to work with organisations in New Zealand to enable them to use AWS more expansively to change their customer experiences and cost structures," he says.
AWS used yesterday's AWS Transformation Day – which garnered 1600 registrations – to launch a new Kiwi-developed initiative, Learning Month, providing free workshops at AWS' new Auckland offices.
The workshops, available to all AWS customers, will cover a range of AWS technologies, providing 90 minute 'informal' training sessions. Eight curated sessions are available, with capacity for 100 people per session, but Dacombe-Bird says the number of sessions, and topics covered, will be driven by customer demand.
"It's kind of a field of dreams environment, we're building it and we will see who comes," he says.
"It's a very flexible model. We've got the eight sessions locked and loaded but the view is we will fill those very quickly and will either repeat them or iterate on the schedule and run different types of events.
"This is an experiment we are running, but based on feedback [yesterday] I expect it will be very very successful. In fact, I suspect AWS Learning Month might morph into AWS Learning Year and then subsequently AWS Learning Decade. There is a lot of demand for educational services in an informal workshop setting."
Dacombe-Bird's comments were supported by the standing room only crowd at Transformation Day, which was dedicated to education, focusing on providing education sessions, rather than sales and marketing sessions.
"Education is important to people. People understand the adoption of cloud technology really matters and can have a transformational impact on their businesses."
The company also announced the appointment of Auldhouse as an authorised training partner in New Zealand, pushing its training out further across the country. "They can take the AWS curriculum out to every region of New Zealand," Dacombe-Bird says.
It wasn't only personal growth under the spotlight. Dacombe-Bird says a key focus for AWS this year is 'helping organisations retire technical debt and enable rapid digital innovation'.
"We've been working with organisations to change their customer experiences and cost structures, through helping them optimise IT spend by migrating services and systems to AWS and building that rapid innovation through either better insights from data and providing new customer experiences through analysis of data or building out new environments and applications to enable new customer interactions."
The company is also increasing its investment in the Activate start-up programme in New Zealand, which provides technical and architectural guidance, technical support, educational services and credits on the AWS platform to get them started.
"It's been very successful here historically and we're now building it out further, resourcing in New Zealand with a dedicated start-up team."
The programme was previously supported out of Sydney.
"There are a number of aspects of the startup community that aren't immediately understood, with issues like access to funding and mentors.
"Part of the role of the startup team is to provide access to funding programmes for example, with introductions and development of the VC market, whether local or international."
Last year AWS worked with New Zealand Trade and Enterprise to bring 34 VCs to New Zealand to meet local companies.
Independent software vendors will also see increased support with resources allocated to a specific ISV 'territory', providing support around areas including architectural and cost optimisation and introducing them to other ISVs in non-competing markets, along with making international introductions to potential new markets.
AWS' motives, of course, are not purely altruistic. Dacombe-Bird is open that while AWS wants to see the New Zealand tech community grow, that's because that, in theory, will lead to more consumption of AWS.
"Our business takes a long-term view on markets and engagement but ultimately we want the New Zealand tech community to be successful."