Published on the 29/11/2017 | Written by Donovan Jackson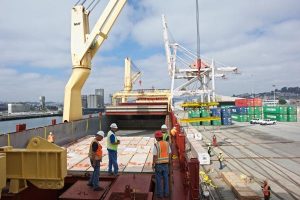 Specialisation underpins success for Christchurch-HQ'd vendor…
Concentrating hard on a niche and spinning out of its parent company Jade Software Corporation is delivering dividends for Jade Logistics. The company said it has implemented 22 sites through 2017 – a notable accomplishment given the complexity and difficulty associated with the installation of enterprise software.
Jade Logistics' flagship product is Master Terminal, initially developed with the Port of Otago around 22 years ago, and now in use at some 110 terminals around the world. The software controls mixed cargo ports, including bulk terminals, break bulk and roll-on, roll-off terminals, and (to a lesser extent) container terminals. Jade Logistics went on its own from Jade Software Corporation in mid-2017.
In a chat with iStart, chief executive David Lindsay said Jade Logistics examined the market in 2012 and recognised the potential of a sole focus on mixed cargo ports. "We started to understand which organisations could benefit most from the software we produced and decided to go niche. Master Terminal was designed from the ground up for New Zealand style ports, which typically handle mixed cargo types – and, with increasing volumes at the major ports driving shipping operators to seek alternative, smaller ports, there is globally strong demand for our solution."
Now American-owned, with its majority shareholder being USA Health, Jade Logistics is still predominantly operated out of Christchurch and has some 65 employees. Its operations span the globe; with two thirds of staff and half of management in the South Island, it also has people in Melbourne, Indonesia, Dubai, the USA, Rotterdam and renowned maritime nation Switzerland.
Lindsay said the company's focus on mixed cargo, as opposed to container ports, is reaping dividends including its ability to achieve those 22 implementations. Included in the number is an Australasian project in which 16 terminals went live in less than ten months, and an eight-week implementation of a multi-purpose terminal on the eastern coast of the United Arab Emirates.
"The competition can take a year at a single port; through our focus on mixed cargo operations, we've developed an incredibly efficient approach which allows us to do it more quickly – and that's with an implementation team of just 25 people," Lindsay added.
Just which vendors are those competitors? SAP, Infor, Microsoft, Oracle, Epicor? Nope. "None of the big vendors are in our space," Lindsay confirmed, again reinforcing the value in identifying and dominating a niche. "Navis is probably the biggest, but we have segmented the market well with the mixed cargo ports; Navis [also an American company] mostly addresses the high-scale container terminals."
And the container terminals market is saturated, at that. Yet, "Everyone [software providers] seems to be pulling out of the mixed cargo market and converting to container. Strategically, we've gone 'why?' as the container market was the first to adopt [software systems] so it is mature. By contrast, our market is growing, as larger vessels are calling at big ports, creating a lot of overflow to smaller ones. That drives high volumes and subsequent demand for faster turnarounds. With multiple cargo types comes complexity and that means these smaller ports need software flexible enough to handle it."
This, said Lindsay is behind Jade Logistics' 2017 record. "And that came on the back of a 60 percent increase in revenue in 2016, while the year ahead looks equally promising."
So much so, he added, that the company is looking to add a further 15 jobs, mostly in its international operations, as it needs to beef up implementation and support teams. "We're looking to grow revenue by a further 30 to 50 percent, while the added staff represents growth of around 23 percent."