Published on the 13/12/2018 | Written by Jonathan Cotton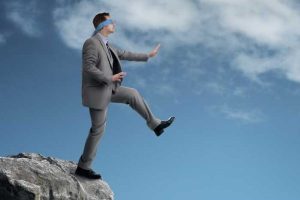 MYOB takes Kiwi SMBs' temperature and finds ambivalence about transformation, and skepticism about emerging technologies…
Kiwis are a philosophical bunch. While futurists point towards simultaneous and imminent revolutions in AI, automation, robotics and IoT technologies, it's hard to get the dander of the typical Kiwi businessperson up, preferring as they do to get on with the task at hand.
But behind the serene faces, are we missing something?
A new survey from MYOB called the Future of Business Report 2018, a look at the attitudes shaping New Zealand businesses, offers food for thought. The report – which surveyed 1000+ Kiwi SMBs – finds a population not too concerned with radical technology shifts, at least in the near future.
"Only 14 percent expect automation and robotics to impact their industry."
When asked by researchers which technology trends are most likely to change their industry over the next three years, over a fifth of those surveyed said technology would not have an impact on their industry over the next few years. A further 26 percent said they didn't know.
It's an unexpected response, but fair enough. After all, tech 'disruption' isn't omnipresent (even if it often feels like it is) and that 22 percent leaves a remaining majority ready and waiting for the tech revolution, right?
Well, kind of.
Of those surveyed who are expecting a technological shift in their industry, 22 percent said that 'improvements in connectivity' was the tech trend with the most potential – more important than AI, big data or even cloud computing.
On the surface, it's a strangely pedestrian view of the short term future. While great connectivity is of course vital to the success of Kiwi businesses, such a view seems at odds with the headlines around game-changing tech like blockchain, IoT and big data, doesn't it?
"Of those who anticipate technological disruption, only 14 percent expect automation and robotics to impact their industry," says MYOB, while just six per cent expect machine learning and 3D printing to impact their industry. In contrast, over a fifth of local operators said they expect improvements in connectivity – i.e. their access to the internet – to change their industry over the next few years.
"While internet connectivity and faster, more reliable broadband might well benefit businesses over the next few years," concedes MYOB, "it's questionable whether such technology will continue to impact New Zealand businesses in the same way artificial intelligence, robots, big data and the blockchain will".
Before we start dismissing hardworking Kiwi businesspeople as luddites however, hold your besmirching: If we extend the timelines in question, a very different picture emerges. In an MYOB Business Monitor snapshot survey of 400+ local SMEs (conducted earlier this year), 28 percent of Kiwi SMEs said they expect artificial intelligence to change their industry over the next five years, while a full 23 percent expect automation and robotics to do the same.
Nine percent expect blockchain – one of the fastest growing tech trends – to do the same, and a third still expect improvements in connectivity to significantly alter their industry over the next five years.
"From MYOB's research, it is clear businesses are prepared to accept change when looking out just a little further," reads the report. "Research shows attitudes towards technological disruption change when operators are asked about the technology that will impact their industry over the next five years, instead of three."
MYOB 'futurist in residence' Keran McKenzie says that we may well be facing a more colourful future than Kiwi businesspeople are expecting.
"Thanks to modern technology – like advanced robots, artificial intelligence and the blockchain – we can solve just about anything much faster, with less money, and with less risk than any other time in human history," says McKenzie.
"And to some extent, this is a double-edged sword. Robots will replace jobs but will also increase workplace efficiency. Artificial intelligence will surpass human intelligence but will process more information than ever thought possible. Cryptocurrencies will replace cash but will provide security to businesses in volatile economies. And the internet-of-things will threaten digital privacy but will provide more insight than Google analytics and all social media channels combined."
And while the great shakes anticipated by McKenzie will require adaptation, tenacity and resources to overcome, the future is bright he says, and one Kiwi businesses should be approaching optimistically.
"While there are certainly challenges to overcome and decisions to be made, the idea of technological disruption is nothing new. In fact, we've experienced disruption like this before."
"Take for example the industrial revolution. Yes, it displaced workers and labourers, but it also laid the foundations for today's modern and profitable society and created more jobs and opportunities than any time before it."
"The internet also caused mass disruption. As did the laptop and the smartphone. So, businesses should expect the same level of disruption – and subsequent success – over the next few years too."
"With the right mindset, tools and resources, technology like this will only strengthen your ability to solve your customers' greatest problems."