Published on the 12/06/2015 | Written by Donovan Jackson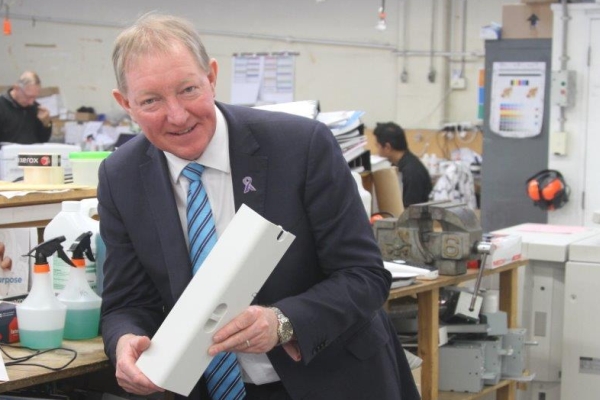 Minister recognises Zero Landfill Scheme at printer company's Auckland headquarters…
Fuji Xerox has won accreditation from the Ministry for the Environment for product stewardship which will see a significant proportion of all returned equipment, consumables and associated packaging either re-used or recycled.
Perhaps surprisingly, the company is just the thirteenth to receive this certification since the Waste Minimisation Act was passed in 2008. While the Act has provision for compulsory product stewardship, Hon. Dr Nick Smith, (pictured) Minister for the Environment said an approach which provided for voluntary compliance was preferred.
"When the Act was passed, we sought to encourage industry to take responsibility for the whole product lifecycle. While we could regulate and sometimes do, regulating complex businesses [such as those in the electronics industries] is a nightmare. Instead, we have laid down challenges and created incentives to minimise impact [on the environment]."
Smith commended Fuji Xerox on taking up that challenge. "What makes a real difference is when environmental leadership becomes part of the culture of the company," he said.
Recycling specialist RCN E-Waste estimates 80 000 tons of electronic waste is generated in this country every year, which accounts for just 2 percent of total annual landfill content. However, this waste accounts for up to 70 percent of toxic waste, demonstrating the necessity for prioritising improved management of discarded electronic equipment.
Fuji Xerox MD Gavin Pollard provided insight into just how much potentially toxic material will stay out of landfills: "We calculate that over 1200 tonnes of our equipment and consumables are diverted from landfill annually, including 99.5 percent of all returned printers, copiers, toner bottles, print cartridges, drums, rollers and fuser oil, and associated packaging," he said.
Smith said Fuji Xerox's Zero Landfill Scheme results in reduced waste, while also stacking up commercially. "Fuji Xerox's Zero Landfill scheme demonstrates that it is achievable for global electronic corporates to voluntarily take responsibility for the environmental impacts of their products."
Being a bit nicer to the environment is something every New Zealander should do as a matter of course. But, Smith remarked, while belonging to Greenpeace and recycling bottles after a big night out is one thing, it is nowhere near as useful as incorporating sustainability into business practices – because that's where a the greater proportion of harmful waste tends to be created.