Published on the 10/05/2018 | Written by Newsdesk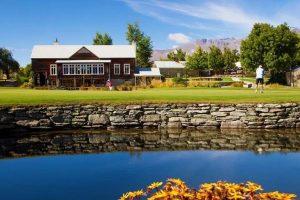 According to research by MYOB, technology is the trend du jour reshaping the local tourism sector…
The new MYOB Business Monitor survey shows that half of the country's tourism businesses believe technology will significantly change the way they operate in the next 10 years.
The research also finds tourism operators tending to be faster than the general population to take up technology, with 35 percent of respondents describing themselves as "early adopters" or "fast followers" of new trends, verses 24 percent of other businesses.
Thirty percent say they try or buy new technology products at about the same time as most other people, while just 22 percent say they are usually slow or reluctant to try or buy new technology until most other people have it, suggesting there is room for more – or at least faster – innovation.
MYOB New Zealand general manager Carolyn Luey says it is clear tech trends will play an increasingly important role in the tourism sector.
"There are numerous examples of tourism operators that are using the latest developments to inform and enhance their customer experience."
"For instance, tourism agencies are using anonymous mobile data and big data analytics to better understand how tourists travel around our country," she says.
Case in point: New Zealand high-end resort Millbrook is well-known for the up-market accommodation it provides thousands of visitors each year, but now the Queenstown-based business is also welcoming new technologies to stay.
Darren Auld, finance manager of Millbrook, is a big believer in embracing technology to work smarter and faster. He says businesses that do not adapt now run the risk of missing out on opportunities in the future.
"The New Zealand visitor industry is booming with total tourism expenditure reaching NZ$36 billion in the year ended March 2017 – and recently, for the first time ever, Queenstown Airport reached two million visitors in a single calendar year," says Auld.
"To keep pace, tourism businesses now need to have real-time visibility of everything from job cost management and human resources to workflow, supply chain, and payroll as a way of increasing efficiency."
Today, Millbrook employs close to 300 people and is investing in additional land to keep up with visitor demand – an expansion that Auld says will be made easier thanks to new tech.
"In the past, we used to make do with the systems we had."
"But as we grew it became apparent we needed a richer set of tools to help us manage our growth – technology that increases productivity and efficiency, while reducing labour costs."
Auld turned to business advisors Verde Group for advice on how business management solutions could help Millbrook to take the next step.
Chief executive officer of Verde, Penny Boland, says they decided the best approach was to integrate Millbrook's many financial processes – using MYOB's ERP software, Greentree, as the centre of their operation.
"Millbrook requires technology that can scale up with it and cover off the increasing complexity that comes with an expanding team," says Boland.
"MYOB Greentree allows Millbrook to do exactly that by tracking their finances and inventory in real-time, giving them greater accuracy in their business forecasting."
Auld agrees and says the solution is easy-to-use and cost-effective.
"It allows our team to work with anyone, anywhere."
"We have staff members in many locations on our site who would not – or could not – have worked together just five years ago, but can now thanks to new technology providing up-to-the-minute information."
He says ERP software, such as MYOB Greentree, makes it easy for people to collaborate and reduce the risk of human-error.
"When we generate our month-end financial reports, they can be automatically calculated using real-time data for adjustments and balances – all without any human intervention.
"We're also able to easily manage our inventory which is delivering huge gains in our efficiency."
Auld warns however that any business that does not learn to make the most of the latest developments, or understand their effects, will be left behind – particularly in the local tourism industry.
Luey concurs.
"Advances in technologies, like artificial intelligence, mean that programs are now capable of learning on their own. Inputted with a learning algorithm, they trawl millions of data points to draw conclusions on what works and what doesn't."
"It means businesses can ask themselves: 'How can our people add value where technology can't?'"