Published on the 20/03/2020 | Written by Heather Wright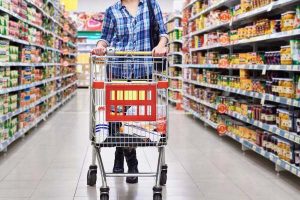 Resilience being tested and forcing change on sector…
Covid-19 is highlighting weaknesses in supply chains and e-commerce, but it's also providing learnings and new opportunities and will likely see an upswing in adoption of some technologies.
Louise Francis, IDC New Zealand country manager, says just as the GFC sparked an acceleration of businesses moving into cloud computing, the Covid-19 pandemic is likely to accelerate adoption of some technologies while also increasing the focus on buying locally made offerings across the wider market.
"Anything sudden that happens like this exposes all the weaknesses in the supply chain," Francis says.
"Anything sudden that happens like this exposes all the weaknesses in the supply chain."
Both New Zealand and Australia have seen some fraught situations with e-commerce this week, particularly when it comes to supermarket chains. In New Zealand, click-and-collect orders are struggling under the weight of demand, with bookings often needing to be made days in advance, while some online delivery orders have been cancelled. In Australia, both Woolworths and Coles shelving some online shopping.
To be fair, the issues aren't around the technology deployed for the online ordering but rather around the ability to fulfil those orders.
Francis says IT leadership and prior investment in transforming retail systems is playing a role in keeping shelves stocked. She notes that in New Zealand Foodstuff's transformation program, started by Peter Muggleston and continued under Chris Quin's leadership, is paying dividends now.
"Chris Quin's leadership is also showing in his fronting up to the media to reassure customers that the shelves won't be empty and the investment in the past around supply chain transformation (including transport management, warehouse management systems), ecommerce platforms and smart integrated inventory management/forecasting technology has created the robust environment that is keeping up with unprecedented and sudden demand."
Francis says the issues thrown up now will see 'an acceleration of supply chain resiliency, transparency all those things because that's what the retail sector relies on'.
"This is all a learning curve," she says. "In the future we will have solutions to this and will have learned things like what to do when inventory supplies are cut off, what you need to do when volumes spike and increase, what do you do around call centres – all the problems that are coming up now are going to see the whole e-commerce scene change over the next couple of years."
Francis is predicting new demand for technologies including automation, supply chain monitoring and drone deliveries as awareness of their potential to help in situations like the current pandemic rise.
"Automation is a big topic already, but it's an area we will see a big increase in out of what is happening at the moment, particularly for anything to do with automated warehousing and packaging," she says.
Issues with supply chains will also drive increased supply chain monitoring, including the use of distributed ledger technology.
"At the moment the retail sector makes their inventory order and there are some points where they know where inventory is, but if there are delays like what is happening at the moment, they can't always see where the delay is occurring – is it at the factory or through the transport agency? – or how far off the delivery is.
"Distributed ledger technology is a big area of growth we're seeing in the supply chain at the moment and that's to do with provenance, but it's also increasing the visibility and understanding of where things are at, going back to the development of the products."
She says a combination of distributed ledger, AI and IoT can enable companies to predict where delays are going to occur.
"We're already seeing that combination of blockchain, AI and IoT happening, but this is really going to accelerate things."
Longer term, she believes the pandemic will increase awareness and drive demand for digital twins, with their ability to provide virtual access to systems and situations.
"We first saw it happening around manufacturing, but local government is also using it around planning.
"Like other technologies such as AI, when the solutions were first coming out they were big, expensive solutions, but they eventually got to point where people were developing much smaller, much more consumable and much more affordable solutions that basically democratised the use of AI to the point where it's been embedded in so many things now that most people don't understand how much AI is used in products and services."
An increased focus on resiliency in general is also likely, Francis says, with the need to rebuild resiliency already a hot topic.
"We've come to this stage where convenience and speed and everything has been at the detriment of resilience of a company. It has been great up until now but all those gaps in the supply chain, inventory and retail, they are all starting to appear now. There might have been problems before, but this is just exasperated the whole situation."
Manufacturing new opportunities
Francis is bullish about the potential for local companies to emerge stronger, saying the increasing numbers of emails urging people to buy locally made products to help business get through this time, combined with potential supply chain disruption in the coming months, signal an opportunity for a swing back to local manufacturing and a groundswell of support for 'buy local'.
"I think it is going to be a really good boost to the Australasian economy in terms of bringing stuff back to NZ or back to Australia."
She says despite optimistic talk of no supply chain disruption, 'we're already seeing in some countries that the inventory is running low and they're not getting supplies particularly from areas such as China'.
"Now with the airlines cutting back drastically on the number of flights, yes, trade is continuing but air cargo for FMCG in particular is going to be really impacted over the next few weeks or even few months."
"If the supply chain is reduced for three months, six months, we don't know how long it is going to be, this is actually an opportunity for NZ and Australian manufacturers who still have the capacity to deliver.
"If they can ramp up production it is not only going to increase jobs in the manufacturing sector in the short term, it is going to get people onboard in terms of supporting the local economy and local jobs.
"Those sorts of things can be done relatively quickly."
Some companies are already making 'pivots' of sorts: Hamilton's Good George Brewing has switched some of its whiskey distillery into making hand sanitiser – something also seen in France where luxury giant LVMH, owner of Louis Vuitton and Christian Dior among others, has begun making hand sanitisers for health workers.
Francis says there's opportunity too, for local retailers to assist in removing fees they charge for stocking local products and goods.
Some retail R&D currently being done in innovation units in other countries may also come back to Australasia, she says.
"Manufacturing has been hit really hard with all the changes with globalisation and everything and this is an opportunity for them to try new things and concentrate on the local market, rather than what they are going to do overseas.
"The good thing is sometimes you make these changes and there's something that going forward is a new product or service. It is an opportunity. It's really hard, I won't kid you it's not going to be easy."