Published on the 18/12/2019 | Written by Heather Wright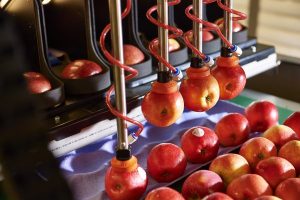 Shortage, what shortage…
Christmas has come early for the Kiwi designed Aporo automated robot apple packer, which has grabbed a slice of the pie in the UK market.
Global Pac Technologies, which markets the apple packer, developed by Bay of Plenty agricultural robotics and automation company Robotics Plus, has announced two installations in the UK – its first in Europe.
The Aporo apple packer handles up to 120 apples a minute – the equivalent of two human workers. The packers are already commercially in use in New Zealand and the US.
"Labour shortages at critical packing times are a growing concern."
With the UK apple sector producing an estimated 220,000 tonnes annually, Global Pac says it's seen as an important European market.
The packer, launched in 2018, identifies and places apples in their trays – something that is traditionally a labour intensive process, and one facing increasing labour shortages.
While apple packhouses already use automation extensively for sorting and grading, arranging apples in trays has traditionally been labour intensive.
The packer won New Zealand Trade and Enterprise's Most Innovative Hi-Tech Agritech Solution earlier this year, while Robotics Plus itself gained an additional US$8 million in investment from Yamaha Motors.
The Aporo was the first in a series of products from Robotics Plus designed to address labour shortages in the agriculture and horticulture sectors, and the deal comes as Kent – a prime apple growing area for the UK and where the robotic packers have been installed – faces unemployment lows of two percent.
"Labour shortages at critical packing times are a very real and growing concern for the primary produce market globally," says Cameron McInness, Global Pac Technologies director.
In October the National Farmers Union said more than 16 million tonnes of apples had been left to rot in British orchards with yearly labour shortages further heightened by a Brexit-led employment slump as EU workers avoided Britain. The UK market is heavily reliant on EU pickers – primarily from eastern Europe, who provide the cheap labour.
The leap into the UK market sees contracts with Adrian Scripps and Prime Produce, both significant suppliers to UK retailers for domestic and imported apples and follows a decade of research and commercial trials.
"To have our first Aporo machines in Europe is a great leap forward for Global Pac," McInness says.
Global Pac says both Adrian Scripps and Prime Produce were looking for automation options to improve efficiency and deal with labour availability.